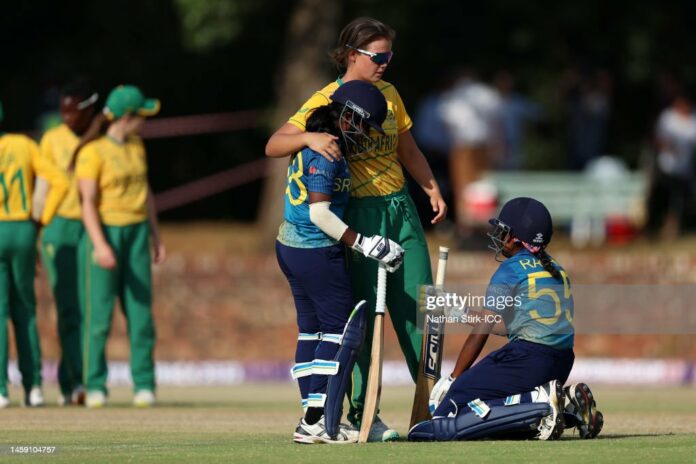 The Sri Lanka U19s bowed out of the T20 World Cup with a heartbreaking 1-run loss against hosts South Africa in their final Super 6 game in Potchefstroom.
The visitors were already out of contention for the semi-finals of the competition at the beginning of the game, but that didn't see them drop any intensity. In fact, the game saw perhaps Sri Lanka's best effort in the field in the whole tournament, with a number of brilliant outfield catches being taken.
Read – Spinners set up win for Sri Lanka in World Cup opener
It was the spin twins Vidushika Perera and Dewmi Vihanga who once again shone with the ball, picking up 5 wickets between them in slow conditions. Among the highlights of Sri Lanka's fielding efforts were catches by Dulanga Dissanayake, Rashmi Nethranjali and Umaya Rathnayake in the deep.
Sri Lanka's chase started off sedately, but once she got going, Nethmi Senarathna was a treat to watch, with some spectacular shots on the off. The slow start did put some pressure on the middle order, but Sri Lanka stayed in the game thanks to a 42-run partnership between Senarathna and Vihanga.
Read More – Australia too good for Sri Lanka in last group game
At 90/3 in 16 overs, Sri Lanka were in with a big chance of causing an upset, but the wicket of Vihanga in the 18th over was a big blow to the visitors. The late middle order kept trying, bringing the equation down to 6 off the last 3 deliveries. A run-out and a stumping followed, leaving the new batter, No. 10 Nethranjali needing 5 off the last delivery. She swung hard but could only manage a 4, leaving Sri Lanka.


Batsmen
R
B
4s
6s
SR
Miane Smit
st Sumudu Nisansala b Dewmi Vihanga
8
8
1
0
100.00
Simone Lourens
b Dewmi Vihanga
14
14
2
0
100.00
Kayla Reyneke
c Dulanga Dissanayke b Vidushika Perera
43
49
2
0
87.76
Madison Landsman
c Rashmi Nethranjali b Harini Perera
21
12
4
0
175.00
Jenna Evans
c Umaya Rathnayake b Vihara Sewwandi
22
15
3
0
146.67
Karabo Meso
c Rashmi Nethranjali b Vidushika Perera
12
14
1
0
85.71
Oluhle Siyo
st Sumudu Nisansala b Vidushika Perera
3
5
0
0
60.00
Anica Swart
not out
7
3
1
0
233.33
| | |
| --- | --- |
| Extras | 4 (b 0 , lb 1 , nb 0, w 3, pen 0) |
| Total | 134/7 (20 Overs, RR: 6.7) |
| Bowling | O | M | R | W | Econ |
| --- | --- | --- | --- | --- | --- |
| Rashmi Nethranjali | 3 | 0 | 30 | 0 | 10.00 |
| Dewmi Vihanga | 4 | 0 | 22 | 2 | 5.50 |
| Vidushika Perera | 4 | 0 | 25 | 3 | 6.25 |
| Harini Perera | 2 | 0 | 17 | 1 | 8.50 |
| Vihara Sewwandi | 4 | 0 | 24 | 1 | 6.00 |
| Dulanga Dissanayke | 3 | 0 | 15 | 0 | 5.00 |


Batsmen
R
B
4s
6s
SR
Nethmi Senarathna
st Karabo Meso b Kayla Reyneke
36
49
3
1
73.47
Sumudu Nisansala
run out (Monalisa Legodi)
5
10
1
0
50.00
Vishmi Gunarathne
c Simone Lourens b Madison Landsman
12
17
1
0
70.59
Dewmi Vihanga
c Jenna Evans b Kayla Reyneke
37
23
3
3
160.87
Manudi Nanayakkara
c Madison Landsman b Refilwe Moncho
17
9
2
1
188.89
Vidushika Perera
run out (Jenna Evans)
6
4
0
0
150.00
Dulanga Dissanayke
st Karabo Meso b Miane Smit
6
6
0
0
100.00
Vihara Sewwandi
run out (Ayanda Hlubi)
1
1
0
0
100.00
Umaya Rathnayake
not out
0
0
0
0
0.00
Rashmi Nethranjali
not out
4
1
1
0
400.00
| | |
| --- | --- |
| Extras | 9 (b 0 , lb 4 , nb 0, w 5, pen 0) |
| Total | 133/8 (20 Overs, RR: 6.65) |
| Bowling | O | M | R | W | Econ |
| --- | --- | --- | --- | --- | --- |
| Miane Smit | 4 | 1 | 13 | 1 | 3.25 |
| Refilwe Moncho | 4 | 0 | 33 | 1 | 8.25 |
| Seshnie Naidu | 4 | 0 | 31 | 0 | 7.75 |
| Kayla Reyneke | 4 | 0 | 16 | 2 | 4.00 |
| Madison Landsman | 2 | 0 | 21 | 1 | 10.50 |
| Monalisa Legodi | 2 | 0 | 15 | 0 | 7.50 |