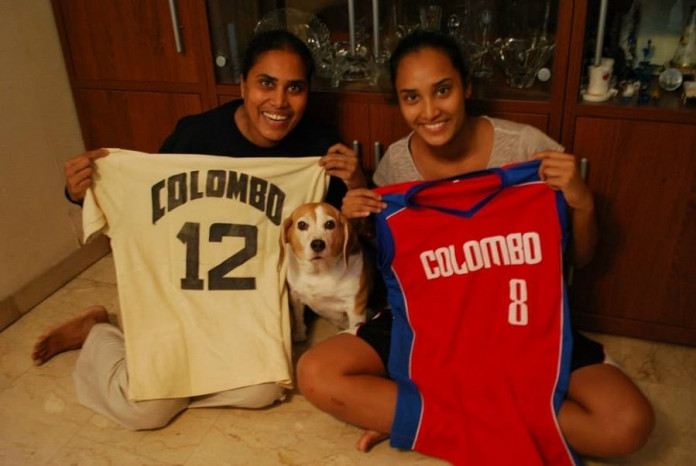 19 year old Niwanthi De Silva, has been making waves in the Basketball arena in the faraway shores of Italy. The Sri Lankan national, currently residing in the European nation, draws inspiration from her mother who also was a basketball star in her own right back in the day. We were able to get hold of Niwanthi for a quick chat and this is what she had to say.
How is the support from your family?
From the day I started playing Basketball, until today they haven't missed a single match or even a practice session of mine. They've accompanied me all over because my mother happens to be the team assistant most of the time.
The balance between studies and sports. How do you it?
I took both as a challenge and a target to achieve in life.
How is your practice schedule?
Monday U20 match, Tuesday/Thursday practices and Saturday B Division matches – this is it pretty much from September to April/May every year. If my team does well in the 1st round, then the qualification matches start for the U20 National Championship and Promotional matches to play in the A division go on until July.
What are the steps you follow to handle pressure and keep your focus on the game?
Because of the high numbers of matches we play, the pressure has become an ordinary thing for me. I have also been pretty lucky, having had the opportunity to play for good teams, so I don't really feel the pressure until we get into the important matches like the National Championships and Promotional matches (Playout/Playoff). It's during this period that handling pressure and being able to maintain focus really makes a difference.
Tell us about an unforgettable moment you have experienced during your school career.
Here in Italy we don't have a Championship among schools like in Sri Lanka, if you want to play the sport, you need to join a club at an early age. Unforgettable moments….  One of them was when I was a part of the team that won the Italian Under 15 Nationals and another was when I played for the Colombo team, fulfilling my mother's dream.
Who are the toughest teams and players you have competed against?
Well for me, there have been a few tough teams to face, like Chalon France, Biassono, Sanga in Milan, Magika in Bologna Italy.
When it comes to players, I would say Sofia Vespignani, Rachele Porcu, Cecilia Zandalasini, Francesca Pan, Martina Kacerik, all Italian players.
What are your future plans in basketball?
I would like to become a good coach. At the moment I'm coaching younger girls (8/9 years) in the Club where I started playing 13 years ago. My coach back then is now in charge of the junior sector and wanted me to take on this challenge.
How are you planning to achieve that?
It's a good start to begin with girls, I want to focus on that for the moment and then move towards obtaining the licence to coach a Boys' team in the future.
Where does basketball stand in Sri Lanka, as you see it? What would you say to someone starting out?
What I saw last year when I played for the Colombo team at the Colombo Super League is that the coaches in Sri Lanka need to work more on the schemes and tactics of modern basketball. Over here in Italy, all the matches are played on tactics and work outs. It's good that some of our coaches are going overseas to learn more.
Apart from basketball, do you have any other interests?
Well I like learning languages.
What are your goals for the near future?
I really want to return to Sri Lanka and maybe get an opportunity to represent my country someday.
ThePapare.com team would like to wish Niwanthi all the very best in her future endeavours.