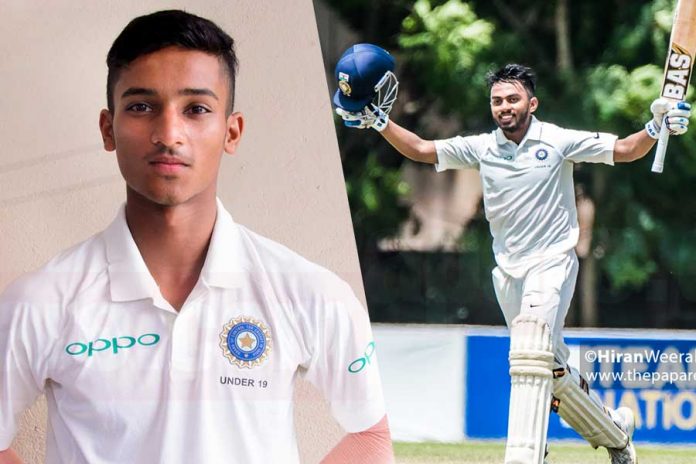 It was a hot and humid day in Colombo, as the Sri Lanka U19s were put under pressure on day two with India ending the day on a mammoth 473/5 in reply to the hosts' 244 all-out.
The 1st unofficial Youth Test between the visiting India U19s and Sri Lanka…
The lowest score from an Indian batsmen was 25 which summed up Sri Lanka U19s day, while Atharva Taide and Ayush Badoni hit scintillating centuries.
India, resuming day two on 92/1, continued their dominance before left arm quick Kalana Perera accounted for the dismissal of Devdutt Padikkal for 25.
Opening batsman Taide was solid as ever as he rotated the strike brilliantly while putting the bad balls away, on his way to a well deserved century.
Pawan Shah(38) and Yash Rathod(34) looked well set before they threw their wickets away along with Taide who eventually departed for 113 off 160 balls inclusive of 13 fours.
Read: Dilruwan Perera, unsung but not an underachiever
India were suddenly 290/5 and Sri Lanka had hope of minimizing the first innings deficit, but that was as good as it got for the hosts as Nehan Wadhera and Ayush Badoni clobbered the Sri Lankan bowling to all parts of the NCC grounds.
Wadhera hit 3 sixes and 9 fours in his unbeaten 81* off 117 balls and he was surprisingly the more sedate of the two batsmen.
Badoni hit only two sixes but stoked 11 delightful boundaries on his way to an unbeaten 107* off just 115 balls.
The duo were excellent against the spinners, using their feet to good affect and using all kinds of sweeps to tackle them. They were hardly troubled by the Sri Lankan fast bowlers as they put on an unbroken 183 runs for the sixth wicket.
Photo Album – Sri Lanka U19 Team for India Series 2018
Kalana Perera bowled his heart out for the hosts on an unresponsive surface, picking up 2/98, while right arm off spinner Kalhara Senaratne managed two wickets conceding 114 runs.
India U19s will resume the penultimate(3rd) day of this match tomorrow already 229 runs ahead of Sri Lanka U19s 1st innings score.
// var socket=io('http://localhost:8080'); var socket=io('http://202.124.184.250:8080');
jQuery( document ).ready(function() { console.log( "ready" ); var prev_bat_team = 0;
socket.on('message',function (message) { message = JSON.parse(message); console.log(message); if( message.data.cric.commentary){ jQuery('#cmt_wrap').prepend('
'+message.data.cric.commentary.event+'
'+message.data.cric.commentary.comment+'
'); } if(message.data.cric.match){ console.log(message.data.cric.match.teams_1_inn2_r[0]); function ove(balls) { var overs = 0; if(balls %6 == 0){ overs = balls/6; }else{ overs = parseInt(balls/6)+"."+(+balls - +parseInt(balls/6)*6); } console.log(overs); return overs; }
if(!message.data.cric.match.teams_1_inn2_r[0]){
jQuery('#score_1_'+message.data.cric.match.teams_1_r[0]['id']).html(message.data.cric.match.teams_1_r[0]['score'] + " / " + message.data.cric.match.teams_1_r[0]['wkts']); jQuery('#over_1_'+message.data.cric.match.teams_1_r[0]['id']).html("("+ove(message.data.cric.match.teams_1_r[0]['balls'])+" overs)"); }else { jQuery('#score_1_'+message.data.cric.match.teams_1_r[0]['id']).html(message.data.cric.match.teams_1_r[0]['score'] + " / " + message.data.cric.match.teams_1_r[0]['wkts']+" & "+message.data.cric.match.teams_1_inn2_r[0]['score']+" / "+message.data.cric.match.teams_1_inn2_r[0]['wkts']); jQuery('#over_1_'+message.data.cric.match.teams_1_r[0]['id']).html("("+ove(message.data.cric.match.teams_1_inn2_r[0]['balls'])+" overs)"); } if(!message.data.cric.match.teams_2_inn2_r[0]){
jQuery('#score_2_'+message.data.cric.match.teams_2_r[0]['id']).html(message.data.cric.match.teams_2_r[0]['score'] + " / " + message.data.cric.match.teams_2_r[0]['wkts']); jQuery('#over_2_'+message.data.cric.match.teams_2_r[0]['id']).html("("+ove(message.data.cric.match.teams_2_r[0]['balls'])+" overs)"); }else { jQuery('#score_2_'+message.data.cric.match.teams_2_r[0]['id']).html(message.data.cric.match.teams_2_r[0]['score'] + " / " + message.data.cric.match.teams_2_r[0]['wkts']+" & "+message.data.cric.match.teams_2_inn2_r[0]['score']+" / "+message.data.cric.match.teams_2_inn2_r[0]['wkts']); jQuery('#over_2_'+message.data.cric.match.teams_2_r[0]['id']).html("("+ove(message.data.cric.match.teams_2_inn2_r[0]['balls'])+" overs)"); }
if(message.data.cric.match.teams_1_r[0]['extras']!=null){ jQuery('#extras_1_r_'+message.data.cric.match.teams_1_r[0]['id']).html("("+ove(message.data.cric.match.teams_1_r[0]['extras'])); } if(message.data.cric.match.teams_2_r[0]['extras']!=null){ jQuery('#extras_2_r_'+message.data.cric.match.teams_1_r[0]['id']).html("("+ove(message.data.cric.match.teams_2_r[0]['extras'])); } if(message.data.cric.match.teams_1_inn2_r[0]['extras']!=null){ jQuery('#extras_1_r_2_'+message.data.cric.match.teams_1_inn2_r[0]['id']).html("("+ove(message.data.cric.match.teams_1_inn2_r[0]['extras'])); } if(message.data.cric.match.teams_2_inn2_r[0]['extras']!=null){ jQuery('#extras_1_r_2_'+message.data.cric.match.teams_2_inn2_r[0]['id']).html("("+ove(message.data.cric.match.teams_2_inn2_r[0]['extras'])); }
//extras_1_r_2_ // if(prev_bat_team != message.data.cric.team_id){ jQuery('#widget_wrapper').load(document.URL + ' #widget_wrapper'); // } // prev_bat_team = message.data.cric.team_id // }
}); });
Full Scorecard
Sri Lanka U19 vs India U19
244/10 & 324/10
(95.2 overs)
Ind U19 won by an innings and 21 runs
Sri Lanka U19's 1st Innings
Batting
R
B
K Mishara
lbw by Arjun Tendulkar
9
11
Nishan Madushka
c & b Harsh Tyagi
39
55
N Dhananjaya
c Anuj Rawat b Mohit Jangra
39
61
N Fernando
c Anuj Rawat b Harsh Tyagi
22
41
P.Sooriyabandara
c Mohit Jangra b Harsh Tyagi
69
134
Sandun Mendis
c Atharva Taide b Harsh Tyagi
39
59
D.Wellalage
lbw by Ayush Badoni
0
2
K Senarathne
lbw by Ayush Badoni
2
17
Nipun Malinga
lbw by Ayush Badoni
4
9
S Dulshan
not out
7
22
K.Perera
c Devdutt Padikkal b Ayush Badoni
2
12
Extras
12 (b 1, lb 5, w 1, nb 0, p 5)
Total
244/10 (70.3 overs)
Fall of Wickets:
20-1 (RVPK Mishra, 2.6), 73-2 (Nishan Madushka, 18.4), 93-3 (Nipun Dananjaya, 23.5), 128-4 (NN Fernando, 32.1), 206-5 (ST Mendis, 53.3), 206-6 (DN Wellalage, 54.2), 214-7 (SMKS Senarathne, 60.1), 224-8 (Nipun Malinga, 62.6), 234-9 (Pasindu Sooriyabandara, 65.3), 244-10 (EKV Perera, 70.3)
| Bowling | O | M | R | W | E |
| --- | --- | --- | --- | --- | --- |
| A Tendulkar | 11 | 2 | 33 | 1 | 3.00 |
| A Pandey | 10 | 0 | 41 | 0 | 4.10 |
| M Jangra | 10 | 3 | 28 | 1 | 2.80 |
| H Tyagi | 26 | 5 | 92 | 4 | 3.54 |
| A Taide | 4 | 2 | 15 | 0 | 3.75 |
| A Badoni | 9.3 | 2 | 24 | 4 | 2.58 |
India U19's 1st Innings
Batting
R
B
A.Rawat
c Nishan Madushka b Kalhara Senarathne
63
58
A Taide
c & b Kalhara Senarathne
113
161
D Padikkal
lbw by Kalana Perera
25
34
P Shah
c Sandun Mendis b Kalana Perera
38
90
Y Rathod
c Nishan Madushka b Sandun Mendis
34
69
N Wadhera
b Kalhara Senarathne
82
131
A Badoni
not out
185
206
H Tyagi
c & b Kalhara Senarathne
15
24
A Tendulkar
c Pasindu sooriyabandara b Shashika Dulshan
0
11
M Jangra
c Nuwanidu Fernando b Kalhara Senarathne
22
26
A Pandey
b Kalhara Senarathne
0
0
Extras
12 (b 0, lb 3, w 6, nb 3)
Total
589/10 (134.5 overs)
Fall of Wickets:
92-1 (Anuj Rawat, 16.4), 141-2 (Devdutt Padikkal, 25.5), 227-3 (Pawan Shah, 51.3), 258-4 (Atharwa Taide, 63.3), 290-5 (Yash Rathod, 70.5), 489-6 (Nehal Wadhera, 112.5), 525-7 (Harsh Tyagi, 120.5), 528-8 (Arjun Tendulkar, 123.5), 589-9 (Mohit Jangra, 134.4), 589-10 (Akash Pande, 134.5)
| Bowling | O | M | R | W | E |
| --- | --- | --- | --- | --- | --- |
| K.Perera | 24 | 2 | 107 | 2 | 4.46 |
| Nipun Malinga | 14 | 0 | 73 | 0 | 5.21 |
| K Senarathne | 39.5 | 2 | 174 | 6 | 4.41 |
| Sandun Mendis | 18 | 3 | 65 | 1 | 3.61 |
| S Dulshan | 37 | 2 | 157 | 1 | 4.24 |
| D.Wellalage | 2 | 0 | 10 | 0 | 5.00 |
Sri Lanka U19's 2nd Innings
Batting
R
B
Kamil Mishara
c Pavan Shah b Mohit Jangra
13
0
Nishan Madushka
c Devdutt Padikkal b Mohit Jangra
104
118
Nipun Dhananjaya
c Anuj Rawat b Mohit Jangra
20
73
Nuwanidu Fernando
c A.Pandey b M.Jangra
78
134
Pasindu Sooriyabandara
c P.Shah b A.Pandey
36
97
Sandun Mendis
c D.Paddikal b M.jangra
37
47
Kalhara Senarathna
c A.Rawat b A.Badoni
3
21
Nipun Malinga
c H.Tyagi b A.Tendulkar
23
35
Shashika Dulshan
c D.Paddikal b A.Badoni
5
9
Kalana Perera
not out
1
6
Dunith Wellalage
not out
0
0
Extras
4 (b 2, lb 1, w 1)
Total
324/10 (95.2 overs)
Fall of Wickets:
1-42 (K Mishara, 12.2 ov), 2-133 (KNM Fernando, 35.5 ov), 3-142 (ND Perera, 37.6 ov), 4-209 (P Sooriyabandara, 68.4 ov), 5-279 (MNK Fernando, 81.6 ov), 6-292 (ST Mendis, 83.5 ov), 7-302 (SMKS Senarathne, 90.3 ov), 8-310 (PWS Dulshan, 92.6 ov), 9-324 (LN Malinga, 95.2 ov)
| Bowling | O | M | R | W | E |
| --- | --- | --- | --- | --- | --- |
| H Tyagi | 33 | 13 | 78 | 0 | 2.36 |
| A Tendulkar | 11.2 | 1 | 32 | 1 | 2.86 |
| A Pandey | 12 | 0 | 66 | 1 | 5.50 |
| M Jangra | 18 | 5 | 72 | 5 | 4.00 |
| A Badoni | 14 | 2 | 57 | 2 | 4.07 |
| A Taide | 5 | 2 | 11 | 0 | 2.20 |
| N Wadhera | 2 | 1 | 5 | 0 | 2.50 |