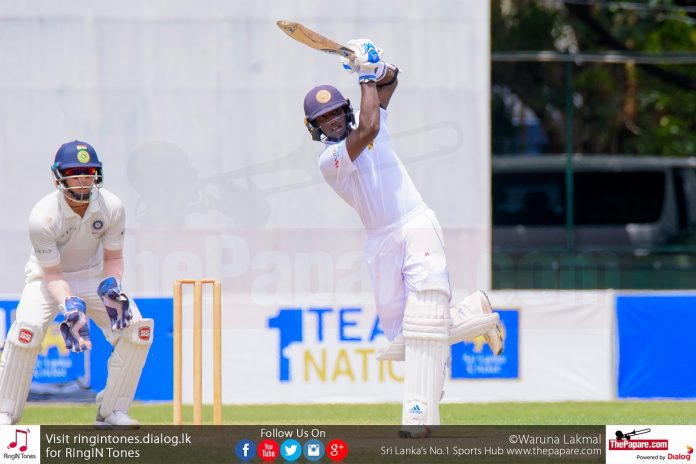 The 1st unofficial Youth Test between the visiting India U19s and Sri Lanka U19s got underway at the NCC grounds in Colombo today(17).
The India U19s made a bold reply of 92/1 in just 16.4 overs, after they managed to restrict the Sri Lanka U19s to 244 earlier in the day.
Photos: U19 India v Sri Lanka Media Briefing
Sri Lanka U19 skipper Nipun Dananjaya won the toss and decided to have a bat first before Arjun Tendulkar – son of legendary Indian batsman Sachin Tendulkar – trapped the aggressive Kamil Mishara in front for 9 runs.
Skipper Dananjaya walked in at no. 3 as he and Nishan Madushka steadied the ship for the hosts to a certain extent with a half century stand for the second wicket. The dismissal of Madushka sparked a mini collapse as the hosts were in a sport of bother at 128/4 with left arm spinner Harsh Tyagi on fire with the ball for India.
Pasindu Sooriyabandara was striking the ball as clean as ever as he decided to counter punch the Indian bowlers. He found an ideal partner in Sandun Mendis – who carries the tag of a crisis player in the schools arena – as the duo put on 78 runs for the 5th wicket. Sooriyabandara hit three massive sixes as the partnership gathered momentum but Mendis fell at a crucial juncture of the match for 39, as Sri Lanka lost their last six wickets for just 38 runs to be bowled out for 244.
 Photos: Sri Lanka U19 Team for India Series 2018
While Tyagi ended with four top order scalps, right arm off-spinner Ayush Badoni complemented beautifully picking up 4/24 cleaning up the handy Sri Lankan lower order. Sooriyabandara was running out of partners fast before he eventually was dismissed as the ninth batsman for a promising 69.
The Indians just like they did in their warm up game, came out all guns blazing. Skipper Anuj Rawat was particularly impressive with his clean striking as he got to his half century off just 42 deliveries.
Rawat was unfortunate to fall for 63 in the final over of the day, when right arm off-spinner Kalhara Senarathne got the better of him as Sri Lanka breathed a sigh of relief after a 92 run opening stand.
Read: Dilruwan Perera, unsung but not an underachiever
Atharva Taide played second fiddle to his skipper as he remained unbeaten on 26* when the umpires decided to call off play with the Indian U19s on 92/1, 152 runs behind the Sri Lanka U19s.
// var socket=io('http://localhost:8080'); var socket=io('http://202.124.184.250:8080');
jQuery( document ).ready(function() { console.log( "ready" ); var prev_bat_team = 0;
socket.on('message',function (message) { message = JSON.parse(message); console.log(message); if( message.data.cric.commentary){ jQuery('#cmt_wrap').prepend('
'+message.data.cric.commentary.event+'
'+message.data.cric.commentary.comment+'
'); } if(message.data.cric.match){ console.log(message.data.cric.match.teams_1_inn2_r[0]); function ove(balls) { var overs = 0; if(balls %6 == 0){ overs = balls/6; }else{ overs = parseInt(balls/6)+"."+(+balls - +parseInt(balls/6)*6); } console.log(overs); return overs; }
if(!message.data.cric.match.teams_1_inn2_r[0]){
jQuery('#score_1_'+message.data.cric.match.teams_1_r[0]['id']).html(message.data.cric.match.teams_1_r[0]['score'] + " / " + message.data.cric.match.teams_1_r[0]['wkts']); jQuery('#over_1_'+message.data.cric.match.teams_1_r[0]['id']).html("("+ove(message.data.cric.match.teams_1_r[0]['balls'])+" overs)"); }else { jQuery('#score_1_'+message.data.cric.match.teams_1_r[0]['id']).html(message.data.cric.match.teams_1_r[0]['score'] + " / " + message.data.cric.match.teams_1_r[0]['wkts']+" & "+message.data.cric.match.teams_1_inn2_r[0]['score']+" / "+message.data.cric.match.teams_1_inn2_r[0]['wkts']); jQuery('#over_1_'+message.data.cric.match.teams_1_r[0]['id']).html("("+ove(message.data.cric.match.teams_1_inn2_r[0]['balls'])+" overs)"); } if(!message.data.cric.match.teams_2_inn2_r[0]){
jQuery('#score_2_'+message.data.cric.match.teams_2_r[0]['id']).html(message.data.cric.match.teams_2_r[0]['score'] + " / " + message.data.cric.match.teams_2_r[0]['wkts']); jQuery('#over_2_'+message.data.cric.match.teams_2_r[0]['id']).html("("+ove(message.data.cric.match.teams_2_r[0]['balls'])+" overs)"); }else { jQuery('#score_2_'+message.data.cric.match.teams_2_r[0]['id']).html(message.data.cric.match.teams_2_r[0]['score'] + " / " + message.data.cric.match.teams_2_r[0]['wkts']+" & "+message.data.cric.match.teams_2_inn2_r[0]['score']+" / "+message.data.cric.match.teams_2_inn2_r[0]['wkts']); jQuery('#over_2_'+message.data.cric.match.teams_2_r[0]['id']).html("("+ove(message.data.cric.match.teams_2_inn2_r[0]['balls'])+" overs)"); }
if(message.data.cric.match.teams_1_r[0]['extras']!=null){ jQuery('#extras_1_r_'+message.data.cric.match.teams_1_r[0]['id']).html("("+ove(message.data.cric.match.teams_1_r[0]['extras'])); } if(message.data.cric.match.teams_2_r[0]['extras']!=null){ jQuery('#extras_2_r_'+message.data.cric.match.teams_1_r[0]['id']).html("("+ove(message.data.cric.match.teams_2_r[0]['extras'])); } if(message.data.cric.match.teams_1_inn2_r[0]['extras']!=null){ jQuery('#extras_1_r_2_'+message.data.cric.match.teams_1_inn2_r[0]['id']).html("("+ove(message.data.cric.match.teams_1_inn2_r[0]['extras'])); } if(message.data.cric.match.teams_2_inn2_r[0]['extras']!=null){ jQuery('#extras_1_r_2_'+message.data.cric.match.teams_2_inn2_r[0]['id']).html("("+ove(message.data.cric.match.teams_2_inn2_r[0]['extras'])); }
//extras_1_r_2_ // if(prev_bat_team != message.data.cric.team_id){ jQuery('#widget_wrapper').load(document.URL + ' #widget_wrapper'); // } // prev_bat_team = message.data.cric.team_id // }
}); });
Full Scorecard
Sri Lanka U19 vs India U19
244/10 & 324/10
(95.2 overs)
Ind U19 won by an innings and 21 runs
Sri Lanka U19's 1st Innings
Batting
R
B
K Mishara
lbw by Arjun Tendulkar
9
11
Nishan Madushka
c & b Harsh Tyagi
39
55
N Dhananjaya
c Anuj Rawat b Mohit Jangra
39
61
N Fernando
c Anuj Rawat b Harsh Tyagi
22
41
P.Sooriyabandara
c Mohit Jangra b Harsh Tyagi
69
134
Sandun Mendis
c Atharva Taide b Harsh Tyagi
39
59
D.Wellalage
lbw by Ayush Badoni
0
2
K Senarathne
lbw by Ayush Badoni
2
17
Nipun Malinga
lbw by Ayush Badoni
4
9
S Dulshan
not out
7
22
K.Perera
c Devdutt Padikkal b Ayush Badoni
2
12
Extras
12 (b 1, lb 5, w 1, nb 0, p 5)
Total
244/10 (70.3 overs)
Fall of Wickets:
20-1 (RVPK Mishra, 2.6), 73-2 (Nishan Madushka, 18.4), 93-3 (Nipun Dananjaya, 23.5), 128-4 (NN Fernando, 32.1), 206-5 (ST Mendis, 53.3), 206-6 (DN Wellalage, 54.2), 214-7 (SMKS Senarathne, 60.1), 224-8 (Nipun Malinga, 62.6), 234-9 (Pasindu Sooriyabandara, 65.3), 244-10 (EKV Perera, 70.3)
| Bowling | O | M | R | W | E |
| --- | --- | --- | --- | --- | --- |
| A Tendulkar | 11 | 2 | 33 | 1 | 3.00 |
| A Pandey | 10 | 0 | 41 | 0 | 4.10 |
| M Jangra | 10 | 3 | 28 | 1 | 2.80 |
| H Tyagi | 26 | 5 | 92 | 4 | 3.54 |
| A Taide | 4 | 2 | 15 | 0 | 3.75 |
| A Badoni | 9.3 | 2 | 24 | 4 | 2.58 |
India U19's 1st Innings
Batting
R
B
A.Rawat
c Nishan Madushka b Kalhara Senarathne
63
58
A Taide
c & b Kalhara Senarathne
113
161
D Padikkal
lbw by Kalana Perera
25
34
P Shah
c Sandun Mendis b Kalana Perera
38
90
Y Rathod
c Nishan Madushka b Sandun Mendis
34
69
N Wadhera
b Kalhara Senarathne
82
131
A Badoni
not out
185
206
H Tyagi
c & b Kalhara Senarathne
15
24
A Tendulkar
c Pasindu sooriyabandara b Shashika Dulshan
0
11
M Jangra
c Nuwanidu Fernando b Kalhara Senarathne
22
26
A Pandey
b Kalhara Senarathne
0
0
Extras
12 (b 0, lb 3, w 6, nb 3)
Total
589/10 (134.5 overs)
Fall of Wickets:
92-1 (Anuj Rawat, 16.4), 141-2 (Devdutt Padikkal, 25.5), 227-3 (Pawan Shah, 51.3), 258-4 (Atharwa Taide, 63.3), 290-5 (Yash Rathod, 70.5), 489-6 (Nehal Wadhera, 112.5), 525-7 (Harsh Tyagi, 120.5), 528-8 (Arjun Tendulkar, 123.5), 589-9 (Mohit Jangra, 134.4), 589-10 (Akash Pande, 134.5)
| Bowling | O | M | R | W | E |
| --- | --- | --- | --- | --- | --- |
| K.Perera | 24 | 2 | 107 | 2 | 4.46 |
| Nipun Malinga | 14 | 0 | 73 | 0 | 5.21 |
| K Senarathne | 39.5 | 2 | 174 | 6 | 4.41 |
| Sandun Mendis | 18 | 3 | 65 | 1 | 3.61 |
| S Dulshan | 37 | 2 | 157 | 1 | 4.24 |
| D.Wellalage | 2 | 0 | 10 | 0 | 5.00 |
Sri Lanka U19's 2nd Innings
Batting
R
B
Kamil Mishara
c Pavan Shah b Mohit Jangra
13
0
Nishan Madushka
c Devdutt Padikkal b Mohit Jangra
104
118
Nipun Dhananjaya
c Anuj Rawat b Mohit Jangra
20
73
Nuwanidu Fernando
c A.Pandey b M.Jangra
78
134
Pasindu Sooriyabandara
c P.Shah b A.Pandey
36
97
Sandun Mendis
c D.Paddikal b M.jangra
37
47
Kalhara Senarathna
c A.Rawat b A.Badoni
3
21
Nipun Malinga
c H.Tyagi b A.Tendulkar
23
35
Shashika Dulshan
c D.Paddikal b A.Badoni
5
9
Kalana Perera
not out
1
6
Dunith Wellalage
not out
0
0
Extras
4 (b 2, lb 1, w 1)
Total
324/10 (95.2 overs)
Fall of Wickets:
1-42 (K Mishara, 12.2 ov), 2-133 (KNM Fernando, 35.5 ov), 3-142 (ND Perera, 37.6 ov), 4-209 (P Sooriyabandara, 68.4 ov), 5-279 (MNK Fernando, 81.6 ov), 6-292 (ST Mendis, 83.5 ov), 7-302 (SMKS Senarathne, 90.3 ov), 8-310 (PWS Dulshan, 92.6 ov), 9-324 (LN Malinga, 95.2 ov)
| Bowling | O | M | R | W | E |
| --- | --- | --- | --- | --- | --- |
| H Tyagi | 33 | 13 | 78 | 0 | 2.36 |
| A Tendulkar | 11.2 | 1 | 32 | 1 | 2.86 |
| A Pandey | 12 | 0 | 66 | 1 | 5.50 |
| M Jangra | 18 | 5 | 72 | 5 | 4.00 |
| A Badoni | 14 | 2 | 57 | 2 | 4.07 |
| A Taide | 5 | 2 | 11 | 0 | 2.20 |
| N Wadhera | 2 | 1 | 5 | 0 | 2.50 |