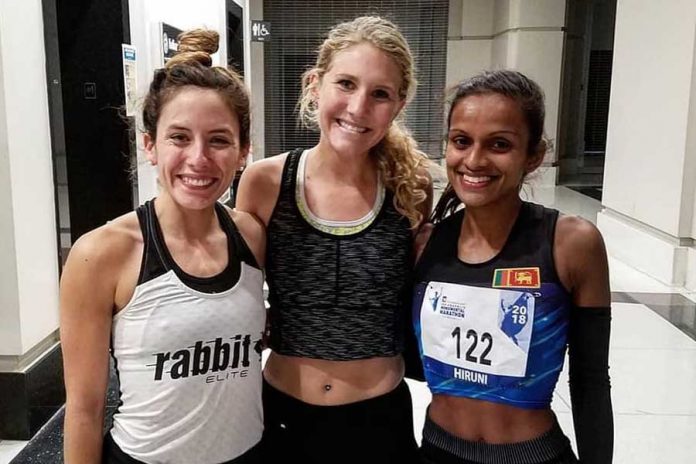 Sri Lanka's premier marathoner and National record holder in the women's Marathon, USA based Hiruni Wijayrathne finished the Indianapolis Monumental Marathon 2018 in the overall 39th place and as the second woman to cross the finish line.
Hiruni clocked 2.38:34 which is her second-best performance and is also the second-best performance by a Sri Lankan in the Women's marathon. Hiruni holds the National record for her record breaking run at the Houston Marathon where she clocked 2:36.35 to clinch the national record. It was great comeback performance by Hiruni who had a disappointing outing at the Chicago Marathon earlier in October where she could not finish the race despite clocking 1:18.07 at the halfway mark.
US based Sri Lankan Marathoner Hiruni Wijerathne renewed..
Hiruni who was the leading women's runner in the race up until the final 10000m of the competition was beaten by Laurie Knowels who finished the race clocking 2:37.50 becoming the first female to finish the competition. Hiruni was the 39th overall competitor to finish the competition and the first athlete in the 25-29 years age group to do so.
She had this to say regarding her performance on her Facebook page.