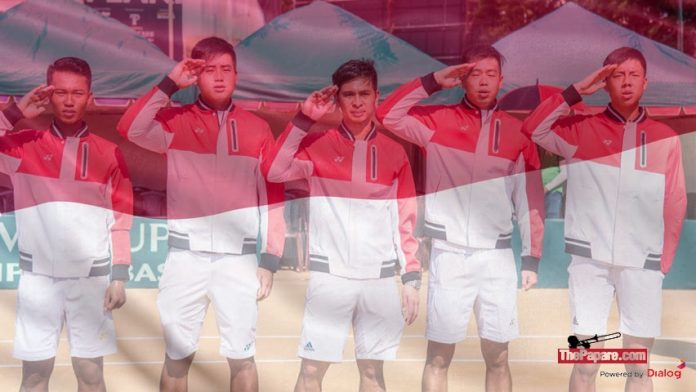 There were many tears as they witnessed a very emotional yet sensational weekend of tennis in the Davis Cup Zone Group II relegation tie between Sri Lanka and Indonesia. The two-day event was held at the Sri Lanka Tennis Association.
The Sri Lanka-Indonesia tie was a do-or-battle for both parties, and Indonesia pulled through a massive victory to retain their spot in the Group II of the Asia/Oceania for 2019. Only, this means hosts Sri Lanka have to step back down to the third group yet again for 2019.
With all things tied in the first two singles on day 1, it was all up to the power duo, Harshana Godamanna and Sharmal Dissanayake, to drive Sri Lanka home with a two-match victory today (8th) out of the three scheduled. Dissanayake fell short of victory in the first singles rubber yesterday but Godamanna made up for it by grabbing the second with a breezy win.
The long-awaited Asia/Oceania Zone Group II tie is finally upon us and the Lions were definitely roaring
After a 2-hour delayed start to play due to wet court conditions, Godamanna and Dissanayake set out for a win in the doubles against Justin Barki and Christopher Rungkat to kick off the final day of play. This was one match Sri Lanka would have wanted to lock down with a win as it would have omitted some pressure from the reverse singles.
Photo Album – Davis Cup Group II (Relegation Tie) – Day 2
It wasn't before 1 hour and 19 minutes on the clock Sri Lanka suffered a disappointing loss of 6/4, 6/3. With just a break each in the two sets, the Indo dynamos wrapped up the opening game of the day showcasing experience and grit. This would be Barki's first appearance in the Davis Cup and he took home a timely victory with partner Rungkat who is ranked 118th in the world in the doubles category. The Sri Lankan's first serve percentage in the overall match was what gave the edge to Indonesia as their service games let them down throughout the match.
Down 2-1, Harshana Godamanna stepped out to the plate to meet Christopher Rungkat in the reverse singles. Rungkat had already recorded a win in his first singles against Sharmal after the Lankan forfeited the game due to cramps in the third set. Rungkat mirrored his day 1 singles in the first two sets 6/4, 4/6 against Godamanna, taking the match to a third set tie breaker. Godamanna's backhand was impeccable throughout the match, often winning him points with a full throttle short crosscourt or an inside out stunner leaving. Both players were cracking under the unbearable heat in Colombo but neither player was willing to let go of this match. The third set was neck-n-neck right till it got to the tie-breaker at 7 points all.
16 years, 51 ties, 94 matches later, Harshana Godamanna receives the highest honour a National tennis player
Rungkat serves at 7-7 with a beautiful wide serve and forehand down the line winner going up 8-7 to earn his second match point, putting the pressure back on Godamanna's serve. With a slice serve to the advantage side taking Rungkat way off court, Godda comes up to net to receive the easiest of backhand volleys with a wide-open court. Luck was definitely not on his side at that moment, as the volley was millimeters too low and nicked the net to fall back on his side. Rungkat was surprised at this unfortunate mistake coming from Sri Lanka's top performer that he couldn't believe the match was over for a second or two; Till his teammates, friends and family flooded the courts in bliss.
With this loss, the fifth rubber was not played. Sri Lanka, though heavy hearted, are back in Group III for 2019 while Indonesia secures their spot right where they are.
For more tennis news, visit www.thepapare.com