Cricketing prodigies pop up quite frequently, you don't get too many in rugby. Hafiz Thabith is one of the teens who's already making a name for himself in a rugby career that has a long way to go.
Thabith was the youngest player to feature in a first XV jersey at the age of 14 in the Singer Schools Rugby League. A product of Wesley College, Thabith has gone onto win the U16 10's with his team.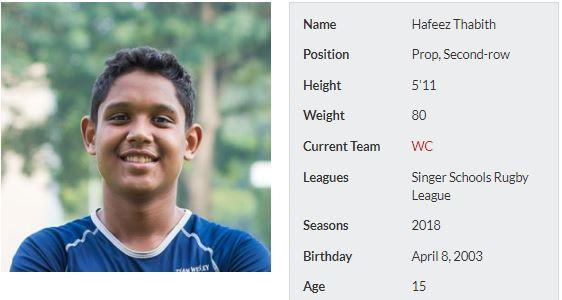 Thabith does, without a doubt, possess an extraordinary ability at hand offs seen in the junior in Sri Lanka. He may be facing other 16-year-olds, in a Sevens game, a ten's game or a fifteen's game, but it is a lightning quick move. He isn't just a showman either, he demonstrates incredible strength, and excellent ability under the line-out ball, a massive nous for evading tackles and is pretty much a good all-round forward with a number 8 future ahead of him.
Coming up through the school system at Wesley College, he has progressed up the ladder into the first fifteen jersey earlier than expected. He featured in a couple of games in the League season, putting in performances commendable for a 14 year old.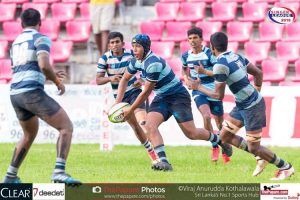 Thabith was an instrumental part of the U16 Wesley team that emerged champions in the ten's tournament held at the Pallekale Stadium last month. They were the in-form team with 4 first XV players strapping up their boot laces to take the field, defeating teams like Royal, Isipathana with ease on their way to the final. Wesley eventually edged over Dharmaraja College in a tight final to clinch the title.
Hafeez Thabith was the only forward to play in that team, as he played an instrumental part in the victory.
"The Campbell Park school, from day one, looked to be the dominant force. They had all the skills and power to go. Partly because they had three 1st XV poolists playing in their run on ten. This is great planning by their authorities by having junior age grade reps in their wider, senior training pool. A lesson to be learnt by all schools in how to structure their "talent pool".
Giving way to internal, home grown talent. They will now be a real force to be reckoned with over the next two to four years, provided that the rest of the competition refrain from outright "importing". Royal and Isipathana who were declared joint champs in the round robin league were no match in the mid-format against Wesley. Pathana fell victim to them in the quarters, followed by a game Royal who were no match.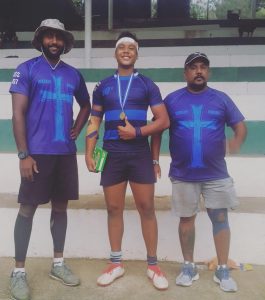 Their effect was telling and on day two, they marched on and won with ease. Barrier to box- as you would say in thoroughbred racing. They looked every part, a champion side." – Boa Athu
Thabith has also excelled in other extra-curricular activities in the College. He was the most outstanding player in 2014, the best all round performance in 2014 and the most outstanding student in 2012.
The Rugby career of Thabith is an interesting one,
He represented –
U09 Rugby team (2010 – 11)

U10 Rugby team (2011-12) – A member of the All Island Rugby Cup Championship

U12 Rugby team (2013-14) – A member of the Milo Rugby Group Runner-Up

U13 Rugby team (2015) – A member of Milo Rugby Group Champions

U14 Rugby team (2016) – A member of the All Island Plate Champions

U16 Rugby team (2017) – A member of the All Island Bowl Champions

U16 Rugby team (2018) – A member of the All Island 10's Cup champions

A member of first XV Rugby team.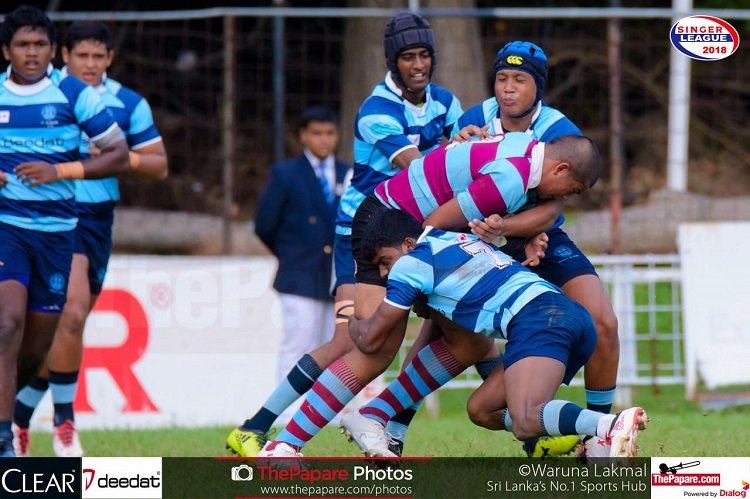 Thabith has a long way to go but if he can continue to perform the way he currently does, who knows, we may be looking at a future Sri Lankan Tusker!