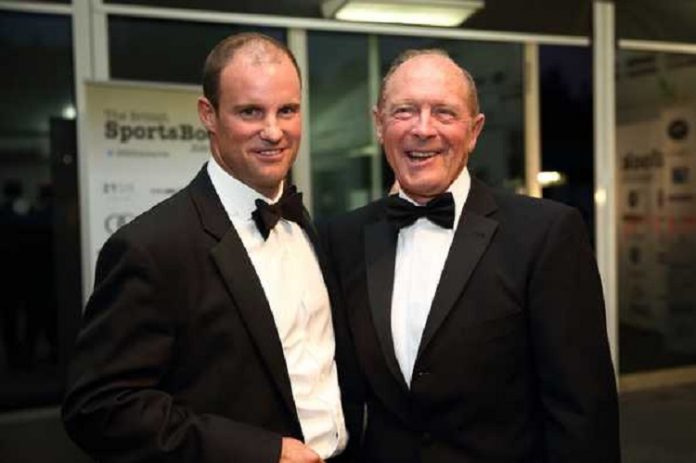 Geoffrey Boycott and Andrew Strauss, former England skippers, were handed knighthoods as per ex-Prime Minister Theresa May's resignation honours list.
Each departing prime minister can shortlist a resignation honours list, and the Cabinet Office has to approve the same. May chose Strauss and Boycott among the 57 people in the honours list.
Read More: Alastair Cook knighted after illustrious career
Boycott, 78, was a key member of the England side from 1964 to 1982, accumulating 8114 runs at an average of 47.72. The opener's defensive skills and temperament came into the limelight when he compiled 88 for Barnsley against Leeds in 1959. The former England opener, Herbert Sutcliffe, who was also captaining the Leeds side, witnessed that innings and took him under his wings.
He broke into the Yorkshire XI in the 1962 season when they played a tour game versus Pakistan. Boycott soon made an impression at the first class level, with 1628 and 2110 runs in the 1963 and 1964 domestic seasons. His consistent performances also earned him a maiden Test cap versus the Bob Simpson-led Australian side at Trent Bridge in June 1964.
In 1967-68, Boycott took his game to an elevated level, notching up 463 runs versus West Indies and helped his side to emerge triumphant in the Test series. He also played a pivotal role in England's series win versus the same opponent in 1969, accumulating 270 runs.
In 1970-71, the opener engineered a memorable Ashes triumph in Australia when he amassed 657 runs against the likes of Dennis Lillee and Graham McKenzie at an astounding average of over 90. He also stood up against the fiery pace duo of Lillee and Len Pascoe in the 1980 Test against Australia at Lord's with a resolute unbeaten 128 in the second innings.
Boycott's highest individual Test score of 246 not out came versus India in the Leeds Test in 1967. However, he was dropped for the next game for scoring too slowly. The veteran batsman also led the England side in four Tests, winning one and losing one game.
After retiring from the game, Boycott became a successful broadcaster. The opener also has had his fair share of controversies on and off the field. He was convicted in a French Court in 1998 for assaulting his then-partner.
Read More: Tendulkar, Donald and Fitzpatrick inducted into ICC Hall of Fame
Strauss, on the other hand, captained England to Ashes series victories in 2009 and 2010-11 respectively. The Ashes series win in Australia in 2010-11 turned out to be England's first Test series victory in Australia since 1986-87. Under his tenure, England also achieved the number one ranking in Tests after beating India 4-0 in 2011.
The left-handed opener, who made his Test debut back in 2004 versus New Zealand at Lord's, went on to score 7037 runs at an average of 40.91. He accrued his highest individual score of 177 against New Zealand in Napier in 2008. The 42-year-old played 127 ODIs for his country. Strauss also played a key role in shaping up England's World Cup winning side in 2019 as ECB's director of cricket.
Former England coach Andy Flower praised his former skipper by saying, "I cannot think of a man more worthy of the honour. As a player he was tough and resilient, as a captain he balanced a firm hand and moral compass with a compassion and empathy that meant he was loved and respected in the dressing room by his players and the staff."
ECB chief executive Tom Harrison noted: "Our heartfelt congratulations go to Sir Geoffrey Boycott – honoured for his long career and passionate dedication to the sport. In May 2015, Andrew was invited to join the ECB as director, England cricket, to shape the future strategy of the men's international teams – in part to enable an environment that would see England as live contenders for the World Cup in 2019, an aim they so thrillingly delivered on just a few short months ago.
"It was with the same class and courage that he and his family set up the Ruth Strauss Foundation to raise money and awareness just a few months after losing Ruth to a rare form of cancer. Aside from his achievements on and off the pitch, Andrew is widely regarded as an exceptional person in our game and this wonderful accolade will be celebrated around the cricketing world."