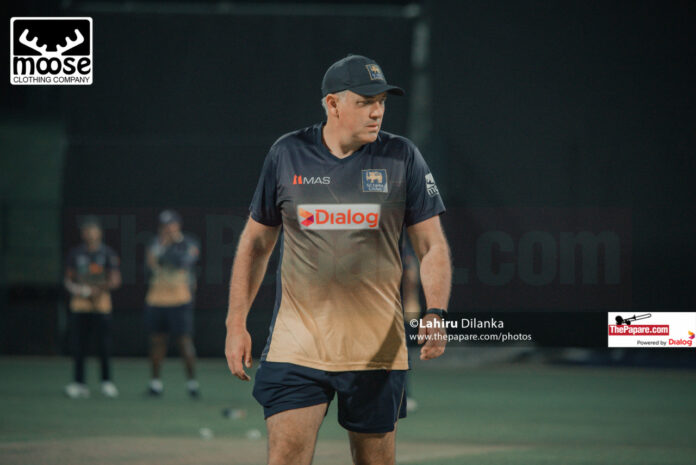 We all know that coaching is a tedious job. It can also be an unforgiving one. When you win, there are lots of individuals to share the credit. But when you lose, the dressing room can be a lonely place. When fans vent their spleen, administrators need scapegoats and coaches become the easiest target. Many are the good coaches that we have lost over the years for lack of patience.
A shocking 4-0 Ashes loss down under saw Silverwood losing his job as England Head Coach in February this year. Two months later, he ended up in Sri Lanka replacing Mickey Arthur.
The man who had been chosen to replace Arthur was Englishman Paul Farbrace. But Warwickshire's Director of Cricket had got cold feet despite agreeing on terms and conditions and Sri Lanka were left without a coach for away tours of Australia and India.
Silverwood's sacking from England and Farbrace turning the offer down was perfect timing for Sri Lanka and former captain Mahela Jayawardene, who had been entrusted the job to head-hunt a coach settled on the former England coach.
Silverwood has a proven recorded as a coach.  He had helped Essex win the County Championship after 25 years and suddenly England were interested in him. He was their Bowling Coach during the successful World Cup campaign in 2019 and when Trevor Bayliss vacated his position, Silverwood became the front-runner.
The Yorkshireman's tenure as England coach wasn't too bad and included a series win against Sri Lanka as well in Galle. But bio-secure bubbles took their tolls and a 4-0 score line against Australia is sure to bring any good coach down.
England Head Coach is a powerful job. Their system is quite unique from most other teams as the coach is empowered with selection responsibilities. Silverwood's decision that came under heavy criticism was his rest and rotate policy whereby all top players were not available for selection and England were handicapped.
Despite the sacking, the British press agreed on one thing. That is the Head Coach is a very decent man and believes strongly in his principles.
Silverwood in his first assignment in Bangladesh, impressed the Test squad as someone who is methodical, calm and doesn't get rattled when things don't go your way. It is usually the coaches with complicated and complex methods like John Buchanan and late Bob Woolmer who get lot of attention. Although Silverwood's methods have the odd complicated theory like dropping Danushka Gunathilaka down the order, most of his routines remain simple and easy to understand.
There are coaches who get attention as television cameras focus on the dressing rooms during tight moments. Silverwood stays away from the limelight letting his players soak in all the glory and hype.
 In six months time, the Englishman has impressed us all. Given the status of Sri Lankan cricket, not many expected the team do well when the Aussies came down for an all format sixweek tour. To beat them in the ODI leg of the tour was a feather in the coach's cap and then come from behind win in the Tests cheered up the fans. The Pakistan series was hard fought one with both teams winning a Test match each.
The Asia Cup win was the ultimate joy. After the humiliation in the Afghanistan game, the manner in which Sri Lanka fought back was simply outstanding. To win five games in a row in T-20 cricket is no easy task and to think that Dasun Shanaka's side beat both worlds' number one ranked and number two teams in the competition says a lot.
Although the Head Coach has earned a reputation as someone who is calm and doesn't get excited, when he needs to put the foot down and be firm, he's done it. One such instance was in Bangladesh when his fast bowlers wasted the new ball by being wayward. Another occasion was during the Australian series when a member of the supporting staff expressed his emotions during a tight game.
The World Cup will give us an opportunity to assess where exactly is Sri Lankan cricket is placed. There's no bigger challenge in cricket than to excel in Australia. Sri Lanka will also be drawn in a group in the tournament proper against other formidable sides like England, New Zealand and the hosts and that will test them although the group involving India, Pakistan, South Africa and Bangladesh looks much easier.
There was a stage ahead of last T-20 World Cup where there was doubt whether Sri Lanka will get beyond the qualifying round. Those doubts have been now put to rest with the team beating leading teams in the world. The next target should be to stop playing qualifying rounds and earn automatic qualification by being in the top half of the ICC Rankings.