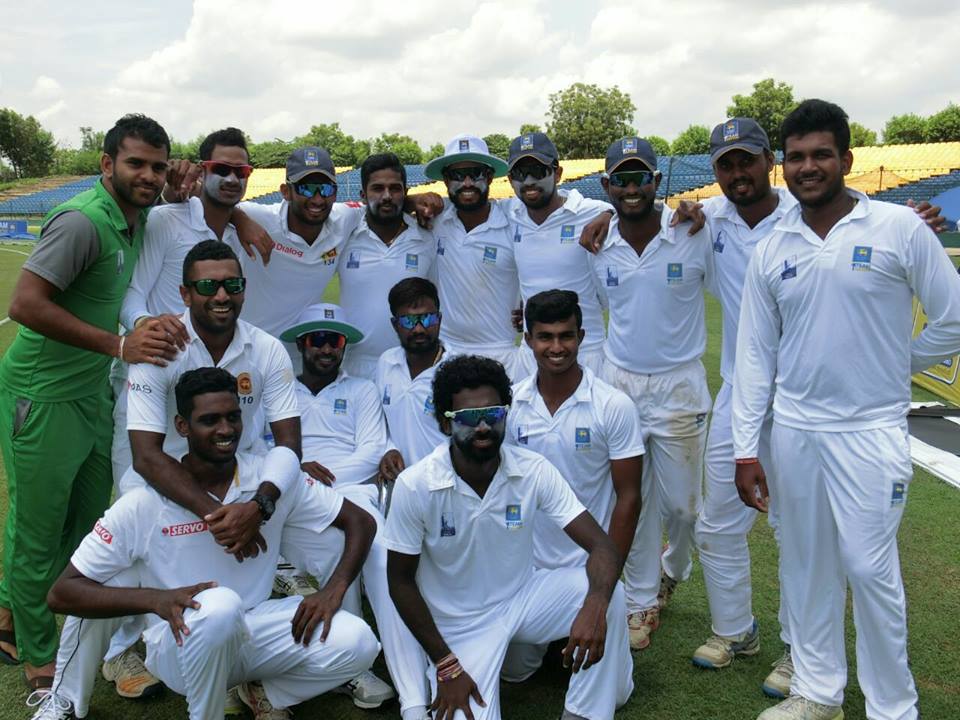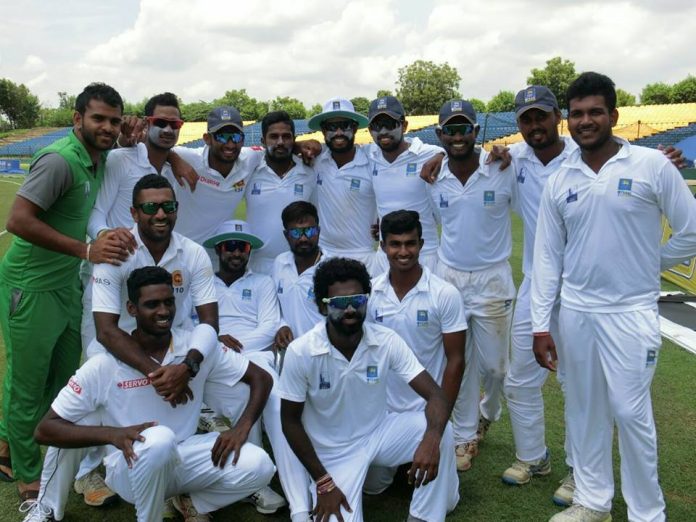 Final day of the Super Provincial four day cricket tournament 2018 concluded today with Galle team winning the championship and Dambulla team taking the runners-up title. Kandy team opener Pathum Nissanka's master class century lit up the final day's play.  
Kandy vs Galle
The encounter between Galle and Kandy ended in a draw today at the Hambanthota International Cricket Stadium but the crucial first innings points were won by the Galle team. With this first innings victory, the Galle team won the Super Provincial four day championship with an aggregated 38.03 points.  
Read: Upul and Roshen put Galle in command
Galle team declared their second innings today at 306 for 9, adding only 8 runs to their overnight score of 298. Roshen Silva, who remained unbeaten on 88 runs at stumps yesterday, was bowled by right arm seamer Chamika Karunaratne for 89 runs. Karunaratne did well with the ball for Kandy taking 5 scalps for 63 runs.
Chasing a mammoth score of 547 runs to win, Kandy openers Mahela Udawatte and Pathum Nissanka needed to provide a strong start to the innings but they made only a 34-run partnership for the first wicket as the former was caught at mid-wicket by Roshen Silva off the bowling of seamer Nisala Tharaka.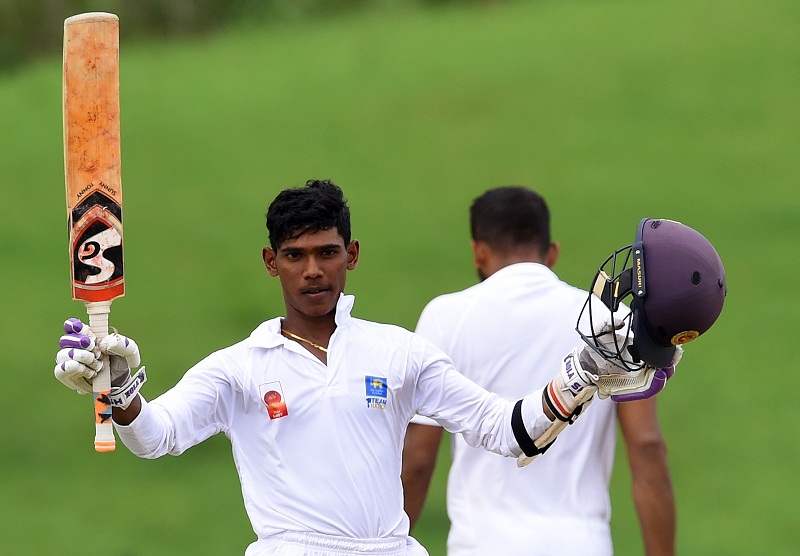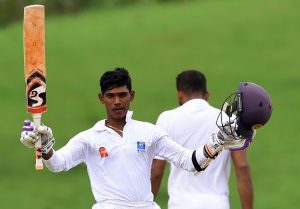 Then Nissanka was joined by Charith Asalanka at the middle and they built a match saving 148-run partnership for the second wicket. 20-year old left hander Charith Asalanka stroked 62 runs off 143 balls including 8 fours and 1 massive six over long on. 
Skipper Angelo Mathews had a perfect opportunity to gain much needed match practice for the upcoming West Indies series but made only 23 runs off 34 balls as he was trapped in front by tall off spinner Nishan Peiris.
At 231 for 3, Nissanka and wicket keeper batsman Niroshan Dickwella joined at the crease and built an unbeaten 132-run partnership for the fourth wicket before umpires called stumps on day four at 5.20pm due to bad light.
19-year old right handed batsman Pathum Nissanka who has represented Sri Lanka U-19s, stroked a magnificent century as he remained unbeaten on 188 runs off 226 balls including 20 fours and 3 sixes. It was a well-paced innings with a wide array of shots and came at an impressive strike rate of 83.10. Niroshan Dickwella supported him well at the other end stroking 56 runs off 66 balls with 4 boundaries.
// var socket=io('http://localhost:8080'); var socket=io('http://202.124.184.250:8080');
jQuery( document ).ready(function() { console.log( "ready" ); var prev_bat_team = 0;
socket.on('message',function (message) { message = JSON.parse(message); console.log(message); if( message.data.cric.commentary){ jQuery('#cmt_wrap').prepend('
'+message.data.cric.commentary.event+'
'+message.data.cric.commentary.comment+'
'); } if(message.data.cric.match){ console.log(message.data.cric.match.teams_1_inn2_r[0]); function ove(balls) { var overs = 0; if(balls %6 == 0){ overs = balls/6; }else{ overs = parseInt(balls/6)+"."+(+balls - +parseInt(balls/6)*6); } console.log(overs); return overs; }
if(!message.data.cric.match.teams_1_inn2_r[0]){
jQuery('#score_1_'+message.data.cric.match.teams_1_r[0]['id']).html(message.data.cric.match.teams_1_r[0]['score'] + " / " + message.data.cric.match.teams_1_r[0]['wkts']); jQuery('#over_1_'+message.data.cric.match.teams_1_r[0]['id']).html("("+ove(message.data.cric.match.teams_1_r[0]['balls'])+" overs)"); }else { jQuery('#score_1_'+message.data.cric.match.teams_1_r[0]['id']).html(message.data.cric.match.teams_1_r[0]['score'] + " / " + message.data.cric.match.teams_1_r[0]['wkts']+" & "+message.data.cric.match.teams_1_inn2_r[0]['score']+" / "+message.data.cric.match.teams_1_inn2_r[0]['wkts']); jQuery('#over_1_'+message.data.cric.match.teams_1_r[0]['id']).html("("+ove(message.data.cric.match.teams_1_inn2_r[0]['balls'])+" overs)"); } if(!message.data.cric.match.teams_2_inn2_r[0]){
jQuery('#score_2_'+message.data.cric.match.teams_2_r[0]['id']).html(message.data.cric.match.teams_2_r[0]['score'] + " / " + message.data.cric.match.teams_2_r[0]['wkts']); jQuery('#over_2_'+message.data.cric.match.teams_2_r[0]['id']).html("("+ove(message.data.cric.match.teams_2_r[0]['balls'])+" overs)"); }else { jQuery('#score_2_'+message.data.cric.match.teams_2_r[0]['id']).html(message.data.cric.match.teams_2_r[0]['score'] + " / " + message.data.cric.match.teams_2_r[0]['wkts']+" & "+message.data.cric.match.teams_2_inn2_r[0]['score']+" / "+message.data.cric.match.teams_2_inn2_r[0]['wkts']); jQuery('#over_2_'+message.data.cric.match.teams_2_r[0]['id']).html("("+ove(message.data.cric.match.teams_2_inn2_r[0]['balls'])+" overs)"); }
if(message.data.cric.match.teams_1_r[0]['extras']!=null){ jQuery('#extras_1_r_'+message.data.cric.match.teams_1_r[0]['id']).html("("+ove(message.data.cric.match.teams_1_r[0]['extras'])); } if(message.data.cric.match.teams_2_r[0]['extras']!=null){ jQuery('#extras_2_r_'+message.data.cric.match.teams_1_r[0]['id']).html("("+ove(message.data.cric.match.teams_2_r[0]['extras'])); } if(message.data.cric.match.teams_1_inn2_r[0]['extras']!=null){ jQuery('#extras_1_r_2_'+message.data.cric.match.teams_1_inn2_r[0]['id']).html("("+ove(message.data.cric.match.teams_1_inn2_r[0]['extras'])); } if(message.data.cric.match.teams_2_inn2_r[0]['extras']!=null){ jQuery('#extras_1_r_2_'+message.data.cric.match.teams_2_inn2_r[0]['id']).html("("+ove(message.data.cric.match.teams_2_inn2_r[0]['extras'])); }
//extras_1_r_2_ // if(prev_bat_team != message.data.cric.team_id){ jQuery('#widget_wrapper').load(document.URL + ' #widget_wrapper'); // } // prev_bat_team = message.data.cric.team_id // }
}); });
Full Scorecard
185/10 & 363/3
(81 overs)
425/10 & 306/9
(73.5 overs)
Match Draw
Team Kandy's 1st Innings
Batting
R
B
P. Nissanka
c Sadeera Samarawickrama b Nisala Tharaka
6
11
M Udawatte
lbw by Nishan Peiris
27
52
C. Asalanka
c Dasun Shanaka b Nishan Peiris
18
33
A Mathews
c Roshen Silva b Nishan Peiris
5
27
N. Dickwella
c Madawa Warnapura b Chathuranga de Silva
39
42
Priyamal Perera
c Sadeera Samarawickrama b Nisala Tharaka
8
7
J. Mendis
lbw by Nishan Peiris
5
9
C. Karunaratne
lbw by Chathuranga de Silva
20
21
I Udana
b Nishan Peiris
35
32
Lahiru Samarakoon
not out
11
13
P. Jayasuriya
c Oshada Fernando b Nishan Peiris
0
1
Total
185/10 (41.2 overs)
Fall of Wickets:
1-12, 2-62, 3-63, 4-88, 5-97, 6-114, 7-120, 8-170, 9-185, 10-185
| Bowling | O | M | R | W | E |
| --- | --- | --- | --- | --- | --- |
| Dammika Prasad | 7 | 1 | 25 | 0 | 3.57 |
| Nisala Tharaka | 8.4 | 0 | 47 | 2 | 5.60 |
| Nishan Peiris | 16.2 | 2 | 67 | 6 | 4.14 |
| Kasun Madushanka | 0.2 | 0 | 1 | 0 | 5.00 |
| MD Shanaka | 2 | 1 | 2 | 0 | 1.00 |
| PC de Silva | 5 | 0 | 29 | 2 | 5.80 |
| L.Milantha | 2 | 0 | 10 | 0 | 5.00 |
Team Galle's 1st Innings
Batting
R
B
M.Warnapura
b Prabath Jayasuriya
66
118
L.Milantha
c Anjelo Mathews b Lahiru Samarakoon
9
12
WU Tharanga
lbw by Lahiru Samarakoon
2
2
S.Samarawickrama
c Niroshan Dickwella b Isuru Udana
40
66
R. Silva
c Charith Asalanka b Prabath Jayasuriya
168
295
MD Shanaka
c Niroshan Dickwella b Charith Asalanka
90
145
PC de Silva
c Lahiru Samarakoon b Charith Asalanka
0
9
Nisala Tharaka
b Prabath Jayasuriya
4
13
Dammika Prasad
c Anjelo Mathews b Prabath Jayasuriya
3
22
Kasun Madushanka
c Niroshan Dickwella b Charith Asalanka
4
26
Nishan Peiris
not out
8
18
Total
425/10 (120.3 overs)
Fall of Wickets:
1-24, 2-26, 3-129, 4-129, 5-296, 6-298, 7-331, 8-345, 9-369, 10-425
| Bowling | O | M | R | W | E |
| --- | --- | --- | --- | --- | --- |
| I Udana | 31 | 6 | 93 | 1 | 3.00 |
| Lahiru Samarakoon | 20 | 2 | 87 | 2 | 4.35 |
| C. Karunaratne | 13 | 2 | 50 | 0 | 3.85 |
| P. Jayasuriya | 39.3 | 7 | 116 | 4 | 2.95 |
| J. Mendis | 6 | 0 | 23 | 0 | 3.83 |
| C. Asalanka | 11 | 2 | 31 | 3 | 2.82 |
Team Kandy's 2nd Innings
Batting
R
B
P. Nissanka
not out
188
226
M Udawatte
c Roshen Silva b Nisala Tharaka
15
20
C. Asalanka
c Mohomed Dilshad b Lahiru Milantha
62
143
A Mathews
lbw by Nishan Peiris
23
34
N. Dickwella
not out
56
66
Extras
19 (b 9, lb 5, nb 3, w 2)
Fall of Wickets:
1-34, 2-182, 3-231
| Bowling | O | M | R | W | E |
| --- | --- | --- | --- | --- | --- |
| Nisala Tharaka | 11 | 1 | 37 | 1 | 3.36 |
| Dammika Prasad | 6 | 1 | 30 | 0 | 5.00 |
| Nishan Peiris | 29 | 4 | 111 | 1 | 3.83 |
| PC de Silva | 17 | 1 | 83 | 0 | 4.88 |
| L.Milantha | 7 | 0 | 37 | 1 | 5.29 |
| MD Shanaka | 11 | 0 | 51 | 0 | 4.64 |
Team Galle's 2nd Innings
Batting
R
B
L.Milantha
b Lahiru Samarakoon
17
46
M.Warnapura
lbw by Chamika Karunaratne
8
60
WU Tharanga
c Anjelo Mathews b Prabath Jayasuriya
103
111
S.Samarawickrama
c Lahiru Kumara b Chamika Karunaratne
17
38
R. Silva
b Chamika Karunaratne
89
112
MD Shanaka
lbw by
9
15
PC de Silva
c Prabath Jayasuriya b Chamika Karunaratne
9
20
Nisala Tharaka
b Lahiru Samarakoon
18
32
Dammika Prasad
not out
11
15
Nishan Peiris
c Pathum Nissanka b Chamika Karunaratne
0
2
Extras
25 (b 12, lb 1, nb 8, w 4)
Fall of Wickets:
1-24, 2-64, 3-115, 4-214, 5-233, 6-253, 7- 284, 8-306, 9-306
| Bowling | O | M | R | W | E |
| --- | --- | --- | --- | --- | --- |
| P. Jayasuriya | 22 | 4 | 63 | 1 | 2.86 |
| Lahiru Samarakoon | 13 | 2 | 56 | 2 | 4.31 |
| I Udana | 8 | 1 | 31 | 0 | 3.88 |
| C. Asalanka | 11 | 0 | 67 | 1 | 6.09 |
| C. Karunaratne | 15.5 | 0 | 63 | 5 | 4.06 |
| J. Mendis | 4 | 1 | 13 | 0 | 3.25 |