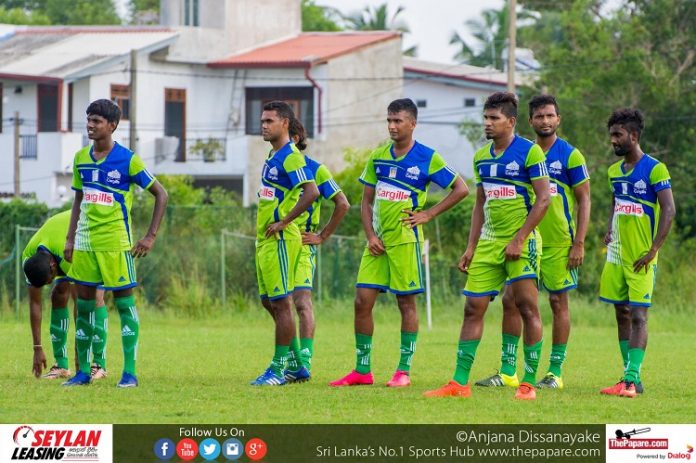 Reigning world champions Germany have retained their top spot in the latest FIFA rankings which were released last week. Meanwhile, Sri Lanka have slumped to their lowest-ever position and are in the 200th place.
The scheduled matches of the Dialog Champions League were postponed this weekend and…
The world football body published its latest update at the conclusion of the World Cup qualifiers as all 32 teams participating in Football's marquee event have been decided. The top 5 spots in the rankings remain unchanged with Brazil in the 2nd place followed by the defending European champions Portugal. Argentina, who scraped through to the World Cup after a miserable qualification campaign, remain at the 4th place with Belgium completing the top five.
Spain climbed up two places to sixth and Switzerland moved up three spots to No.8. Following wins in the UEFA qualification play-offs, Denmark (12), Croatia (17) and Sweden (18) all appear inside the top 20.
Sweden have earned this edition's highest points tally following their win over four-time world champions Italy. Despite their loss to Sweden denying them a place at the World Cup for the first time in 60 years, Italy still moved up one place to 14th. England dropped three spots to a 17-year low of 15th after two draws against Germany and Brazil.
Four of the top 20 teams in the latest FIFA rankings, Chile (10), Italy (14), Wales (19) and the Netherlands (20) will not be a part of the World Cup next year. Senegal are the big climbers as they moved up nine places to 23rd after handing two defeats to South Africa in the CAF qualifiers.
Senegal advanced to the World Cup for the first time since 2002 and also replaced Tunisia as the highest ranked team in Africa. Tunisia climbed one spot up to 27th position in the overall ranking. The United States, who missed out on the World Cup, rose three spots to become the 24th in the world.
A day after getting married, Mohamed Rifnaz produced an inspired captain's performance as…
Palestine (82), Luxembourg (84) and Chinese Taipei (135) were successful in reaching their best ranking positions to date. Meanwhile, Sri Lanka dropped down by two places to hit an all-time low of 200th despite not playing a single game in the last few months. Sri Lanka lost 11 rating points and currently have 16 points.
Sri Lanka were ranked 196th at the beginning of 2017 and are yet to play an international game this year. Sri Lanka were winless in the 2016 AFC Solidarity Cup which was the last international outing for the island nation.
The next FIFA World Ranking table will be published on 21 December 2017.