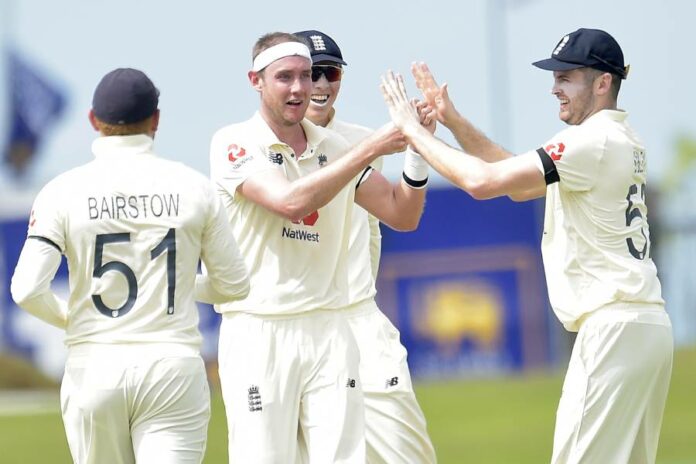 Sri Lanka threw away the advantage of winnings the toss by being all-out for a record low 135 runs granting the driving seat to visiting England on the first day of the first Test at Galle. England were 127/2 at stump trailing only 8 runs to Sri Lanka's first innings total with their captain Joe Root well set for the big innings on tomorrow.

Sri Lanka is led by Dinesh Chandimal in the absence of Karunarante. Chandimal won the toss and elected to bat first at Galle.
Watch – අංක 3 ස්ථානය තිරිමාන්නට ද? මෙන්ඩිස්ට ද? දිමුත් කතා කරයි
Playing XIs:
Sri Lanka: Lahiru Thirimanne, Kusal Perera, Kusal Mendis, Dinesh Chandimal (C), Angelo Mathews, Niroshan Dickwella (wk), Dasun Shanaka, Wanindu Hasaranga, Dilruwan Perera, Lasith Embuldeniya, Asitha Fernando 
England: Zak Crawley, Dom Sibley, Jonny Bairstow, Joe Root (C), Dan Lawrence (debut), Jos Buttler (wk), Sam Curran, Dom Bess, Stuart Broad, Mark Wood, Jack Leach
Karunaratne has been sidelined from the 1st Test with a fractured thumb, meaning both Lahiru Thirimanne and Kusal Mendis could slot into the playing XI. However, both couldn't deliver again as the pair continued their poor form gifting England wickets in the first hour of the day. Mendis grabbed his 4th consecutive duck becoming only the 4th top-order batsman to do so.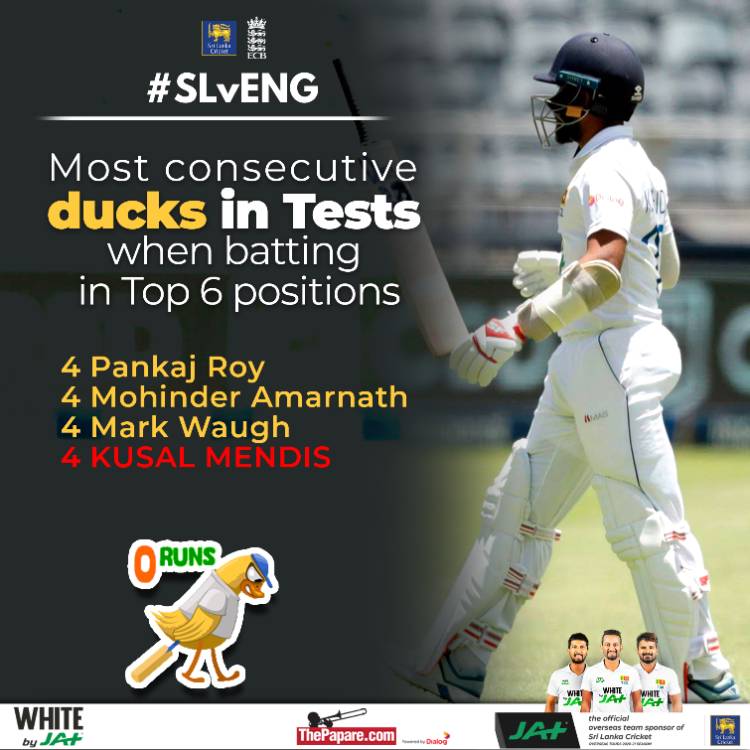 After Sri Lanka was reduced to 14/2 opener Kusal Perera played a reverse sweep off Dom Bess' 2nd ball of the innings, just to present an easy catch to Joe Root who was eagerly waiting at 1st slip. The ball didn't seem to move much in the first two hours but Sri Lankans found a way to be dismissed, granting the visitors an upper hand on the very first day of the Test series.
The two veterans Chandimal and Angelo Mathews who are back in whites for Sri Lanka after injuries, steadied the ship afterwards adding a 56 runs partnership. Skipper Chandimal passed the 4000 Test runs in his innings while his partner Mathews became the 5th Sri Lankan to reach 6000 Test runs.
Most Test runs – Sri Lanka
Kumar Sangakkara -12400
Mahela Jayawardene -11814
Sanath Jayasuriya – 6973
Aravinda de Silva – 6361
Angelo Mathews – 6009
Watch – Sri Lanka look to dominate English in Cricket's homecoming after COVID-19 – Preview – 1st Test
Unfortunately, Sri Lanka lost the set pair just after lunch reducing them to 81/5 and never recovered afterwards. Everyone seemed to be planning on being generous to the visitors as they gifted their wickets regularly to perish for 135 which is the lowest 1st innings total ever recorded in Galle.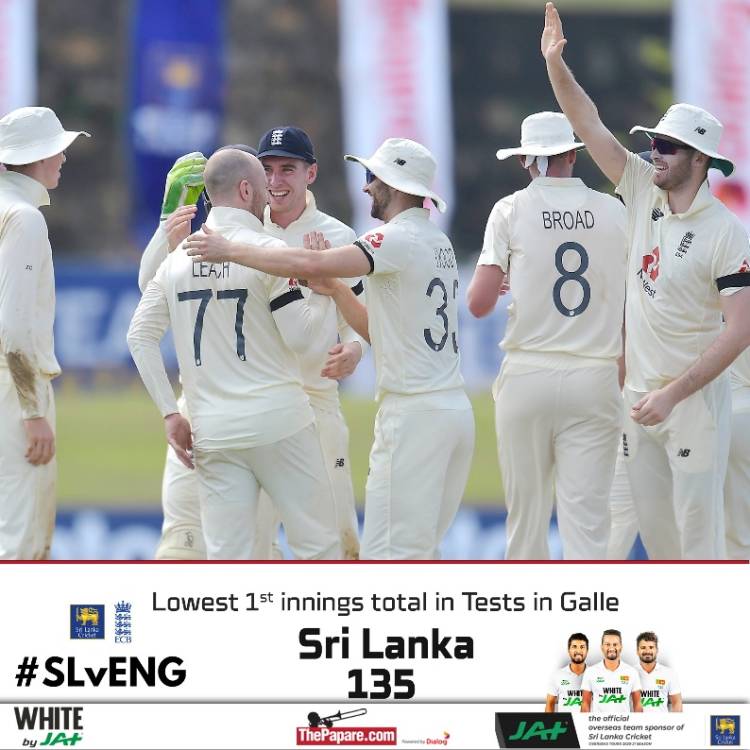 English off-spinner Dom Bess registered perhaps the luckiest 5-fer by a bowler which is also his best performance in an innings with the ball.
English openers Zak Crawley and Dom Sibley couldn't stay at the middle for long as left-arm spinner Lasith Embuldeniya send them back to the dressing room taking Sri Lanka back into the game. Embuldeniya also became the first-ever spinner to lead the bowling attack and dismiss both the openers for single-digit scores in a team's first innings in Test cricket.
But then the experienced duo Joe Root and Jonny Bairstow joined for a patient yet fluent partnership teaching the homeboys how to play at Galle as they put up an unbeaten 110 partnership for the 3rd wicket cutting down the 1st innings trail for 8 runs.
Root swept away to his fiftieth half-century while Bairstow was unbeaten on 27 at the stumps on day 01.
135/10 (46.1) & 359/10 (136.5)
421/10 (117.1) & 76/3 (24.2)


Batsmen
R
B
4s
6s
SR
Lahiru Thirimanne
c Jonathan Bairstow b Stuart Broad
4
22
0
0
18.18
Kusal Perera
c Joe Root b Dominic Bess
20
28
2
0
71.43
Kusal Mendis
c Jos Buttler b Stuart Broad
0
2
0
0
0.00
Angelo Mathews
c Joe Root b Stuart Broad
27
54
1
1
50.00
Dinesh Chandimal
c Sam Curran b Jack Leach
28
71
1
0
39.44
Niroshan Dickwella
c Dominic Sibley b Dominic Bess
12
21
1
0
57.14
Dasun Shanaka
c Jos Buttler b Dominic Bess
23
48
3
0
47.92
Wanindu Hasaranga
b Dominic Bess
19
22
2
0
86.36
Dilruwan Perera
b Dominic Bess
0
2
0
0
0.00
Lasith Embuldeniya
run out (Jack Leach)
0
1
0
0
0.00
Asitha Fernando
not out
0
7
0
0
0.00
| | |
| --- | --- |
| Extras | 2 (b 0 , lb 1 , nb 1, w 0, pen 0) |
| Total | 135/10 (46.1 Overs, RR: 2.92) |
| Fall of Wickets | 1-16 (6.3) Lahiru Thirimanne, 2-16 (6.5) Kusal Mendis, 3-25 (10.2) Kusal Perera, 4-81 (28.6) Angelo Mathews, 5-81 (29.2) Dinesh Chandimal, 6-105 (38.1) Niroshan Dickwella, 7-126 (42.5) Dasun Shanaka, 8-126 (42.5) Dilruwan Perera, 9-130 (43.5) Lasith Embuldeniya, 10-135 (46.1) Wanindu Hasaranga, |
| Bowling | O | M | R | W | Econ |
| --- | --- | --- | --- | --- | --- |
| Stuart Broad | 9 | 3 | 20 | 3 | 2.22 |
| Sam Curran | 4 | 2 | 8 | 0 | 2.00 |
| Mark Wood | 6 | 1 | 21 | 0 | 3.50 |
| Dominic Bess | 10.1 | 3 | 30 | 5 | 2.97 |
| Jack Leach | 17 | 2 | 55 | 1 | 3.24 |


Batsmen
R
B
4s
6s
SR
Zak Crawley
c Wanindu Hasaranga b Lasith Embuldeniya
9
26
1
0
34.62
Dominic Sibley
c Lahiru Thirimanne b Lasith Embuldeniya
4
15
0
0
26.67
Jonathan Bairstow
c Kusal Mendis b Lasith Embuldeniya
47
93
2
0
50.54
Joe Root
c Lasith Embuldeniya b Dilruwan Perera
228
321
18
1
71.03
Dan Lawrence
c Kusal Mendis b Dilruwan Perera
73
150
6
1
48.67
Jos Buttler
c Niroshan Dickwella b Asitha Fernando
30
57
3
0
52.63
Sam Curran
b Asitha Fernando
0
1
0
0
0.00
Dominic Bess
run out (Minod Bhanuka)
0
4
0
0
0.00
Jack Leach
lbw b Dilruwan Perera
4
20
1
0
20.00
Mark Wood
c Niroshan Dickwella b Dilruwan Perera
2
9
0
0
22.22
Stuart Broad
not out
11
13
2
0
84.62
| | |
| --- | --- |
| Extras | 13 (b 7 , lb 0 , nb 6, w 0, pen 0) |
| Total | 421/10 (117.1 Overs, RR: 3.59) |
| Fall of Wickets | 1-10 (4.2) Dominic Sibley, 2-17 (8.4) Zak Crawley, 3-131 (42.2) Jonathan Bairstow, |
| Bowling | O | M | R | W | Econ |
| --- | --- | --- | --- | --- | --- |
| Lasith Embuldeniya | 45 | 4 | 176 | 3 | 3.91 |
| Asitha Fernando | 14 | 1 | 44 | 2 | 3.14 |
| Wanindu Hasaranga | 15 | 1 | 63 | 0 | 4.20 |
| Dilruwan Perera | 36.1 | 2 | 109 | 4 | 3.02 |
| Dasun Shanaka | 7 | 1 | 22 | 0 | 3.14 |


Batsmen
R
B
4s
6s
SR
Kusal Perera
c Jack Leach b Sam Curran
62
109
5
1
56.88
Lahiru Thirimanne
c Jos Buttler b Sam Curran
111
251
12
0
44.22
Kusal Mendis
c Jos Buttler b Jack Leach
15
65
1
0
23.08
Lasith Embuldeniya
c Dominic Sibley b Dominic Bess
0
11
0
0
0.00
Angelo Mathews
c & b Jack Leach
71
219
4
0
32.42
Dinesh Chandimal
c Joe Root b Dominic Bess
20
28
3
0
71.43
Niroshan Dickwella
c Jos Buttler b Dominic Bess
29
74
1
0
39.19
Dasun Shanaka
b Jack Leach
4
5
0
0
80.00
Wanindu Hasaranga
c Joe Root b Jack Leach
12
18
2
0
66.67
Dilruwan Perera
st Jos Buttler b Jack Leach
24
38
5
0
63.16
Asitha Fernando
not out
0
6
0
0
0.00
| | |
| --- | --- |
| Extras | 11 (b 7 , lb 1 , nb 3, w 0, pen 0) |
| Total | 359/10 (136.5 Overs, RR: 2.62) |
| Bowling | O | M | R | W | Econ |
| --- | --- | --- | --- | --- | --- |
| Stuart Broad | 17 | 11 | 14 | 0 | 0.82 |
| Sam Curran | 11 | 1 | 37 | 2 | 3.36 |
| Dominic Bess | 33 | 4 | 100 | 3 | 3.03 |
| Mark Wood | 21 | 5 | 49 | 0 | 2.33 |
| Jack Leach | 41.5 | 6 | 122 | 5 | 2.94 |
| Joe Root | 11 | 1 | 19 | 0 | 1.73 |
| Dan Lawrence | 2 | 0 | 10 | 0 | 5.00 |


Batsmen
R
B
4s
6s
SR
Zak Crawley
c Kusal Mendis b Lasith Embuldeniya
8
21
1
0
38.10
Dominic Sibley
b Lasith Embuldeniya
2
5
0
0
40.00
Jonathan Bairstow
not out
35
62
2
0
56.45
Joe Root
run out (Niroshan Dickwella)
1
3
0
0
33.33
Dan Lawrence
not out
21
52
0
0
40.38
| | |
| --- | --- |
| Extras | 9 (b 0 , lb 9 , nb 0, w 0, pen 0) |
| Total | 76/3 (24.2 Overs, RR: 3.12) |
| Bowling | O | M | R | W | Econ |
| --- | --- | --- | --- | --- | --- |
| Lasith Embuldeniya | 12 | 3 | 29 | 2 | 2.42 |
| Dilruwan Perera | 11.2 | 2 | 34 | 0 | 3.04 |
| Wanindu Hasaranga | 1 | 0 | 4 | 0 | 4.00 |