Sri Lanka Emerging team produced a superb all-round performance to beat India Emerging team by 3 runs in a thrilling final of the Emerging Teams Asia Cup 2018, which was played at R. Premadasa International Stadium on Saturday.
A disciplined effort in the field enabled Sri Lanka to defend 270 as India were restricted to 267/9 in a nail-biting match, which went down to the wire.
India were down and out in their chase at 127 for 6 when well-set Nitish Rana became one of Asela Gunaratne's three victims after the Lankan spinners dominated the proceedings on a wearing surface. But, skipper Jayant Yadav and Shams Mulani added 107 runs for the 7th wicket to bring the game back to life.
Sri Lanka made the difference through their stunning fielding. In the 47th over, skipper Sammu Ashan dived low to his left and took a catch to remove Yadav, who had made a fine 71 in 85 deliveries, while Shehan Jayasuriya's direct hit from the deep found Mulani short of his crease in the next ball, which swung the pendulum towards Sri Lanka again.
Photos: Sri Lanka Vs. India | Final | ACC Emerging Asia Cup 2018
With 20 runs to win, it was anybody's game in the final over as Atit Sheth slapped a couple of sixes to come near the target. But, Kamindu Mendis held his nerve with the ball as Sheth fell short despite making a 15-ball 28 in the end.
The early damage for India were done by off-spinner Shehan Jayasuriya and left-arm spinner Lasith Embuldeniya, taking two wickets apiece to rattle the strong Indian middle order.
Tall and lanky Embuldeniya deceived Ruturaj Gaikwad and Simran Singh brilliantly with his guile and spin, while Jayasuriya clean bowled the two in-form batsmen, Himmat Singh and Deepak Hooda.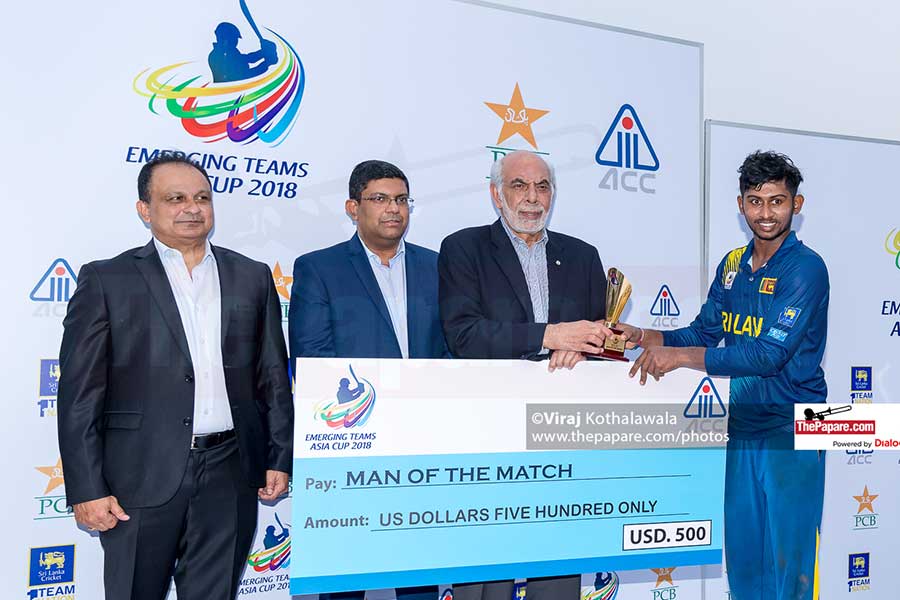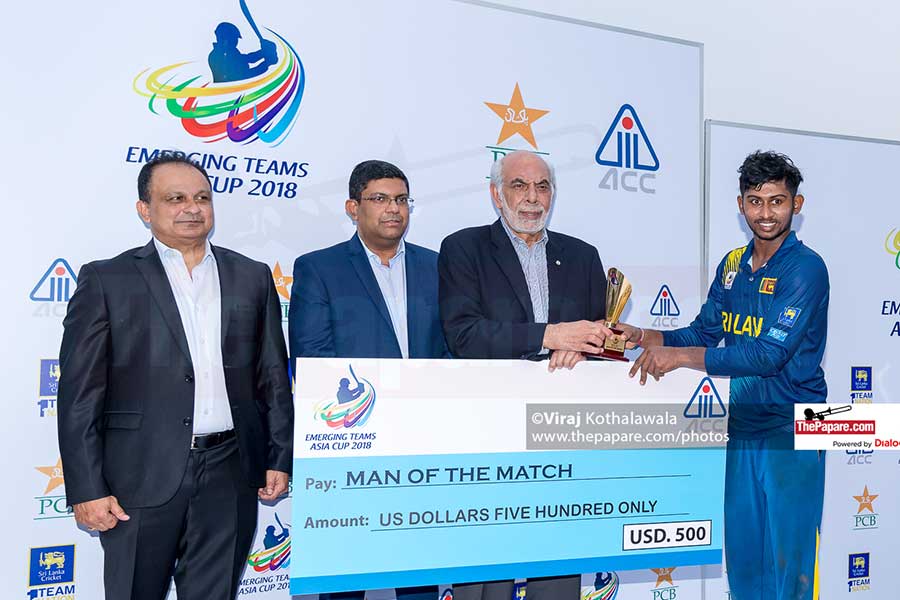 Sri Lanka led by Sammu Ashan opted to bat first with the intention of putting at least 275+ in this pressure game. Dashing opening batsman Sandun Weerakkody chopped one onto the stumps as seamer Ankit Rajpoot drew first blood in the first over of the match itself.
Young opening batsman Hasitha Boyagoda batted with utmost confidence and flair as he along with Avishka Fernando managed to construct a crucial partnership of 82 for the second wicket to set up the Lankan innings.
Boyagoda slammed 8 glorious fours, before top-edging a sweep off leg-spinner Mayank Markande after he had accumulated 54 off 62 deliveries.
Avishka Fernando and Sammu Ashan got starts but could not go onto make significant individual scores while Shehan Jayasuriya scored a vital 46 off 56 balls to steady the ship.
Once again, it was Kamindu Mendis who provided the finishing touches for Sri Lanka, scoring his fourth half-century in the tournament. He struck a superb 61 off 55 deliveries with only 3 fours and 1 six as Sri Lanka posted a reasonable 270 on the board. Mendis was well-supported by Wanindu Hasaranga towards the end as he made 26-ball 31.
This is Sri Lanka's second Emerging Teams Asia Cup victory in the brief history of three editions. Sri Lanka won the tournament last year in Bangladesh beating Pakistan in the final.
Man of the Final – Kamindu Mendis
Man of the Tournament – Kamindu Mendis
Sri Lanka's Innings
Batting
R
B
Sandun Weerakkody
b A Rajpoot
4
5
Hasitha Boyagoda
c J Yadav b M Markande
54
62
Avishka Fernando
c & b S Mulani
29
58
Shehan Jayasuriya
lbw by J Yadav
46
56
Shammu Ashan
c & b N Rana
20
31
Kamindu Mendis
c & b A Rajpoot
61
55
Asela Gunarathne
(runout) R Gaikwad
7
9
Wanindu Hasaranga
not out
31
26
Chamika Karunarathne
not out
0
0
Extras
18 (lb 4, w 12, nb 2)
Fall of Wickets:
1-5 (S Weerakkody, 0.5 ov), 2-87 (H Boyagoda, 18.2 ov), 3-104 (A Fernando, 22.6 ov), 4-139 (S Ashan, 31.2 ov), 5-195 (S Jayasuriya, 40.2 ov), 6-207 (A Gunarathne, 42.2 ov), 7-267 (K Mendis, 49.3 ov)
| Bowling | O | M | R | W | E |
| --- | --- | --- | --- | --- | --- |
| Ankit Rajpoot | 10 | 0 | 61 | 2 | 6.10 |
| Atit Sheth | 7 | 0 | 51 | 0 | 7.29 |
| Shams Mulani | 7 | 0 | 40 | 1 | 5.71 |
| Mayank Markande | 10 | 0 | 47 | 1 | 4.70 |
| Jayant Yadav | 10 | 0 | 37 | 1 | 3.70 |
| Nitish Rana | 6 | 0 | 30 | 1 | 5.00 |
India's Innings
Batting
R
B
Ruturaj Gaikwad
c W Hasaranga b L Ambuldeniya
31
31
Ankush Bains
c S Ashan b S Madushanka
9
13
Himmat Singh
b S Jayasuriya
18
28
Deepak Hooda
b S Jayasuriya
4
7
Nitish Rana
c K Mendis b A Gunarathne
40
48
Prabhsimran Singh
b L Ambuldeniya
7
21
Jayant Yadav
c S Ashan b A Gunarathne
71
85
Shams Mulani
(runout) S Jayasuriya
46
44
Atit Sheth
not out
28
15
Ankit Rajpoot
c C Karunarathne b A Gunarathne
0
1
Mayank Markande
not out
4
7
Extras
9 (b 2, lb 4, w 3)
Fall of Wickets:
1-19 (A Bains, 3.4 ov), 2-59 (H Singh, 11.5 ov), 3-61 (R Gaikwad, 12.4 ov), 4-65 (D Hooda, 13.5 ov), 5-83 (P Singh, 18.6 ov), 6-127 (N Rana, 29.5 ov), 7-234 (J Yadav, 46.1 ov), 8-235 (S Mulani, 46.2 ov), 9-238 (A Rajpoot, 46.5 ov)
| Bowling | O | M | R | W | E |
| --- | --- | --- | --- | --- | --- |
| Chamika Karunarathne | 7 | 0 | 47 | 0 | 6.71 |
| Shehan Madushanka | 4 | 0 | 21 | 1 | 5.25 |
| Wanindu Hasaranga | 3 | 0 | 24 | 0 | 8.00 |
| Shehan Jayasuriya | 10 | 0 | 40 | 2 | 4.00 |
| Lasith Ambuldeniya | 10 | 0 | 37 | 2 | 3.70 |
| Kamindu Mendis | 9 | 0 | 54 | 0 | 6.00 |
| Asela Gunarathne | 7 | 0 | 38 | 3 | 5.43 |