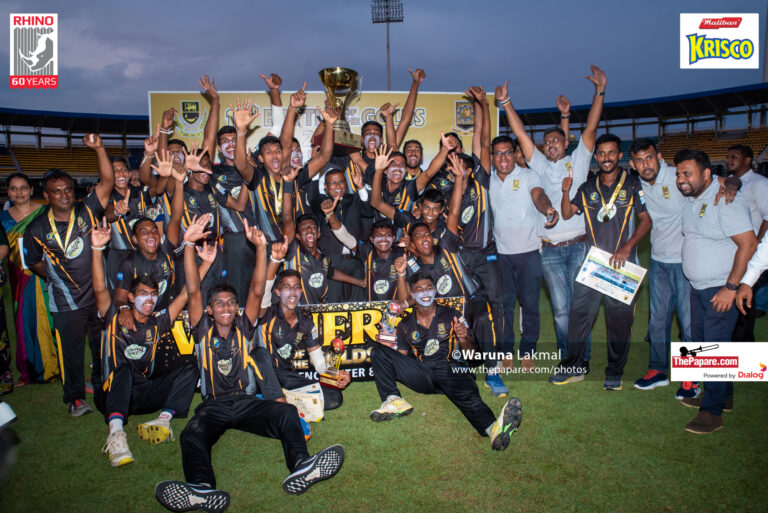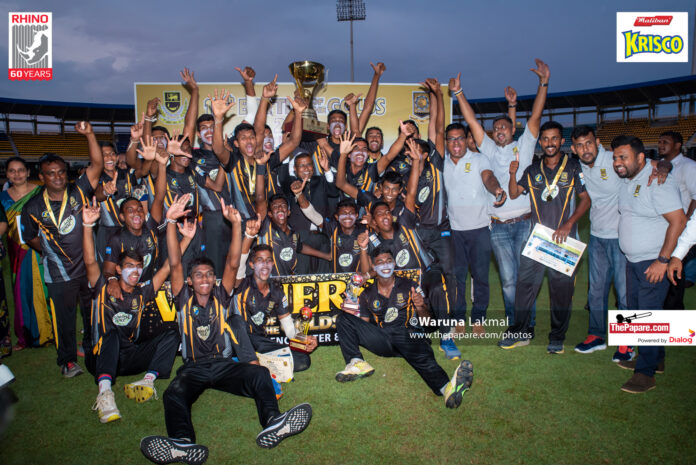 Mahanama College, Colombo emerged victorious by 119 runs against D. S. Senanayake College, Colombo in their 17th Annual Limited Overs Encounter played today (08th April) at R. Premadasa International Cricket Stadium, Colombo.
Mahanama College opted to bat first after winning the toss and he decision turned out to be a golden one, as they managed to post a massive total – 327/5 – on the board.
>>Mahanama takes honors in the drawn 17th Battle of the Golds encounter
The opening batter Kavindu Amameth was the top scorer for Mahanama as stroked 78 runs off 71 balls with 9 fours and 2 sixes at a strike rate of 109.86. Anjala Bandara (66) and Inuka Karannagoda (57*) also chipped in with vital half-centuries.
Sineth Malwattage picked up 2 wickets for 42 runs for D. S. Senanayake College. In reply, D. S. opening batter Gaviru Senhas got them off to an excellent start, but no one really supported him at the other end to continue to the momentum throughout the innings.
>>Photos – D.S. Senanayake College vs Mahanama College | 17th Battle of the Golds Press Conference
Senhas stepped up on the big occasion, delivering a brilliant century, but he was unable to put his side over the line as they fell well short of the target. Mahanama College registered a massive 119-run win to retain the Aravinda De Silva Challenge Trophy, and they won the Battle of the Golds One Day Encounter for the 6th consecutive time.
Brief Scores

Mahanama College, Colombo 327/5 (50) Kavindu Amameth 78, Anjala Bandara 66, Inuka Karannagoda 57*, Sachira Weliwatta 44, Rashmika Perera 29*, Sineth Malwattage 2/42

D. S.  Senanayake College, Colombo 208 (41.3) Gaviru Senhas 124, Himantha Keshan 25, Chamika Heenatigala 2/26, Sachira Weliwatta 2/26, Duvindu Ranathunga 2/54

Result – Mahanama College won by 119 runs 


Batsmen
R
B
4s
6s
SR
Banula Algawatte
c Dilash Kumaranayake b Deshan Hettige
18
10
1
2
180.00
Kavindu Amameth
c Menura Peiris b Malitha Perera
72
80
8
2
90.00
Anjala Bandara
c Senura Silva b Adisha Bandaranayake
6
18
1
0
33.33
Sachira Weliwatta
b Dilash Kumaranayake
60
70
3
2
85.71
Koojana Perera
c Poorna Sulakshna b Senura Silva
61
58
9
0
105.17
Inuka Karannagoda
not out
59
48
3
2
122.92
Rashmika Perera
not out
23
16
2
1
143.75
| | |
| --- | --- |
| Extras | 28 (b 17 , lb 0 , nb 0, w 11, pen 0) |
| Total | 327/5 (50 Overs, RR: 6.54) |
| Bowling | O | M | R | W | Econ |
| --- | --- | --- | --- | --- | --- |
| Adisha Bandaranayake | 8 | 0 | 52 | 1 | 6.50 |
| Deshan Hettige | 7 | 1 | 51 | 1 | 7.29 |
| Akidha Weerasuriya | 4 | 0 | 26 | 0 | 6.50 |
| Dilash Kumaranayake | 7 | 0 | 42 | 1 | 6.00 |
| Senura Silva | 7 | 0 | 44 | 1 | 6.29 |
| Menura Peiris | 3 | 0 | 21 | 0 | 7.00 |
| Gaviru Senhas | 2 | 1 | 2 | 0 | 1.00 |
| Poorna Sulakshna | 11 | 1 | 62 | 0 | 5.64 |
| Malitha Perera | 1 | 0 | 10 | 1 | 10.00 |


Batsmen
R
B
4s
6s
SR
Malitha Perera
st Anjala Bandara b Koojana Perera
51
36
5
3
141.67
Gaviru Senhas
c Anjala Bandara b Chamika Heenatigala
74
91
5
1
81.32
Himantha Keshan
c Banula Algawatte b Sachira Weliwatta
37
50
3
1
74.00
Senura Silva
b Yasith Ginathilaka
12
21
1
0
57.14
Manura Peiris
st Anjala Bandara b Viranga Yeshan
9
13
1
0
69.23
Ashisha Bandaranayake
c Nisila Perera b Chamika Heenatigala
3
13
0
0
23.08
Akidha Weerasuriya
not out
6
6
1
0
100.00
Deshan Hettige
c Kavindu Amameth b Duvindu Ranathunga
1
4
0
0
25.00
Sinith
b Duvindu Ranathunga
0
1
0
0
0.00
Dilash Kumaranayake
st Anjala Bandara b Sachira Weliwatta
8
15
1
0
53.33
Randisha Banaranayake
timed-out b
0
0
0
0
0.00
| | |
| --- | --- |
| Extras | 7 (b 1 , lb 0 , nb 1, w 5, pen 0) |
| Total | 208/10 (41.3 Overs, RR: 5.01) |
| Bowling | O | M | R | W | Econ |
| --- | --- | --- | --- | --- | --- |
| Duvindu Ranathunga | 8 | 1 | 52 | 2 | 6.50 |
| Koojana Perera | 5 | 0 | 27 | 1 | 5.40 |
| Viranga Yeshan | 6 | 0 | 32 | 1 | 5.33 |
| Inuka Karannagoda | 4 | 0 | 18 | 0 | 4.50 |
| Chamika Heenatigala | 6 | 0 | 29 | 2 | 4.83 |
| Chamidu Maduwantha | 2 | 1 | 2 | 0 | 1.00 |
| Sachira Weliwatta | 6.3 | 2 | 27 | 2 | 4.29 |
| Yasith Ginathilaka | 2 | 0 | 13 | 1 | 6.50 |
| Manura Piris | 2 | 1 | 7 | 0 | 3.50 |