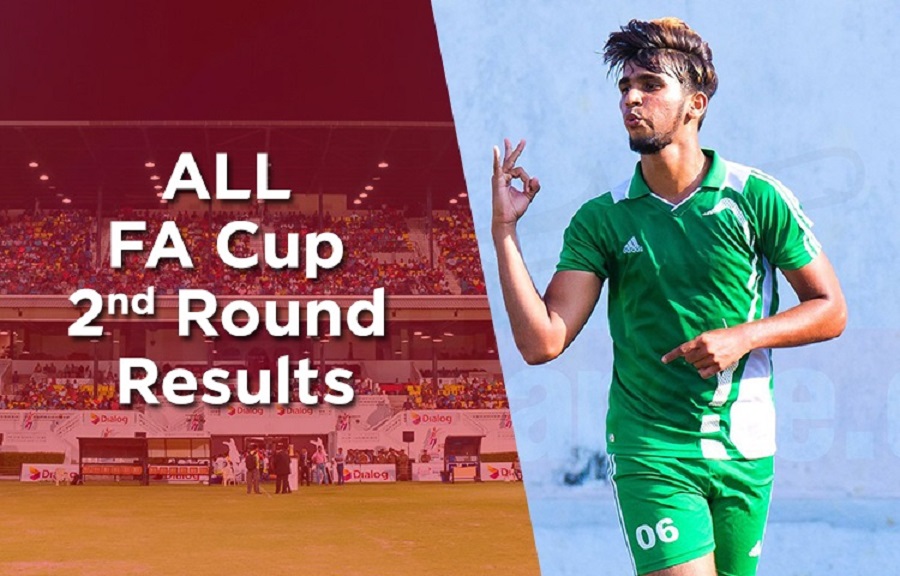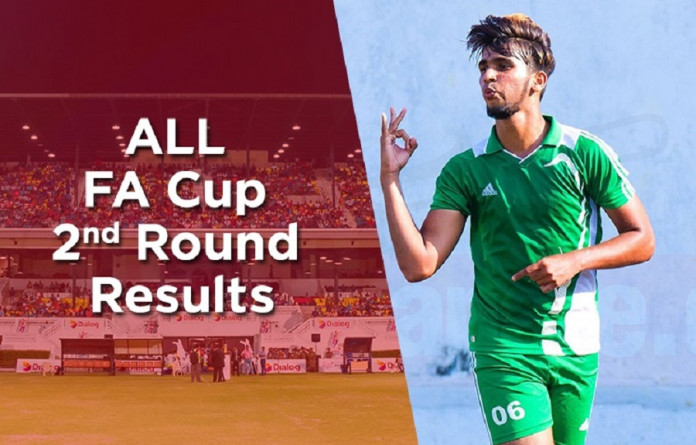 Old Bens SC (Colombo FL) eased their way into 3rd round of the FA Cup by convincingly beating Sunshine SC (Divulapitiya FL) 3-1 in the 2nd round fixture played at St. Benedict's College grounds.
It was the Old Bens who started off brightly as they occupied the opposition half from the starting whistle. Sunshine SC was slow to get off the box and allowed more than enough time for the Old Bens attack to build up.
61 League winners were decided to move into the 2nd round of the 2016/17 Cargills Food City FA Cup. Jaffna League had the most amount of clubs…
Yet, Old Bens were unable to finish the chances they got. The match started to wear off as both teams exchanged a lot off bad passes giving away the possession.
However the men in green capitalized on a loss of possession from Sunshine in their own half as Chamod Dilshan converted a pinpoint cross which fell in his way in the 28th minute.
It did not take much time for Old Bens to double their lead as Dilshan, scored a volley from outside the box in the 30th minute.
Half Time – Old Bens SC 2 – 0 Sunshine SC
Sunshine started brightly in the second half and for the first time in the match looked threatening to score a goal.
Despite coming close twice, the forwards failed to score the goal that would have brought them back into contention.
Pouncing on the careless mistakes of Sunshine SC, Old Bens SC killed the game off when Dilshan scored his third driving the ball into the net in the 67th minute.
Old Bens dominated the possession afterwards but couldn't add the fourth. Sunshine SC scored a consolation goal when Mohamed Rushdi scored deceiving the goalkeeper due to a massive deflection off the defender.
Full Time – Old Bens SC 3 – 1 Sunshine SC
ThePapare.com Player of the Match – Chamod Dilshan (Old Bens SC)
Goal Scorers

Old Bens SC – Chamod Dilshan 28′, 30′ & 67′

Sunshine SC – Mohamed Rushdi 85′
2nd Round Results
Solaniya SC (Deniyaya FL) 3 – 0 Technic SC (Hambanthota FL)

Grahaloka SC (Matara FL) 0(1) – 0(3) UO Moratuwa (SL Universities FL)

Kurundhuwatta Utd (Galle FL) 1(6) – 1(5) Green Field SC (Kalutara FL)

Urban Council SC (Ambalangoda FL) 0 – 5 Golden Rise SC (Beruwala FL)

Jupiters SC (Negombo FL) 4 – 1 HGS Blue SC (Kotte FL)

Old Mazenodian SC (Wattala FL) 7 – 1 Thotawatte FC (Dehiwala FL)

Cooray SC (City FL) 3 – 0 Kahatowita JF SC (Gampaha FL)

Navagampura SC (Playground FL) 3 – 0 Paramount SC (Biyagama FL)

Al Hira SC (Wennapuwa FL) 3 – 0 Lucky Birds SC (Polonnaruwa FL)

Anuradhapura Utd (Anuradhapura FL) 1 – 3 Wimbledon SC (Puttalam FL)

Easwaran SC (Vavuniya FL) 3 – 0 Freedom SC (Chilaw FL)

Serendib SC (Mawanella FL) 2(6) – 2(5) Red Sun SC (Gampola FL)

Leo SC (Kurunegala FL) 5 – 1 BM Youth SC (Polgahawela FL)

Manchester SC (Kandy FL) 1 – 4 Maya SC (Kegalle FL)

Gold Moon SC (Matale FL) 3 – 0 Al Adhan SC (Badulla FL)

Young Birds SC (NuwaraEliya FL) 1 – 0 Young Marians SC (Nawalapitiya FL)

Philip Gunawardena A SC (Seethawaka FL) 3 – 0 Medagama SC (Monaragala FL)

Youth SC (Kataragama FL) 0 – 3 Municipal Council SC (Rathnapura FL)

Walawa SC (Embilipitiya FL) 2 – 5 Liberty SC (Bandarawela FL)

St.Xavier's SC (Madhu Manthai FL) 3 – 0 Iqbal SC (Kuchchaveli FL)

Vinmeengal SC (Point Pedro FL) 0 – 3 Kurinchikalum SC (Valikamam FL)

Young Birds SC (Mullativu FL) 3 – 0 Diamonds SC (Vadamaarachchi FL)

Vaanavil SC (Kalkuda FL) 0 – 10 Olympic SC (Ampara FL)

Reliance SC (Mutur FL) 3 – 0 Pioneer SC (Kinniya FL)

National SC (Kathankudi FL) 3 – 0 Young Lions SC (Oddamavadi FL)

Jegameetpar SC (Kilinochchi FL) 0 – 1 Prisons Department (Kelaniya FL)

Joseph Vaz (Mannar FL) 1 – 2 SLTB SC (NSSA FL)