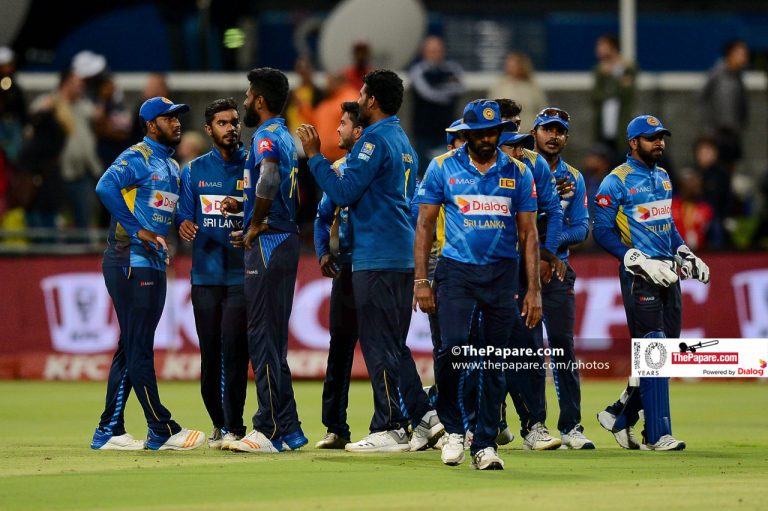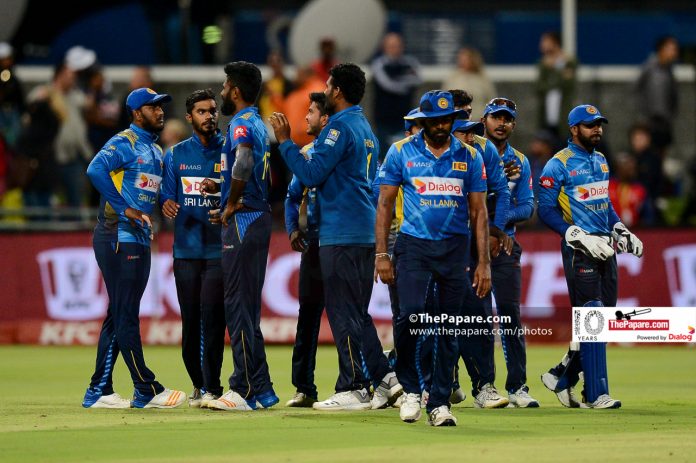 If you are still hanging onto Sri Lanka Cricket in these desperate times, you still sit in front of the television once a match involving Sri Lanka starts, you must be one of those people who enjoy torture. You are, aren't you?  
You are fed up (you should be after all these years) and can't even remember the last time your team won an ODI series, but something inside you tells you to never lose hope, to wait for that silver lining (which is sure to pop up at the World Cup, or so we hope!) Congratulations, you are either a diehard Sri Lanka Cricket fan or a complete lunatic!
It seems everything is in disarray, looking at the past 2 to 3 years' ODI record. The common assumption is that this Sri Lankan ODI team will have no chance whatsoever, going into the World Cup. We just witnessed how they consistently failed against South Africa. Everyone knew what the result was going to be even before the final ODI began. It was like jumping out of an aircraft. without a parachute. five times in a row!
Coming into the series in South Africa, the Sri Lanka bowling attack looked the most vulnerable. In the ODIs against New Zealand, the bowling attack was taken to the cleaners by the hosts. But in South Africa, the Lankan bowlers looked or were made to look good by batsmen after their mediocre performances with the bat as the batsmen weren't good enough to bat through the fifty overs in any of the 5 ODIs.
From 92/3 to bundled out for 138, controlling the innings from 51/2 to stuttering at 71/6, were batting collapses that shouldn't be allowed in international cricket anymore. In addition to these dismal performances, the fielding was by far the worst of all. Not only did the catching look terrible, the lack of urgency and energy in ground fielding was clearly on display in this series. These are cardinal sins at this level.
Sri Lanka's wrist-spinning conundrum
The 5-0 trashing in South Africa meant that, it was Sri Lanka's 10th straight ODI loss in South Africa and fourth 5-0 whitewash after 2016 in an ODI series. Before that, Sri Lanka had been whitewashed 5-0 only once in a series vs India in 2014. Since the last 50 over World Cup, Sri Lanka's form in colored clothing has been plummeting down to the darkest places without a sign of a comeback.
Sometimes they have sparked some hope by performing well in patches, just to fail hopelessly in the next assignment. It's almost as if they were teasing us into thinking this team would be a formidable team if X plays like this, Y finds his form and Z recovers from injuries.
Sri Lanka's ODI record after the 2015 World Cup reads as 23 wins out of 84 matches. This is the first time that Sri Lanka has tasted more defeats than victories (0.425 W/L ratio) in ODIs between two World Cups after their triumph in 1996. It is safe to say that this is the worst form Sri Lanka has been in, before a World Cup.
In fact, Sri Lanka have lost the most number of ODIs (55) after the 2015 World Cup among the 18 countries who have participated in ODIs. They've used the "legends retired, youngsters need time" excuse so often, one might feel like Kumar Sangakkara, Mahela Jayawardene and Muttiah Muralidaran retired last month!
Sri Lanka has been searching for their best combination in ODIs for the last 4 years. Interestingly, since 1975, the greatest number of players used between two World Cups, has been seen between 2015-19 by Sri Lanka. Constant chopping and changing, panicking and reacting has meant that Sri Lanka have experimented with 62 ODI players so far within that period of time.
No. of players who have represented the country in ODIs between World Cups (Only countries that have played all the World Cups)
Putting this into perspective, the most settled and one of the favorites to win the World Cup (not because they play at home, purely because of the domination they have shown in the One-Day format since 2015), England have only used 37 players after their humiliating early exit from the last World Cup.
But after all that tinkering, you'll still find it difficult to name a main stay in the Sri Lankan ODI setup. Jasprit Bumrah will bowl those death overs for India while Rohit Sharma, Shikhar Dhawan and Virat Kohli will occupy the top order. Eoin Morgan, Ben Stokes and Jos Buttler will surely sit in the middle order to propel England to 300+ every time. Bangladesh will be hoping their awesome foursome, Tamim Iqbal, Shakib al Hasan, Mushfiqur Rahim and Mahmudullah Riyad will fire in England. Teams will need to keep an eye on Kane Williamson and Ross Taylor if they are to overcome New Zealand.
But which Sri Lanka player is going to muddle the other teams' performance analyst's brain? Who is our awesome foursome? Who will double our 30 over score in last 20? Who should bowl at the death? Where is the core of the team?
Unfortunately, Sri Lanka has somewhat different questions to answer before the World Cup – Who will captain this team? Should the captain be given a backup in case of a change of heart by the selection committee during the tour? Should that backup player be called the vice-captain? How many players will be injured after the two ODIs vs Scotland and the two warm up games? Will the total be enough if the 30 over score is doubled? Can we bat through 50 overs?
Sri Lanka's horrendous two months away from home
It's more evident day by day that this team is following the West Indian way. Remember, the West Indies? Not the mighty ones who played through the 70s & 80s, the crop after them. After their legendary era, the Windies weren't able to replicate the success their former generation had. They were consistently beaten by oppositions and their rankings crumbled. After those regular defeats and the departure of a few senior men, they have now built a strong team spirit with skills to back them under the captaincy of Jason Holder. Considering how Sri Lanka has gone during the last few years, they are threatening to be the new "West Indies of the 2000s".
Maybe this could be one of the most elaborated plans in the history of sports. You lose shamelessly until the opposition ignores you and takes you lightly without any plans of attack. (Is this why Sri Lanka has lost all the bilateral tournaments they've played in except against Ireland, who failed to qualify for the World Cup?) You change your squad day by day until the opposition has no idea who's going to play on any given day. You cunningly allow a less-skilled opposition player to score runs or take wickets so he will be picked ahead of the World Cup. Change captains so that the opposition would forget who's leading and be confused. They will laugh at you and beat you to death. But this way, they will never notice you before you get up and steal that CUP!

One wonders if Sri Lanka should be just focusing on 2023 World Cup from now on, rather than chopping and changing to figure out the team for the 2019 World Cup. Otherwise it'll be the same story for another 4 years with the same excuse, with a few modifications of course, "legends retired, experience failed, new youngsters need time".
But if Sri Lanka are looking for a quick turnaround, they don't have to look far. Just find out what the sandpaper scratched Australia ate before the recently concluded India and Pakistan ODIs!