The second and penultimate day of the Ritzbury Sir John Tarbet Athletic Championship 2018, concluded today (20th) at the Sugathadasa Stadium, ushering in 12 new meet records, which increased the total tally to 15.
While there was a slight drizzle towards the latter part of the day, which was a result of large dark clouds that had conjured up around the Sugathadasa Stadium, it was a bright and sunny day, which showcased the vast potential and the large talent pool available in the schools' athletic system of the country.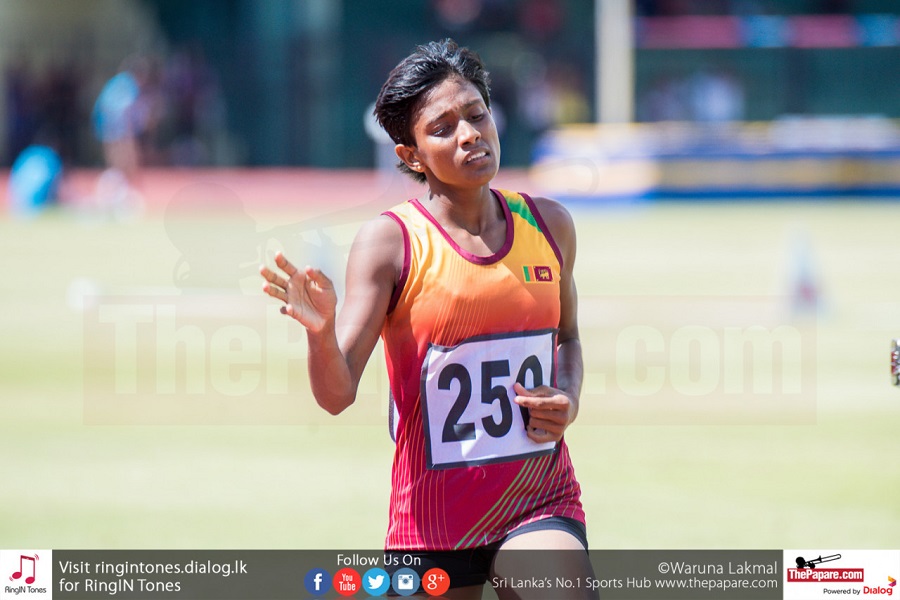 Record breaker of the opening day, Parami Wasanthi of Kuliyapitiya Central College, resuming from where she left off yesterday, picking up her second meet record in only the second event of the day. Despite running a new meet record time and her second personal best in the Under 18 Girl's 2000m steeple chase, late evening yesterday, Parami showcased incredible strength as she rode home to a new meet record time in the Under 18 Girl's 3000m final event which commenced as the second event of the day. Young Parami clocked 9:58.3 in the event erasing the 9-year told previous record by R A C Jayamini in the 3000m and is the 5th best time recorded by any Sri Lankan women's athlete for the said event. Sri Lanka's prime medal prospect at the upcoming Youth Olympic Games, Parami will also be competing in the Under 18 Girl's 1500m and is in with an opportunity to finish the championship with three gold medals to her name.

Read More: Peterite Hirusha Hashen leaps a record distance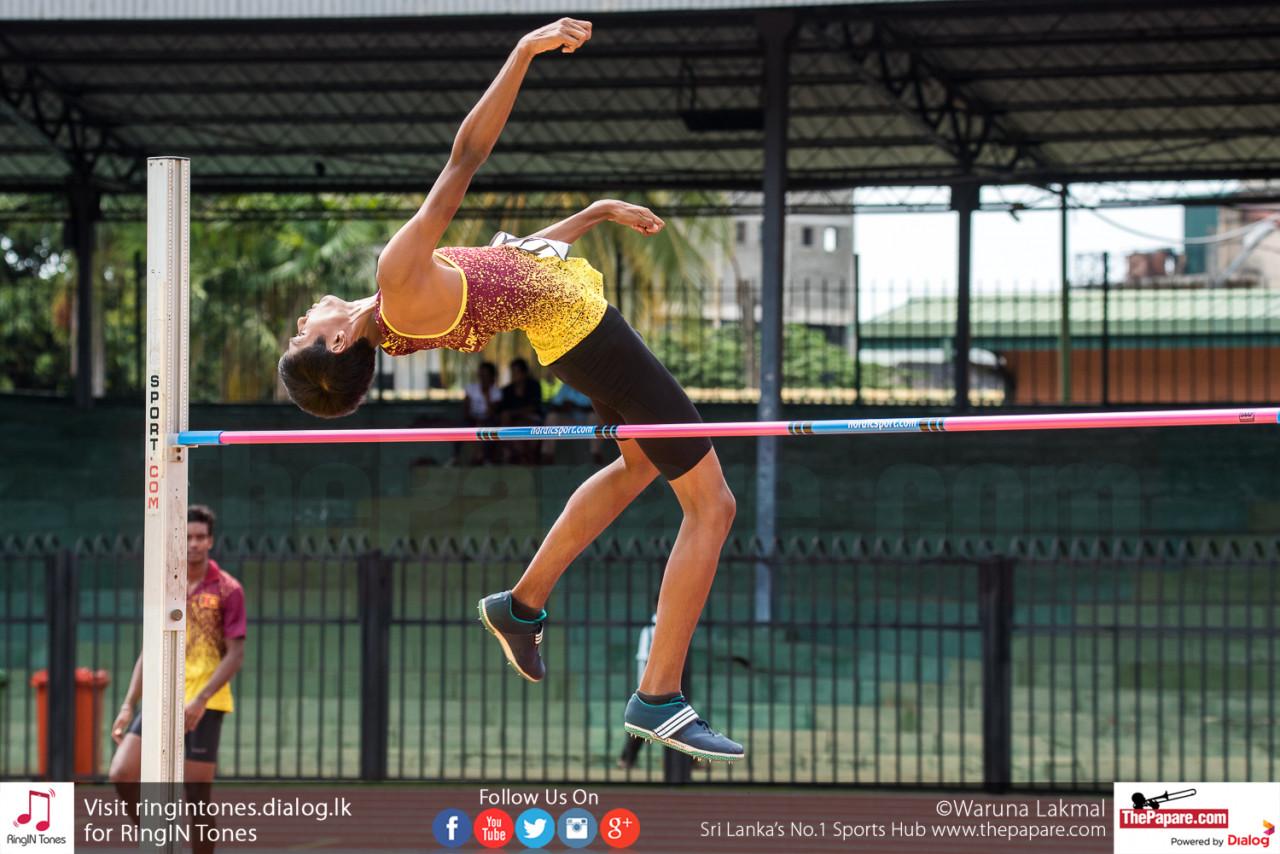 Royalist high jumper Seniru Amarasinghe, who will also be a member of the Sri Lankan contingent to the Youth Olympic Games next month, leapt to a new meet record in the Boy's Under 18 High Jump final where he cleared 2.10m. Seniru who opted to attempt clearing 2.15m after achieving the milestone failed in his three attempts. The lanky High Jumper from Royal College, Colombo is currently ranked 4th in the World junior rankings for his personal best of 2.11m and will be now focusing on prepping himself for the all-important Youth Olympics.
Photo Album – Sir John Tarbet (Senior) 2018 | Day 2
Reid Avenue's heroics did not stop with the high jumper, as the Royal College Boy's Under 18 4X100m relay team claimed the meet record clocking 41.88secs to win Gold shaving off over 1sec from the previous record which was held by St. Benedict's College, Colombo. This was despite being put under pressure by St. Peter's (42.14) , St. Benedict's(42.53) and St. Joseph Vaz College Wennapuwa (42.93) who also bettered the previous meet record of 42.94secs. This event produced one of the most noteworthy performances of the championship, with 4 Under 18 relay teams showcasing a great fight and clocking in great times considering their age.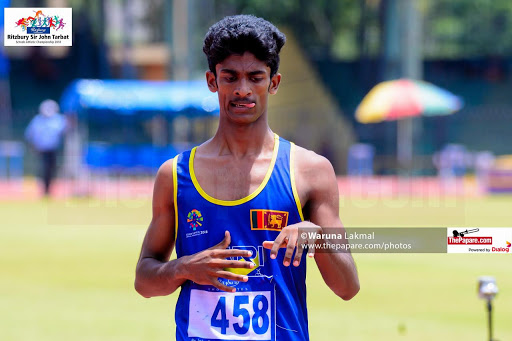 Junior Asian Medal winners, Pasindu Kodikara of Maliyadeva College and Dilishi Kumarasinghe of Walala Central showed their class and was responsible for two new records while winning the Gold convincingly in their respective events. Pasindu Kodikara clocked 52.69secs in the Boy's Under 20 400m Hurdle Finals creating the new meet record in the event while second placed Navodya Sankalpa who provided stiff opposition to Pasindu, was placed second but also bettered the previous record clocking 53.50secs.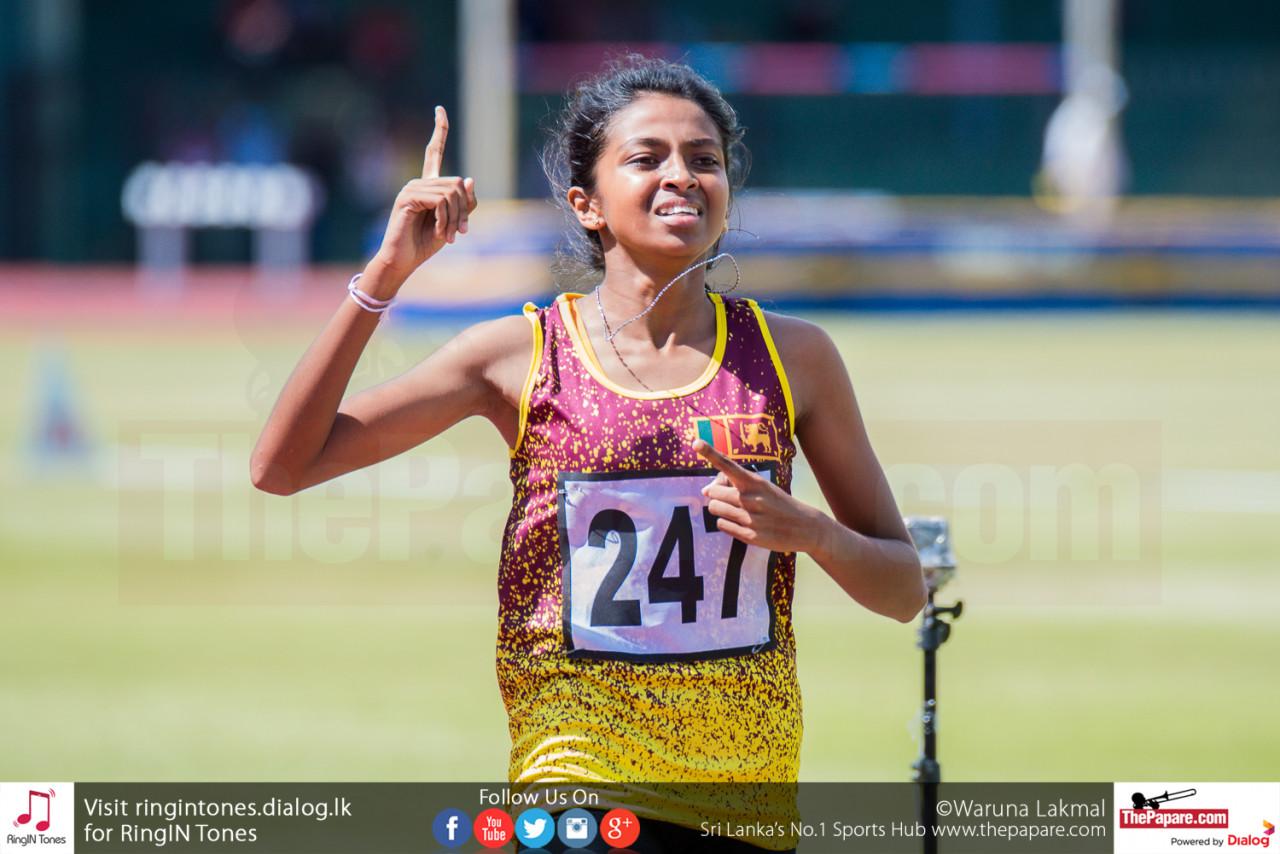 Triple Gold medalist at the South Asian Junior Athletic Championship, Dilishi Kumarasinghe, made a welcome return to the track in style, after staying away from the National Athletic Championship due to Advanced Level exams, with a new meet record in the Girl's Under 20 800m final. Dilishi clocked 2:12.67 to better the previous record which had stood still for 3 years. Dilishi went onto deliver a perfect anchor lap in the Girls Under 20 4X100m relay to collect her second Gold adding another team event to Walala's tally.
Over 400 schools are competing each other for the coveted Ritzbury Sir John Tarbet Challenge trophy, which will be awarded to the overall Champions of the meet. At the end of day two, in the Boy's category St. Peter's have opened up a sizable lead and are sitting pretty at the top of the table with 106 points to their name. They have a 45-point lead over the second placed Royal College who have gathered up 61 points. Traditional track and field powerhouse, Maris Stella College Negombo is a point short of the Royalists with 60 points to their name.
>>CLICK HERE FOR FULL RESULTS<<
Boy's Points Table – End of Day 02
| | | |
| --- | --- | --- |
| Place | School | Points |
| 1 | St Peter's College – Colombo | 106 |
| 2 | Royal College – Colombo | 61 |
| 3 | Maris Stella College – Negombo | 60 |
| 4 | Mahajana Vidyalaya – Thirappanei | 39 |
| 5 | A Rathnayake CC – Walala | 37 |
| 6 | St Joseph's College – Colombo | 34 |
| 7 | St Mary`s College – Chilaw | 33 |
| 8 | St Benedict College – Colombo | 33 |
Defending Champion's, Walala A Ratnayake Central's dominance in the Girls category continues as they are in a very dominant position, with a total of 124 points. Gateway International Nugegoda are in second place with a total of 51 points while Sumana Balika MV, Ratnapura is placed third with 41 points.
Girl's Points Table – End of Day 02
| | | |
| --- | --- | --- |
| Place | School | Points |
| 1 | A Rathnayake CC – Walala | 124 |
| 2 | Gateway Int. – Nugegoda | 51 |
| 3 | Sumana BMV – Rathnapura | 41 |
| 4 | Lyceum Int.- Wattala | 29 |
| 5 | St Andrew BMV | 27 |
| 6 | Bishop's College – Colombo | 25 |
| 7 | Central College – Makandura | 24 |
| 8 | Vishaka College – Colombo | 22 |
| 9 | Ave Maria Girls College – Negombo | 21 |
| 10 | Central College – Kuliyapitiya | 20 |
Sri Lanka's #1 Sports Hub, ThePapare.com is bringing you live and exclusive action of the 88 Ritzbury Sir John Tarbet (senior) Athletic Championship to your fingertips with the generous support of Ritzbury, who have not just funded this event, but are determined to showcase the young talent Sri Lanka possesses, by showing their achievements to the world. Watch the third day action of the 88th Ritzbury Sir John Tarbet (Senior) Athletic Championship by clicking on the link below.
Watch Live: Ritzbury Sir John Tarbat 2018 – Day 03