The 7th edition of the Battle of the Golds 2015-Basketball, between Mahanama College and D.S.Senanayake College was worked off at the Henry Pedris Basketball Court on the 26th of November.
Photo Album – D.S vs. Mahanama Annual Basketball Encounter – Micro Match
The chief guest present at this occasion was Mr. Terrence Kaushalya, the Senior Manager of the Commercial Leasing and Finance PLC.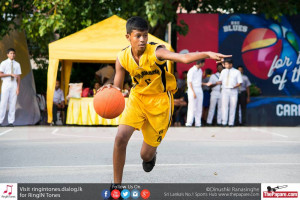 The tournament took place under four categories; Micro Team, Under 15, Under 17 and Under 19 respectively. The Mahanama players managed to grab the titles for the Micro and Under 15 categories, whereas the D.S team got back on track by winning the other two age categories.
The most significant win was the Under 19 game which concluded with 56 points against 42 in favor of the D.S. team.
The first quarter of the match began in favour of Mahanama College when Sonal Bimsara scored the first basket of the game through a hack. But, not long after, Sachintha Jayatileke of D.S.S.C scored a three pointer. A brilliant display of team work and co-ordination from the forwards of Mahanama College was shown during the first quarter. This concluded the first quarter with the scores being 14-07 in favour of Mahanama College.
Throughout the second quarter, Mahanama maintained their lead, but the D.S cagers managed to awe the audience by breaking in through the 1-2-2 Mahanama defense positions and scoring goals. This allowed D.S to bounce back up and even the scores to 22-22 by the end of the second quarter.
Half Time Score: 22-22
The Senanayakians continued to keep their fire ablaze through the third quarter. The diligence and great ball handling skills of the Mahanamians were all in vain as D.S surpassed their opponents through fast breaks which increased their scoring percentage and through the box-and-one defense technique which prevented the Mahanamians from gaining more baskets. Both teams exhibited great persistency thereby scoring 32-40 at the end of the third quarter in favour of D.S.Senanayake College.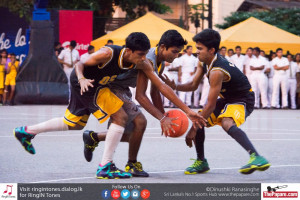 The nail biting last quarter of the U-19 match kept the crowd tensed and excited as both teams took on every opportunity to display their prowess. However, the Senanayakians had the upper hand in this quarter as well, ending the game with a final score of 56-42, thus capturing the shield in this encounter.
Full Time Score: 56-42
Best Player: Kalana Madhubashitha of D.S.Senanayake College
Speaking to Papare.com the captain of the D.S.Senanyake College, Pruthuvi Mayantha Jude Heenatigala stated the following;
"Our teammates remain keen for the squad to get together in the new year and stress the importance of team unity. We are glad that we won this championship for the 7th consecutive year."
With this win the tally reads as 7:0 in favour of D.S.Senanayake College.