Sri Lankan Men's 4X100m team created history at the final of the 21st Commonwealth Games today (14th) in Gold Coast, as they established a new national record with a time of 39.08secs.

Sri Lanka fielded a 4X100m team after a lapse of 68 years and the quartet of Himasha Eshan, Shehan Ambeypitiya, Ashraff Ladeef and Vinoj Suranjaya did full justice to their inclusion in the competition. The team was placed in third in the semi-final with a time of 39.47 earning qualification for the final which concluded toady. The quartet outdid themselves in the final when they managed to break the national record for the 4X100m with their time in the final clocking 39.08secs, despite being placed 6th . The previous record of 39.38 secs was run by the same team at the 2015 Asian Championships in Wuhan, China.
The final of the same event was a star filled affair with the Jamaican team which included Yohan Blake, South African's who in their quartet boasted of Henricho Bruintjies and Akani Simbine, who won individual Silver and Gold respectively in the Men's100m ahead of favourite Blake. The strong Australian team and the strong England quartet all gunning for the Gold, with the Jamaicans favourites alongside the South Africans to take the top spot.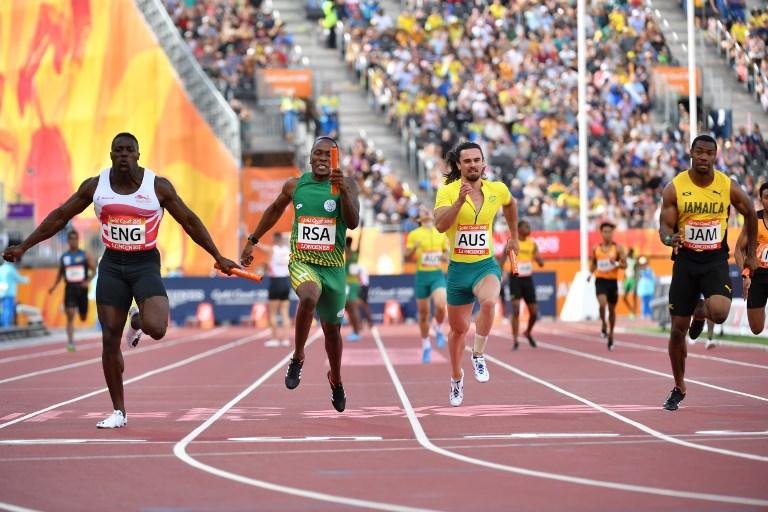 Himasha Eshan got Sri Lanka to a perfect start with a reaction time of  0.149 running in the 8th lane, but it was the English team who did everything right as their transitions were silky smooth with Reuben Arthur anchoring the team to their seasonal best and Commonwealth Gold clocking 38.13secs, South African 100m champion Simbine caught up great distance on the Englishmen but had to be satisfied with a Silver and a new national record clocking 38.24sec, while Yohan Blake who anchored the Jamaican team had to settle for his second bronze of the Games as he finished third with a seasonal best time  for the Jamaican team at 38.35secs.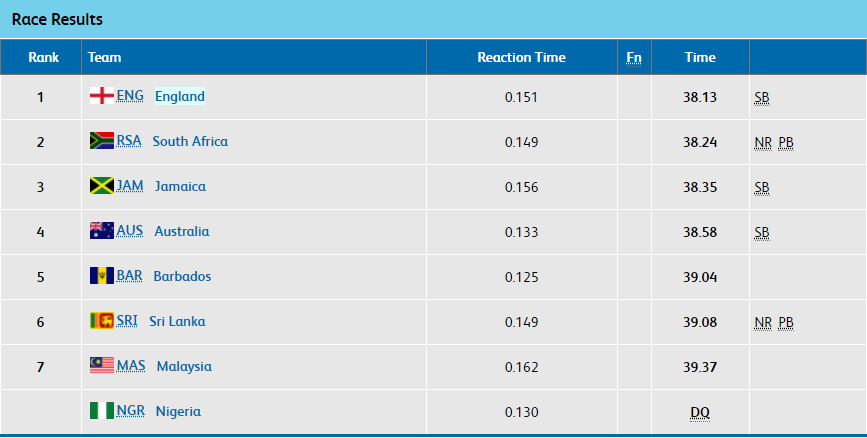 It is was an inspiring performance by the Sri Lankan quartet of Himasha Eshan, Shehan Ambeypitiya, AShraff Ladeef and Vinoj Suranjaya to run a new national record time at one of the biggest athletic events in the world, despite the lack of competition experience and not having a proper track to practice on back home. With the Sugathadasa stadium now ready for use it is our hope that the team will be provided with the best possible training prior to the upcoming Asian Games, where Sri Lanka will be aiming for a podium finish in the event.