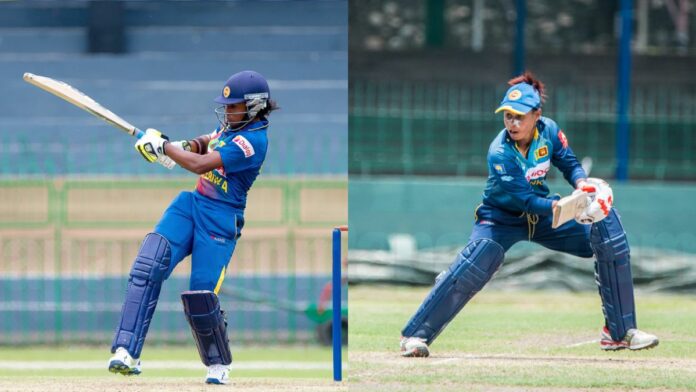 Sri Lanka vice-captain Harshitha Madavi and veteran all-rounder Nilakshi de Silva made their highest International scores as Sri Lanka defeated Malaysia by 93 runs in match 7 of the Commonwealth Games Women's Cricket Competition Qualifiers.
Sri Lanka have relied heavily on skipper Chamari Athapaththu with the bat in the past and when she was dismissed for a quick 30 off 17 deliveries through a brilliant take by Mas Elysa on the long-off boundary, there was some doubt as to if the Lankans could get to a competitive total.
At 70/2 at the half-way stage of the innings, Sri Lanka looked like they would end with a total in the range of 130-140, particularly with one-drop batter Hasini Perera struggling to get going on one end. The left hander crawled to 12 off 21 deliveries, putting immense pressure on Madavi on the other end.
However, with her dismissal in the 13th over, came the change of gears that Sri Lanka needed. Nilakshi de Silva joined Madavi and the pair ran brilliantly between the wickets, while also finding the fence in nearly every over.
They put on 87 off the next 46 deliveries, with Sri Lanka stealing 105 off the last 10 overs to post 175 runs on the board.
Madavi's previous highest score in T20Is was just 28, but the elegant left-hander seems to have worked out what her strengths are during the nearly 2 years Sri Lanka were without International Cricket, piercing the gaps brilliantly on her way to a maiden international half-century.
De Silva, on the other hand, unfortunately missed out on a deserved 1st international half-century, but played her role to perfection too, ending on 49*, her highest score in internationals.
The chase was always going to be an uphill task for the hosts and Sugandika Kumari made it tougher for them, opening the bowling and picking up Wan Julia in her 1st over. The Malaysians were never really in the chase, losing wickets regularly and unable to keep up with the required rate, seemingly content with just batting out the 20 overs.
The Sri Lankan spinners shone again, with left-arm spinner Sugandika Kumari and off-spinner Oshadi Ranasinghe picking up 2 wickets apiece to keep the hosts to 82/7, despite skipper Winifred Duraisingam batting through the innings.


Batsmen
R
B
4s
6s
SR
Vishmi Rajapaksha
c Mas Elysa Zulkifl b Winifred Duraisingam
9
10
1
0
90.00
Chamari Athapaththu
c Mas Elysa Zulkifl b Nik Nur Atiela Nik Din
30
17
7
0
176.47
Hasini Perera
lbw b N Abedul Samad
12
21
1
0
57.14
Harshitha Madavi
not out
65
42
10
0
154.76
Nilakshi de Silva
not out
49
31
7
0
158.06
| | |
| --- | --- |
| Extras | 10 (b 0 , lb 1 , nb 1, w 8, pen 0) |
| Total | 175/3 (20 Overs, RR: 8.75) |
| Fall of Wickets | 1-22 (2.4) Vishmi Rajapaksha, 2-40 (4.6) Chamari Athapaththu, 3-88 (12.2) Hasini Perera, |
| Bowling | O | M | R | W | Econ |
| --- | --- | --- | --- | --- | --- |
| Winifred Duraisingam | 4 | 0 | 30 | 1 | 7.50 |
| Ainna Hamizah Hasim | 1 | 0 | 13 | 0 | 13.00 |
| Mas Elysa Zulkifl | 4 | 0 | 30 | 0 | 7.50 |
| Nik Nur Atiela Nik Din | 2 | 0 | 21 | 1 | 10.50 |
| Nur Dania Syuhada Abedul Samad | 4 | 0 | 25 | 1 | 6.25 |
| Arianna Natasya Benn Rakquidean | 3 | 0 | 28 | 0 | 9.33 |
| Wan Nor Zulaika Sofea Wan Mohd | 2 | 0 | 27 | 0 | 13.50 |


Batsmen
R
B
4s
6s
SR
Winifred Duraisingam
not out
42
54
4
0
77.78
Wan Julia Wan Mhd Rosli
b Sugandika Kumari
0
1
0
0
0.00
Mas Elysa Zulkifl
c Ama Kanchana b Sugandika Kumari
4
5
1
0
80.00
Ainna Hamizah Hasim
b Oshadi Ranasinghe
9
27
0
0
33.33
Arianna Natasya Benn Rakquidean
c Sachini Nisansala b Oshadi Ranasinghe
10
15
1
0
66.67
Intan Jamahidayu Jaafar
run out (Sachini Nisansala)
6
14
0
0
42.86
Wan Nor Zulaika Sofea Wan Mohd
run out (Anushka Sanjeewani)
1
3
0
0
33.33
Dhanusri Muhunan
run out (Chamari Athapaththu)
0
2
0
0
0.00
Shasa Azmi
not out
0
0
0
0
0.00
| | |
| --- | --- |
| Extras | 10 (b 0 , lb 3 , nb 1, w 6, pen 0) |
| Total | 82/7 (20 Overs, RR: 4.1) |
| Fall of Wickets | 1-5 (1.1) Wan Julia Wan Mhd Rosli, 2-10 (1.6) Mas Elysa Zulkifl, 3-34 (9.5) Ainna Hamizah Hasim, 4-53 (13.4) Arianna Natasya Benn Rakquidean, 5-68 (17.4) Intan Jamahidayu Jaafar, 6-71 (18.6) Wan Nor Zulaika Sofea Wan Mohd, 7-78 (19.5) Dhanusri Muhunan, |
| Bowling | O | M | R | W | Econ |
| --- | --- | --- | --- | --- | --- |
| Tharika Sewwandi | 4 | 0 | 14 | 0 | 3.50 |
| Sugandika Kumari | 4 | 1 | 12 | 2 | 3.00 |
| Ama Kanchana | 4 | 0 | 25 | 0 | 6.25 |
| Sachini Nisansala | 4 | 0 | 14 | 0 | 3.50 |
| Oshadi Ranasinghe | 4 | 0 | 14 | 2 | 3.50 |