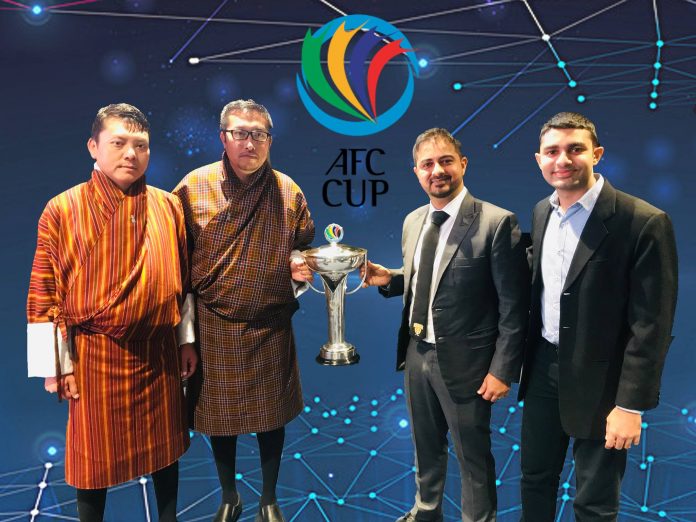 Colombo FC will be taking on Transport United from Bhutan in the 1st qualifying round match of the AFC Cup 2019.
The 1st leg will take place on the 20th February at the Racecourse International Stadium and the 2nd leg will be held at the National Stadium Timpu, Bhutan on 27th February.
The Dialog Champions League 2018 title is on the line as the final two match weeks are …
Colombo FC qualified for the AFC Cup 1st qualifying round as the Champions of Sri Lanka in 2017. The tourney which is equivalent to the Europa League tournament will consist of 43 teams from 26-member associations. The group stage will consist of 36 teams divided into 9 groups of 4.
Transport United are the Champions of Bhutan National league for 2018. This will be the second appearance for the team from the Himalayas in this stage of the tournament. Colombo FC too is in their second appearance losing previously to Mohun Bagan AC.
As the current Dialog Champions League is still ongoing the 2017 Champions Colombo FC will take part from Sri Lanka whereas other nations will be having their 2018 winners in the tournament.
Colombo FC will get slotted in Group E along with Minerva Punjab (IND), Abahani Limited Dhaka (BAN) and Manang Marshyangdi Club (NEP) if they come through the qualifying round match as well as the play-off against Chennaiyin FC (IND) Indian Super League Champions for 2017/18.
The Group Stage of the East and South Zones will commence from 03rd April 2019.
vs Transport United
1

st

Leg – 20

th

February at Race Course International Stadium Colombo – 3.30pm

2

nd

Leg – 27

th

February at Changlimithang Stadium Timpu – 5.30pm
vs Chennaiyin FC
1

st

Leg – 06

th

March in Colombo

2

nd

Leg – 13

th

March at The Arena Stadium Chennai.
The AFC has allocated USD 20,000 per match for a club up until the group stage which is a very lucrative amount for a club from a developing nation. Colombo FC will fancy their chances to progress to the play-off round as they are coming to the end of the regular season in Sri Lanka and the players have plenty of game time under their belts.
>>For more Football News Click Here<<