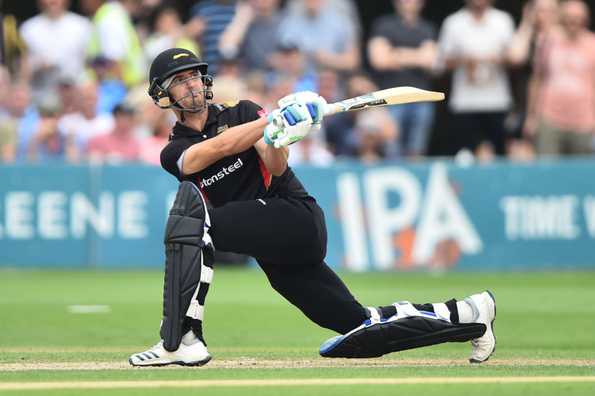 The Netherlands have announced their squads for the upcoming T20 World Cup Qualifier, to be held in the UAE from the 18th of October, as well as the preceding tours to Ireland and Oman, where they will respectively play a T20I tri-series against Ireland and Scotland and a five-way T20I tournament featuring Oman, Ireland, Nepal and Hong Kong. The final squads were announced today following a pair of inter-squad T20s at Amsterdam, and feature a few new faces as well as some notable omissions.
>>Ireland to host Scotland, Netherlands in T20I tri-series<<
Pieter Seelaar will again lead the team across all three tours, whilst the most eye-catching addition is Leicestershire's Colin Ackermann, who spent two seasons playing in the Netherlands before moving to Leicestershire in 2016. Ackermann, who has represented South Africa at age group level, has been on the Netherlands' radar for some time, and made headlines by taking 7-18 in the ECB's T20 Blast with his part-time off-spin against Birmingham, though the Dutch will value him most as a middle-order bat.
"We're very excited about Colin, we have been for a while. His 7 for 18 of course was incredible, but what he gives us is another experienced middle-order player, who can bowl in the powerplay if needed. He's played here before, he's played (North Sea) Pro-Series before, so we know how good he is. To have him wanting to be part of our program a great reflection of Dutch cricket, him and ten Doeschate again are excited to be a part of Dutch cricket and we're very excited to have them," Netherlands coach Ryan Campbell told Cricbuzz.
>>Ireland to feature in five-team T20 series ahead of T20 World Cup Qualifier<<
Ackermann, as with the talismanic Ryan ten Doeschate, will join the squad only for the Oman tour and the Qualifier itself. The squad for the Ireland tour meanwhile looks rather more experimental, with 16 year-old opening bat Vikram Singh set to make his T20I debut alongside spin all-rounder Clayton Floyd, whist 18 year-old legspinner Philippe Boissevain and batsman Tonny Staal feature in both squads, whilst more celebrated names such as Wesley Barresi and Stephan Myburgh, heroes of the Netherlands' most successful WT20 back in 2014, miss out.
"The point of the UAE series, and the games against the counties was to give out young kids a chance, and also to put senior players under pressure. Philippe Boissevain bowled brilliantly in England, the wickets he took were serious players and he looks like he could be the final cog in our machine, giving us the option to play two left arm spinners, an offspinner and a legspinner if it's turning.
Tonny Staal brings something different to out batting, as an out and out power hitter. We'll look to him coming in at six, even if he only faces 12 balls to be hitting three of them for six. It's that power hitting that saw him get the nod ahead of some of the more experienced players and some very talented youngsters," said Campbell.
For the T20 World Cup Qualifier, the Netherlands have been drawn in Group A together with Scotland, Namibia, Papua New Guinea, Singapore and Bermuda. The 14-team tournament will run from the 18th of October to the 2nd of November, with the top six teams advancing the the preliminary "first round" stage of the T20 World Cup in Australia.
>>ICC Men's T20 World Cup Qualifier 2019 schedule announced<<
Ahead of the tournament the Dutch will travel to Ireland where they will face the hosts and Scotland in a trilateral T20I series running from the 15th to the 20th of September in lieu of the Euro T20 Slam, which was postponed until next year. Thereafter they will travel to Oman for a pentangular series again including Ireland together with the hosts, Hong Kong and Nepal, to be played at Oman's new facility at Al Amerat outside of Muscat.
Netherlands Squads:

Ireland Tri-National Series: Pieter Seelaar (Captain), Max O'Dowd, Tobias Visee, Vikram Singh, Ben Cooper, Tonny Staal, Scott Edwards (wk), Bas de Leede, Brandon Glover, Shane Snater, Fred Klaassen, Paul van Meekeren, Philippe Boissevain, Clayton Floyd.
Oman Pentangular Series and T20 World Cup Qualifier: Pieter Seelaar (Captain), Max O'Dowd, Tobias Visee, Ben Cooper, Ryan ten Doeschate, Colin Ackermann, Scott Edwards (wk), Roelof van der Merwe, Brandon Glover, Shane Snater, Fred Klaassen, Paul van Meekeren, Timm van der Gugten, Philippe Boissevain.