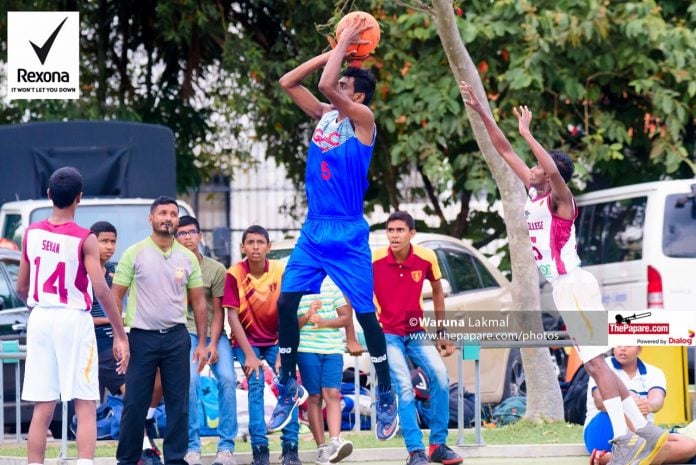 Here are the results of two games played yesterday in the All Island A Division Boys Basketball Championship between Gateway College Kandy and Gateway College Colombo and Ananda College, Colombo 10 versus St. Joseph's College, Wattala.
The first match of the day at the GCC courts went in favour of Gateway Colombo, winning by a margin of 18points, with a final score line of 78-60. Chenuka Kasthuriarachchi and Mirtesh Thurairajah were the main offensive players for Colombo scoring 16 and 12 points for their team respectively. Dineth Ulanduitiya was the highest scorer for the Kandy boys, securing 15 points.
The game tipped off with an easy lead for the Kandy boys. Colombo players were finding it hard to get through the strong defence of their Kandy counter-parts but however, made sure that they slowly settled into the game by the third quarter. The boys from Colombo made sure that the Kandy boys were restricted from scoring by tightening their defence. The game moved to a fast paced situation as Colombo easily broke through the Kandy defence line to keep their score ticking. Chenuka Kasthuriarachchi was outstanding in the process of getting the lead for Colombo by 4 points at the end of the third quarter. Colombo players made sure that they kept the momentum throughout the rest of the game to grab the win in their favour.   
Half Time: Colombo-26   Kandy-33

Full Time: Colombo-78   Kandy-60
---
Dilshan Maadushanka fights alone for St. Joseph's Wattala  
The last game of the day was won by Ananda College. Ananda got off to a strong start leading the first half of the game. Even though SJC Wattala came back to match the Anandians in the following quarters, it was not enough for them to be the ultimate winners of the game. AC won the game by 14 points. Yeshan Shahasra and Senan Godallage were the highest scorers for AC. Yeshan scored 19 points while Senan scored 14 points. Dilshan Madushanka was the main offensive player for St. Joseph's Wattala scoring 34 points for his team.
Joes Wattala came back strongly in the second half after being outscored by 14 points in the first half. It was during this half that the Wattala boys started settling to the game and tightening their defence. This allowed SJC Wattala to score 16-18 in the third quarter. However, the Anandians managed to keep their scoreboard ticking which resulted in the match ending in their favour.
Half Time: AC-30   SJC Wattala-16

Full Time: AC-66   SJC Wattala-52