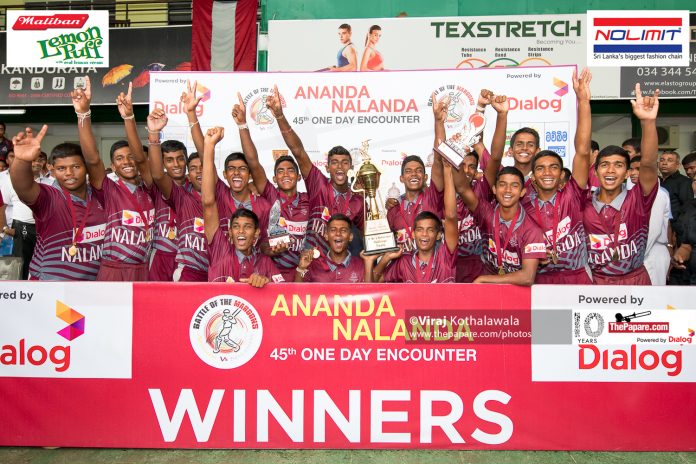 The 45th limited overs encounter between Nalanda College and Ananda College was won by the much-fancied Nalanda outfit by 16 runs on the DLS method, after rain brought a pre-mature end to the match played at the SSC grounds today.
On the same pitch which was used for the Royal-Thomian clash yesterday (16th Saturday), Ananda College elected to bat first after winning the toss. The start for Ananda wasn't that great as Sri Lanka U19 cap Chamindu Wijesinghe struck in just the 3rd ball of the match for Nalanda College. It was Sudeepa Agulugaha who was dismissed for a duck.
>>Moditha, Janidu rescue act earns Ananda a draw<<
Experienced opening batsman Kanishka Ranthilakage also threw his wicket away for just 6 runs as he pulled a Lakshitha Manasinghe short ball straight to the short fine leg fielder. After that, Adeesha Perera and skipper Kamesh Nirmal batted stylishly before Sri Lanka U19 cap Raveen De Silva destroyed the Ananda middle order.
De Silva took 3 quick wickets to leave the Anandians reeling half of the side back in the dressing room. His victims were Adeesha (22), Nirmal (13) and Moditha Ranatunge (4).
Daminda Rashen and Kalana Wijesiri looked keen on bringing Ananda back in to the match with a platform setting partnership, but it was only until Dineth Samaraweera began his 2nd spell. The 16-year old left arm seamer sent back Reshan and Janidu Jayawardena in quick intervals leaving Ananda on 91/7.
Wijesiri who was then joined by Nadeesha Karunaratne built up a much needed partnership for Ananda. The duo added 75 runs in 67 deliveries taking Ananda past the 150 mark. It was the Nalanda skipper Lakshitha who had to step up to break the partnership as he dismissed Karunaratne for 43.
Photos: Ananda College vs Nalanda College | 45th One Day Encounter
With the help of valuable contributions from vice-captain Chamika Gunasekara and Maoshada Fernando, Ananda managed to reach a modest total of 197. Kalana Wijesiri's 46 was the highest score for Ananda while Raveen De Silva ended with 4 wickets for Nalanda. Skipper Lakshitha picked up 3 wickets.
The run chase for Nalanda saw a very lucky start as Big Match centurion and opener Avishka Perera was given 3 lives due to poor fielding from the Ananda boys. Anyway, Ananda figured out a way to come back strongly to the game as their failed opening batsman lightened up the SSC with his gentle medium pace.
Sudeepa Agulugaha who was introduced in the 9th over when Nalanda were comfortably on 34/1, picked up both openers in his very first over. He also went on to pick up 2 more wickets in his following couple of overs. This surprise strike dented Nalanda and left them tottering at 58/4 in the 13th over.
Captain Lakshitha, vice-captain Avishka, opener Ranidu De Silva and wicket keeper Dilhara Polgampola, all were back in the hut cheaply. Then happened the match-winning partnership for Nalanda. Taking full advantage of the defensive tactics used by the Ananda camp Chamindu Wijesinghe and Jayod Caldera added 61 runs for the 5th wicket, slow and steadily.
It was Agulugaha who once again broke the partnership as he dismissed Wijesinghe in the 28th over to bring back hope for Ananda. Caldera, who was joined by Raveen De Silva, made sure no other wickets fell from then onwards as they were anticipating a shower from the dark and heavy clouds which were roaming over the SSC.
Eventually, when the rains fell and play was stopped, the 6th wicket stand between Caldera and De Silva was unbeaten on 22 and Nalanda were on 141/5, 16 runs ahead of the DLS par score. Nalanda faced only 33.1 overs and clinched the match by 16 runs, extending their winning streak to 3 in a row.
The awards were shared equally among both the teams,
Best Fielder – Jayod Caldera (Nalanda College)

Best Bowler – Sudeepa Agulugaha (Ananda College)

Best Batsman – Kalana Wijesiri (Ananda College)

Man of the Match – Raveen De Silva (Nalanda College)


Batsmen
R
B
4s
6s
SR
Sudeepa Agulugaha
lbw b Chamindu Wijesinghe
0
3
0
0
0.00
Kanishka Rantilakage
c Jayod Kaldera b Lakshitha Rasanjana Manasinghe
6
21
1
0
28.57
Adeesha Perera
st Thanushka Dilhara Polgampola b Raveen De Silva
22
66
1
1
33.33
Kamesh Nirmal
c Thanushka Dilhara Polgampola b Raveen De Silva
13
21
1
1
61.90
Moditha Ranathunga
b Raveen De Silva
4
12
0
0
33.33
Daminda Reshan
c Moksha Sankalpa b Dineth Samaraweera
23
42
0
0
54.76
Kalana Sulakkana Wijesiri
c Ranindu C de Silva b Raveen De Silva
46
52
2
1
88.46
Janindu Jayaweera
b Dineth Samaraweera
1
8
0
0
12.50
Nadeesha Karunarathna
c Mahima Weerakoon b Lakshitha Manasinghe
43
40
4
1
107.50
Chamika Deemantha Gunasekara
not out
15
12
1
0
125.00
Maoshada Fernando
c Thanushka Polgampola b Lakshitha Manasinghe
11
10
2
0
110.00
| | |
| --- | --- |
| Extras | 13 (b 0 , lb 6 , nb 0, w 7, pen 0) |
| Total | 197/10 (48 Overs, RR: 4.1) |
| Bowling | O | M | R | W | Econ |
| --- | --- | --- | --- | --- | --- |
| Chamindu Wijesinghe | 9 | 1 | 37 | 1 | 4.11 |
| Dineth Samaraweera | 10 | 3 | 25 | 2 | 2.50 |
| Lakshitha Rasanjana Manasinghe | 10 | 0 | 53 | 3 | 5.30 |
| Kaveesh Madurapperuma | 9 | 0 | 26 | 0 | 2.89 |
| Raveen De Silva | 10 | 1 | 50 | 4 | 5.00 |


Batsmen
R
B
4s
6s
SR
Ranindu C de Silva
c Chamika Deemantha Gunasekara b Sudeepa Agulugaha
7
28
0
0
25.00
Avishka Perera
c Kalana Wijesiri b Sudeepa Agulugaha
26
26
3
0
100.00
Thanushka Polgampola
b Sudeepa Agulugaha
5
5
1
0
100.00
Lakshitha Manasinghe
c Nadeesha Karunarathna b Sudeepa Agulugaha
6
8
1
0
75.00
Jayod Kaldera
not out
38
84
3
0
45.24
Chamindu Wijesinghe
c Kamesh Nirmal b Sudeepa Agulugaha
29
35
2
1
82.86
Raveen De Silva
not out
12
15
0
0
80.00
| | |
| --- | --- |
| Extras | 18 (b 0 , lb 1 , nb 2, w 15, pen 0) |
| Total | 141/5 (33.1 Overs, RR: 4.25) |
| Bowling | O | M | R | W | Econ |
| --- | --- | --- | --- | --- | --- |
| Chamika Deemantha Gunasekara | 6 | 0 | 30 | 0 | 5.00 |
| Adeesha Perera | 9 | 0 | 29 | 0 | 3.22 |
| Sudeepa Agulugaha | 7 | 0 | 28 | 5 | 4.00 |
| Nadeesha Karunarathna | 2.1 | 0 | 19 | 0 | 9.05 |
| Maoshada Fernando | 3 | 0 | 7 | 0 | 2.33 |
| Janindu Jayaweera | 5 | 0 | 22 | 0 | 4.40 |
| Daminda Reshan | 1 | 0 | 4 | 0 | 4.00 |