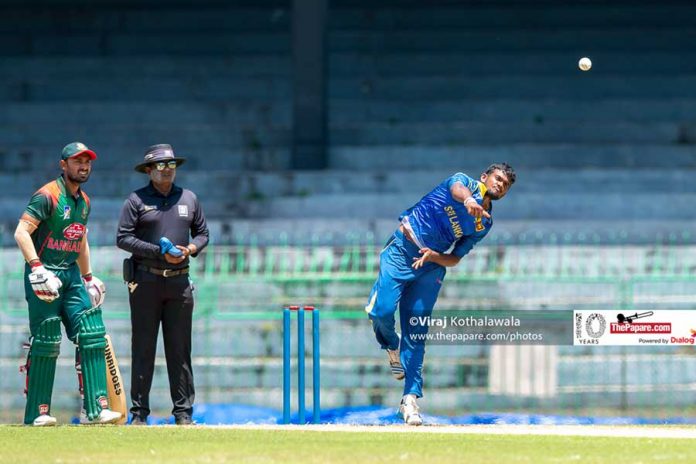 Bangladesh A managed to record their first win on the tour as they clung to a thrilling 1 wicket win in the 2nd Unofficial ODI of the 3-match One-day series vs Sri Lanka A today (10) at the R. Premadasa Stadium, Colombo.
Read : Ashan Priyanjan's all-round effort sinks Bangladesh A at Khettarama
Bangladesh A skipper Mohammad Mithun called correct for the 2nd time and decided to field first after their disappointing loss yesterday (09) where they lost the game by 7 wickets.  The only replacement from Sri Lanka A was wicket-keeper batsman Lahiru Udara's inclusion in the place of Sandun Weerakkody. 
Read : Pathum, Sangeeth & Kamindu continue to tap at selectors' door 
The Sri Lanka A innings was strengthened by two half centuries from Kamindu Mendis and Priyamal Perera who went on to score 61 and 52 respectively. Mendis who hit a brilliant 192 in the 2nd unofficial Test of the tour, coloured his fifty with 6 fours and 1 six. Meanwhile, Priyamal Perera, who was discarded from the national squad ahead of the World Cup, played a composed knock to accumulate a well-made half century before getting stumped by left arm spinner Sunzamul Islam.
Watch : පිට පිට නොදැවුණු ද්විත්ව ශතක දෙකක් රැස් කළ ප්‍රියමාල් "බුලට්" පෙරේරා – Priyamal Perera – Powerplay 
After this pair's dismissals, the Sri Lanka A innings didn't really get going as the lower order, except for Chamika Karunaratne, couldn't add many to the scorecard as Sri Lanka A occupied the 50-over quota for the loss of 9 wickets. The all-rounder made a valuable 25 to guide the home team to a total of 226.
Chasing a modest target, Bangladesh A's skipper Mohammad Mithun and opener Mohammed Naim put their hands up and took the burden from the rest of the batting unit as both delivered fifties to take the visitors to a comfortable position. Mohammed Naim particularly, made it hard for the Sri Lanka A bowlers as his stroke-filled 59-ball 68 took the run-rate pressure off his batting partners.
Photos – Bangladesh A tour of Sri Lanka 2019 | 2nd Unofficial ODI
Though the visitors were set up for an easy finish, a sudden collapse from 4-190 to 8-216 tested Bangladesh A tailenders' temperament under pressure but they succeeded in the last ball of the game to register a 1-wicket win.
Off spinner Ramesh Mendis starred with the ball for the hosts as he picked up 3 wickets, though his last over (50th over) went for 9 runs which paved the way for Bangladesh A's victory.
The series is now in the balance at 1-1 and the series decider will be played at the same ground on 12th October.


Batsmen
R
B
4s
6s
SR
Pathum Nissanka
c Sunzamul Islam b Abu Hider
15
27
3
0
55.56
Lahiru Udara
c Niam Sheikh b Ebadat Hossain
23
40
1
0
57.50
Kamindu Mendis
c Ariful Haque b Afif Hossain
61
67
6
1
91.04
Ashan Priyanjan
c Nurul Hasan b Saif Hassan
7
17
0
0
41.18
Priyamal Perera
st Nurul Hasan b Sunzamul Islam
52
62
2
1
83.87
Ashen Bandara
c Afif Hossain b Sunzamul Islam
18
25
2
0
72.00
Ramesh Mendis
b Abu Hider
2
10
0
0
20.00
Ishan Jayaratne
c Nurul Hasan b Ebadat Hossain
6
11
0
0
54.55
Chamika Karunarathne
not out
25
27
1
0
92.59
Amila Aponso
b Abu Jayed
3
11
0
0
27.27
Shiran Fernando
not out
1
3
0
0
33.33
| | |
| --- | --- |
| Extras | 13 (b 1 , lb 3 , nb 0, w 9, pen 0) |
| Total | 226/9 (50 Overs, RR: 4.52) |
| Fall of Wickets | 1-28 (7.3) Pathum Nissanka, 2-63 (14.6) Lahiru Udara, 3-80 (19.5) Ashan Priyanjan, 4-158 (34.3) Kamindu Mendis, 5-172 (37.2) Priyamal Perera, 6-189 (40.6) Ramesh Mendis, 7-191 (41.3) Ashen Bandara, 8-207 (45.4) Ishan Jayaratne, 9-216 (48.4) Amila Aponso, |
| Bowling | O | M | R | W | Econ |
| --- | --- | --- | --- | --- | --- |
| Abu Jayed | 8 | 0 | 39 | 1 | 4.88 |
| Abu Hider | 10 | 1 | 42 | 2 | 4.20 |
| Ebadat Hossain | 10 | 0 | 46 | 2 | 4.60 |
| Saif Hassan | 10 | 0 | 39 | 1 | 3.90 |
| Sunzamul Islam | 10 | 0 | 43 | 2 | 4.30 |
| Afif Hossain | 2 | 0 | 13 | 1 | 6.50 |


Batsmen
R
B
4s
6s
SR
Saif Hassan
c Ashen Bandara b Shiran Fernando
5
15
0
0
33.33
Niam Sheikh
c & b Ramesh Mendis
68
59
9
0
115.25
Najmul Hossain
c Lahiru Udara b Chamika Karunarathne
21
39
1
0
53.85
Mohammad Mithun
c Ashen Bandara b Ramesh Mendis
52
87
3
1
59.77
Afif Hossain
c Chamika Karunarathne b Shiran Fernando
24
31
0
2
77.42
Nurul Hasan
c Lahiru Udara b Chamika Karunarathne
25
43
3
0
58.14
Ariful Haque
c Priyamal Perera b Ashan Priyanjan
7
11
0
0
63.64
Sunzamul Islam
not out
11
9
1
0
122.22
Ebadat Hossain
c Ramesh Mendis b Ashan Priyanjan
2
4
0
0
50.00
Abu Jayed
c Chamika Karunarathne b Ramesh Mendis
1
3
0
0
33.33
Abu Hider
not out
0
0
0
0
0.00
| | |
| --- | --- |
| Extras | 11 (b 1 , lb 1 , nb 1, w 8, pen 0) |
| Total | 227/9 (50 Overs, RR: 4.54) |
| Fall of Wickets | 1-15 (3.5) Saif Hassan, 2-74 (14.6) Najmul Hossain, 3-115 (25.3) Afif Hossain, 4-178 (40.3) Nurul Hasan, 5-190 (43.1) Mohammad Mithun, 6-209 (46.6) Ariful Haque, 7-211 (47.2) Niam Sheikh, 8-216 (48.4) Ebadat Hossain, 9-226 (49.5) Abu Jayed, |
| Bowling | O | M | R | W | Econ |
| --- | --- | --- | --- | --- | --- |
| Ishan Jayaratne | 8 | 0 | 41 | 0 | 5.12 |
| Shiran Fernando | 6 | 0 | 38 | 2 | 6.33 |
| Ramesh Mendis | 9 | 0 | 40 | 3 | 4.44 |
| Chamika Karunarathne | 7 | 0 | 35 | 2 | 5.00 |
| Amila Aponso | 10 | 2 | 32 | 0 | 3.20 |
| Ashan Priyanjan | 7 | 0 | 29 | 2 | 4.14 |
| Kamindu Mendis | 3 | 0 | 10 | 0 | 3.33 |
>>For more Cricket click here<<