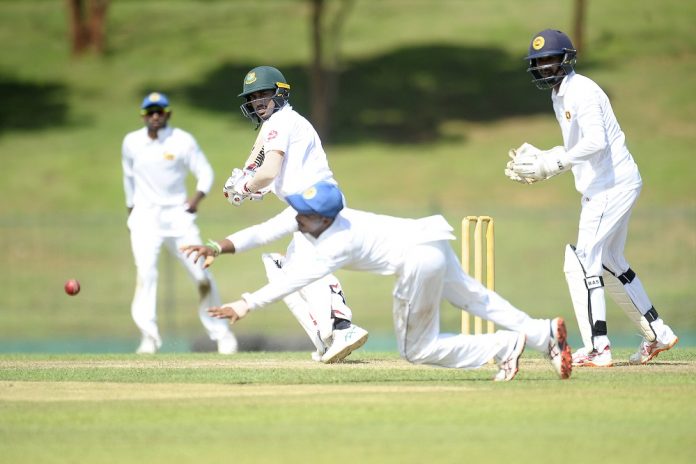 The first Unofficial Test between the touring Bangladesh 'A' side and Sri Lanka 'A' kicked-off today at the Mahinda Rajapaksa International Cricket Stadium in Hambantota. The tourists, taking first lease of the wicket ended the day on 270 for the loss of 6 wickets.
The 4-day match which was initially planned to take place in Katunayake from the 23rd of this month was rescheduled to begin yesterday due to persistent showers. However, it was announced that the match has been trimmed to a 3-day fixture and will begin on the 29th Sunday as the pitch was not in due condition.
The schedule of Bangladesh 'A' team's 20-day long tour in Sri Lanka has been forced to be revised due TO………….
The series finally saw a beginning today after a 45-minute delay in the morning as the visiting skipper, Test Cap Mominul Haque won the toss and elected to bat first. Sri Lanka's playing XI featured two pacies in Vishwa Fernando and Asitha Fernando while Malinda Pushpakumara led the spin attack which composed all-rounders Ramesh Mendis, Kamindu Mendis and skipper Ashan Priyanjan. 
SL 'A' XI – Pathum Nissanka, Sangeeth Cooray, Priyamal Perera, Ashen Bandara, Ashan Priyanjan (C), Kamindu Mendis, Manoj Sarathchandra (WK), Ramesh Mendis, Malinda Pushpakumara, Asitha Fernando, Vishwa Fernando
Ramesh Mendis finished as the pick of the bowlers for Sri Lanka today as he picked up 2 wickets in quick succession to jolt the Bangladeshi batting order after a superb opening stand of 90 between Jahurul Islam and Shadman Islam was broken by Priyanjan. The innings was however brought back on track by Mohammad Mithun together with Jahurul.
The duo added 137 runs for the 4th wicket as they guided their team to a strong position. Jahurul scored 90 while Mithun top-scored with 92 before Ashen Bandara's brilliance in the field got the better of him providing a crucial breakthrough for the Lankans.
The two pacies who didn't have much success throughout the day, ended the day sharing two wickets between them to leave the visitors 6 wickets down when bad light forced the game to be stopped 15 minutes ahead of schedule causing the loss of 5 overs. The Bangladesh team which is packed with national stars will resume their innings tomorrow with two of their World Cup squad members, Soumya Sarkar and Mehidy Hassan at the crease. 


Batsmen
R
B
4s
6s
SR
Jahurul Islam
lbw b Vishwa Fernando
90
210
8
0
42.86
Shadman Islam
st Manoj Sarathchandra b Ashan Priyanjan
53
112
8
0
47.32
Najmul Hossain
b Ramesh Mendis
4
21
0
0
19.05
Mominul Haque
c Malinda Pushpakumara b Ramesh Mendis
11
21
1
0
52.38
Mohammad Mithun
run out (Ashen Bandara)
92
120
10
3
76.67
Soumya Sarkar
c Kamindu Mendis b Asitha Fernando
24
38
3
0
63.16
Nurul Hasan
c Ramesh Mendis b Asitha Fernando
1
4
0
0
25.00
Mehidy Hasan
st Manoj Sarathchandra b Ramesh Mendis
57
114
7
0
50.00
Mehedi Hasan Rana
c Kamindu Mendis b Malinda Pushpakumara
8
19
2
0
42.11
Abu Jayed
not out
8
48
0
0
16.67
Ebadat Hossain
b Asitha Fernando
7
14
0
1
50.00
| | |
| --- | --- |
| Extras | 5 (b 0 , lb 4 , nb 0, w 1, pen 0) |
| Total | 360/10 (120.1 Overs, RR: 3) |
| Fall of Wickets | 1-90 (32.6) Shadman Islam, 2-102 (38.2) Najmul Hossain, 3-116 (44.2) Mominul Haque, 4-253 (80.2) Mohammad Mithun, 5-257 (81.2) Jahurul Islam, 6-260 (82.6) Nurul Hasan, 7-309 (96.1) Soumya Sarkar, 8-318 (101.3) Mehedi Hasan Rana, 9-348 (112.6) Mehidy Hasan, 10-360 (120.1) Ebadat Hossain, |
| Bowling | O | M | R | W | Econ |
| --- | --- | --- | --- | --- | --- |
| Vishwa Fernando | 16 | 0 | 79 | 1 | 4.94 |
| Asitha Fernando | 23.1 | 3 | 59 | 3 | 2.55 |
| Malinda Pushpakumara | 35 | 5 | 94 | 1 | 2.69 |
| Ramesh Mendis | 23 | 6 | 57 | 3 | 2.48 |
| Ashan Priyanjan | 12 | 1 | 34 | 1 | 2.83 |
| Kamindu Mendis | 6 | 0 | 15 | 0 | 2.50 |
| Ashen Bandara | 5 | 0 | 18 | 0 | 3.60 |


Batsmen
R
B
4s
6s
SR
Pathum Nissanka
lbw b Ebadat Hossain
14
24
3
0
58.33
Sangeeth Cooray
c Soumya Sarkar b Mehidy Hasan
104
151
15
0
68.87
Kamindu Mendis
b Mohammad Mithun
169
282
9
0
59.93
Ashan Priyanjan
lbw b Mehidy Hasan
37
56
6
0
66.07
Ashen Bandara
run out (Mehidy Hasan)
2
12
0
0
16.67
Priyamal Perera
c Mohammad Mithun b Mehidy Hasan
61
75
9
0
81.33
Ramesh Mendis
lbw b Mehidy Hasan
21
32
3
1
65.62
Manoj Sarathchandra
lbw b Mohammad Mithun
12
38
1
0
31.58
Malinda Pushpakumara
st Nurul Hasan b Mehidy Hasan
15
36
2
0
41.67
Vishwa Fernando
c Mohammad Mithun b Mehidy Hasan
4
15
1
0
26.67
Asitha Fernando
not out
0
6
0
0
0.00
| | |
| --- | --- |
| Extras | 11 (b 0 , lb 8 , nb 0, w 3, pen 0) |
| Total | 450/10 (121.1 Overs, RR: 3.71) |
| Fall of Wickets | 1-17 (5.5) Pathum Nissanka, 2-182 (48.5) Sangeeth Cooray, 3-261 (67.5) Ashan Priyanjan, 4-269 (70.6) Ashen Bandara, 5-363 (92.2) Priyamal Perera, 6-416 (103.2) Ramesh Mendis, 7-422 (106.6) Kamindu Mendis, 8-433 (114.4) Manoj Sarathchandra, 9-450 (119.4) Vishwa Fernando, 10-450 (121.1) Malinda Pushpakumara, |
| Bowling | O | M | R | W | Econ |
| --- | --- | --- | --- | --- | --- |
| Abu Jayed | 12 | 0 | 48 | 0 | 4.00 |
| Ebadat Hossain | 20 | 1 | 82 | 1 | 4.10 |
| Mehedi Hasan Rana | 21 | 3 | 88 | 1 | 4.19 |
| Mehidy Hasan | 46.1 | 9 | 150 | 5 | 3.25 |
| Mohammad Mithun | 14 | 3 | 34 | 2 | 2.43 |
| Soumya Sarkar | 4 | 1 | 14 | 0 | 3.50 |
| Mominul Haque | 3 | 0 | 16 | 0 | 5.33 |
| Najmul Hossain | 1 | 0 | 10 | 0 | 10.00 |


Batsmen
R
B
4s
6s
SR
Jahurul Islam
not out
1
2
0
0
50.00
Shadman Islam
not out
0
4
0
0
0.00
| | |
| --- | --- |
| Extras | 0 (b 0 , lb 0 , nb 0, w 0, pen 0) |
| Total | 1/0 (1 Overs, RR: 1) |
| Bowling | O | M | R | W | Econ |
| --- | --- | --- | --- | --- | --- |
| Vishwa Fernando | 1 | 0 | 1 | 0 | 1.00 |