World Cup drama returned to England after 16 years, and this time it was Australia's time to shine. Steve Waugh and Co. who were eyeing their second crown, successfully earned it, avenging their finals defeat in 1996. England '99 had it all, minnow bashing, giant killing, an unusually anti-climactic final and the thrilling semi-final, probably the best World Cup game ever. It even staged an intense battle between India and Pakistan, two countries which were at war during the time.
Primarily hosted by England, games were held in Wales, Scotland, Ireland and Netherlands. A 'Super Six' round was introduced, where six teams, three from each group, entered it. The PCF (Points Carried Forward) method allowed them to carry points, earned against fellow qualifiers from their respective groups. The nine Test teams were joined by Bangladesh, Scotland and Kenya, while 42 games were played to choose the winner.
The opening game was held between the hosts England and defending champions Sri Lanka at Lord's on 14th May. It ended in an easy 8-wicket win for England. Batting first, Sri Lanka were bowled out for 204 in 48.4 overs. Romesh Kaluwitharana top scored with 57 while Alan Mullally took 4 for 37. It was an easy chase as England reached the target in 47 overs, losing just two wickets. Alec Stewart made 88.
Zimbabwe banish India and South Africa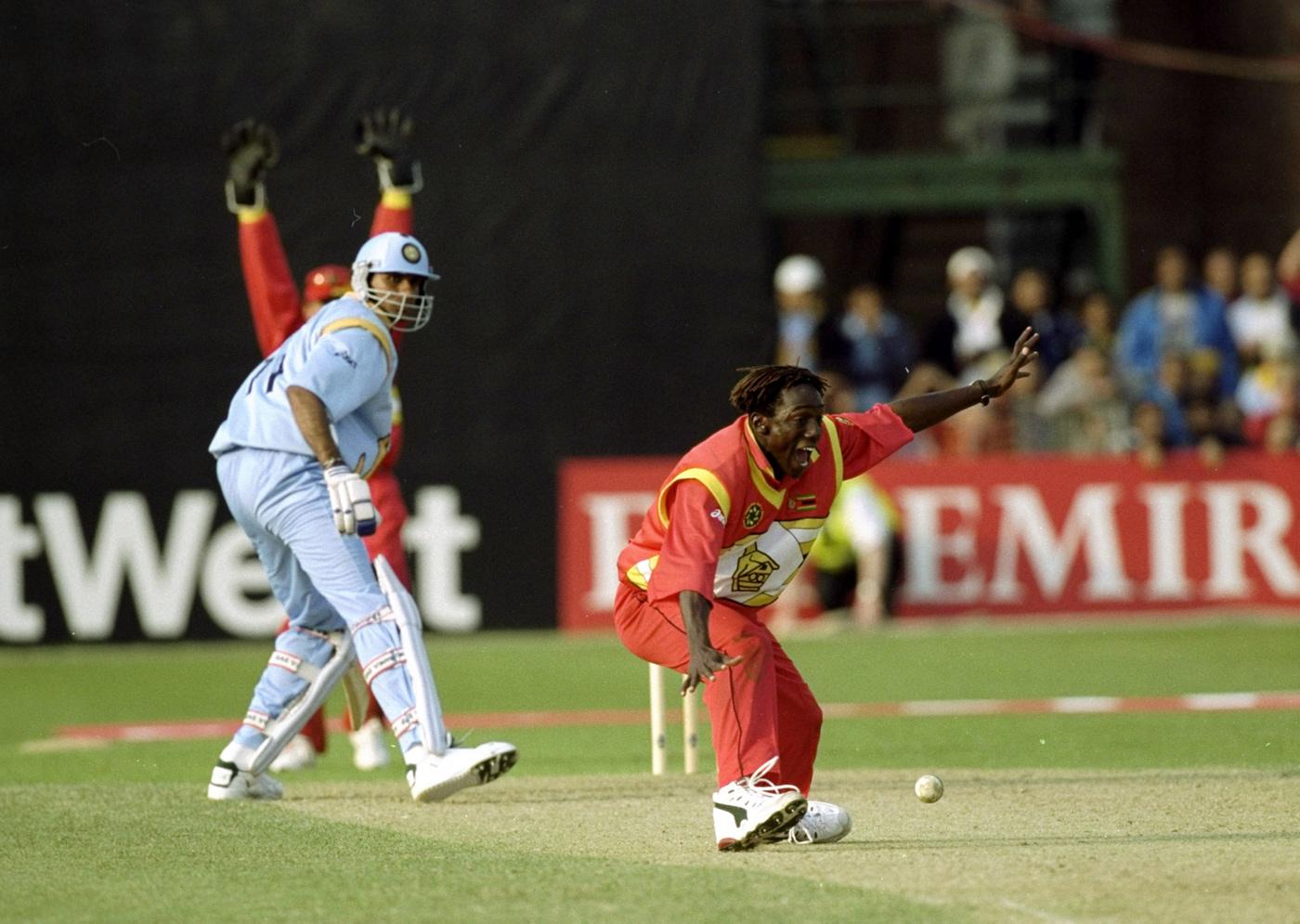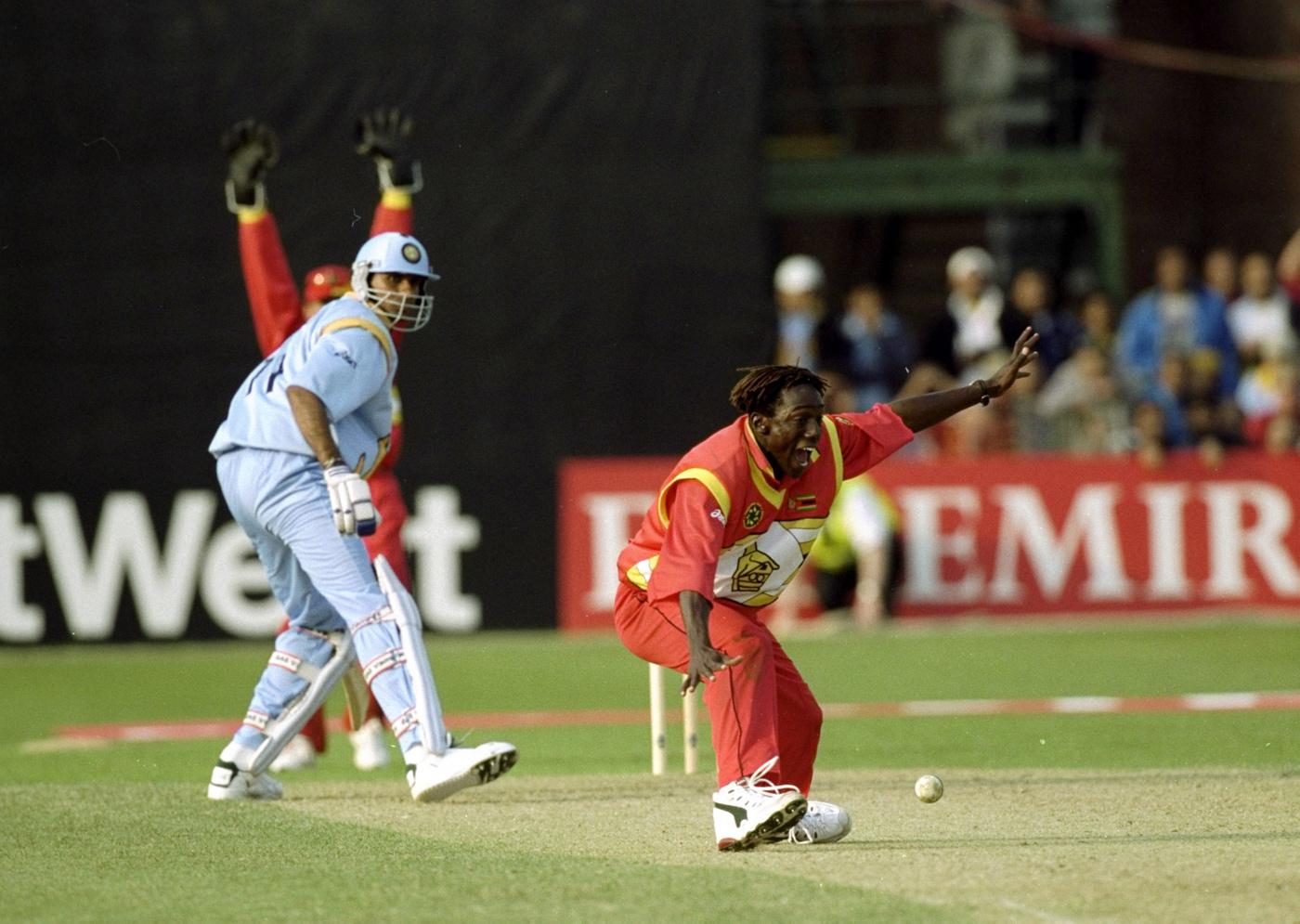 A clamorous crowd at Leicester on 19th May, saw Zimbabwe recording a fascinating 3-run win over India. India won the toss and chose to field as Zimbabwe posted 252/9 with Andy Flower's unbeaten 68. Moreover, the Indian bowlers gifted a massive 51 extras, 20 percent of the total. Adding insult to injury, the slow over rate saw 4 overs reduced from their run-chase. India began firmly. Replacing Sachin Tendulkar who had flown back to attend his father's funeral, Sadagoppan Ramesh shone with 55. However, the middle order was shaken despite the Zimbabwe bowlers conceding 39 extras in return. Henry Olonga returned to the attack when India needed 9 from 2 overs. Singh was caught in his second delivery while a yorker rattled Javagal Srinath in his penultimate one. Prasad was trapped with his last ball, giving a memorable 3-run win to Zimbabwe.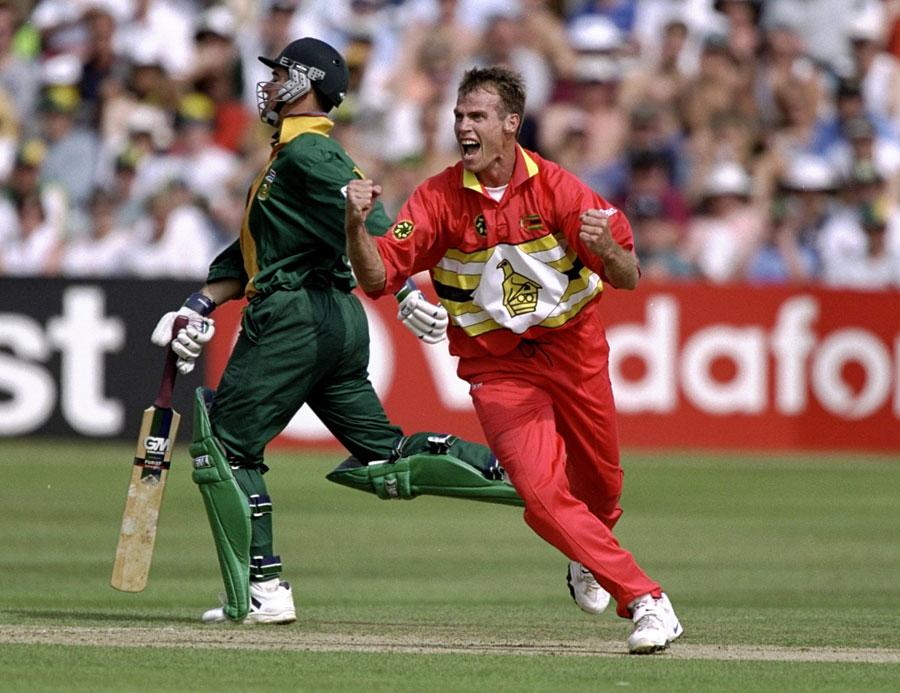 A week later, they met South Africa at Chelmsford. Skipper Alistair Campbell won the toss and chose to bat while Neil Johnson made a gutsy 76 as they scored 233/6. Neil Johnson who played for South Africa A before defecting back to Zimbabwe, dismissed Gary Kirsten in the opening delivery following a splendid catch by Andy Whittall. Herschelle Gibbs was run out while Jacques Kallis was caught before Johnson sent back Hansie Cronje with a yorker. At 40/6, South Africa were in dire straits when Lance Klusener and Pollock came and gave a glimmer of hope with their half centuries. Their departures signaled curtains as South Africa were bowled out for 185, giving a stunning 48-run win to Zimbabwe. South Africa could have avoided a semi-final clash against Australia had they won this game, considering the drama that was yet to unfold.
The Taunton torment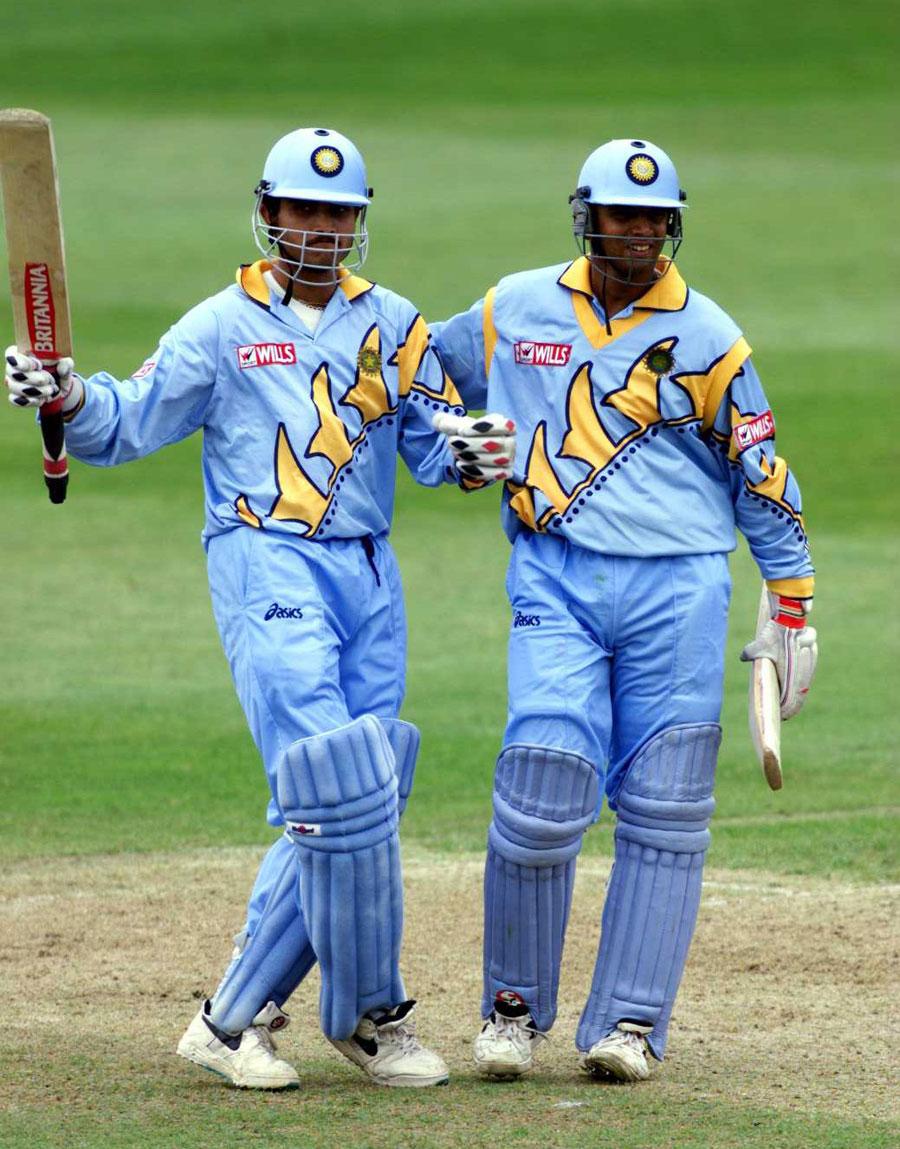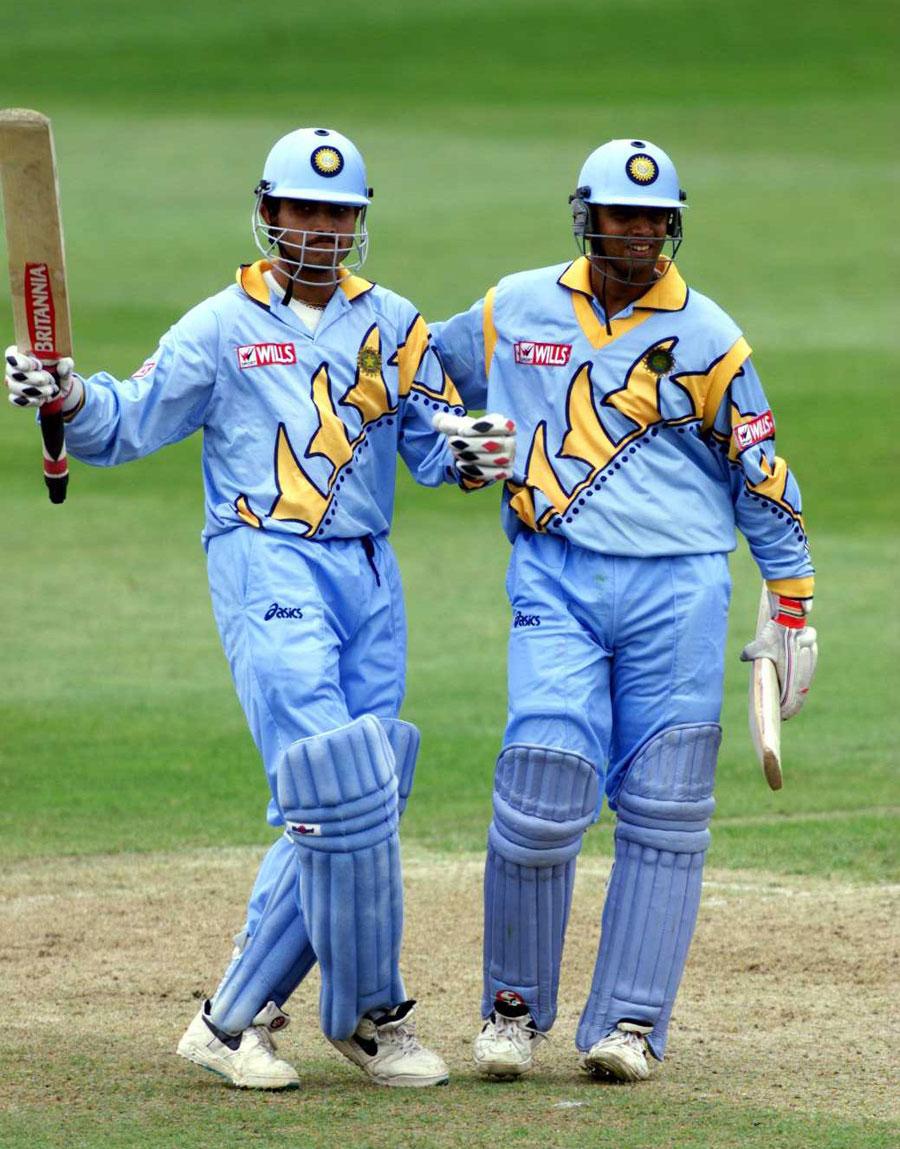 Can Sri Lanka reverse their poor World Cup record in England?
Defending champions Sri Lanka arrived at Taunton in a must-win game against India to salvage hopes of a Super Six round. Skipper Arjuna Ranatunga decided to bowl as Chaminda Vaas removed Ramesh's stumps early. However, enter Rahul Dravid and Sourav Ganguly who exploited the short boundaries and haywire bowling to produce a record stand of 318 in 45 overs. Ganguly slammed 183 in 158 balls while Dravid complied with 145 in 129. Ganguly who made his century in 119 deliveries, dashed to 183 in the next 39. The pair forged 42 boundaries which included 8 sixes as India amassed 373/6 in 50 overs. The fragile reply did not seem to bother India as Robin Singh's 5 for 31 toppled Sri Lanka for 216. It was a massive 157-run defeat for Sri Lanka, as well as the end of title hopes.
Bangladesh tarnish an unbeaten tag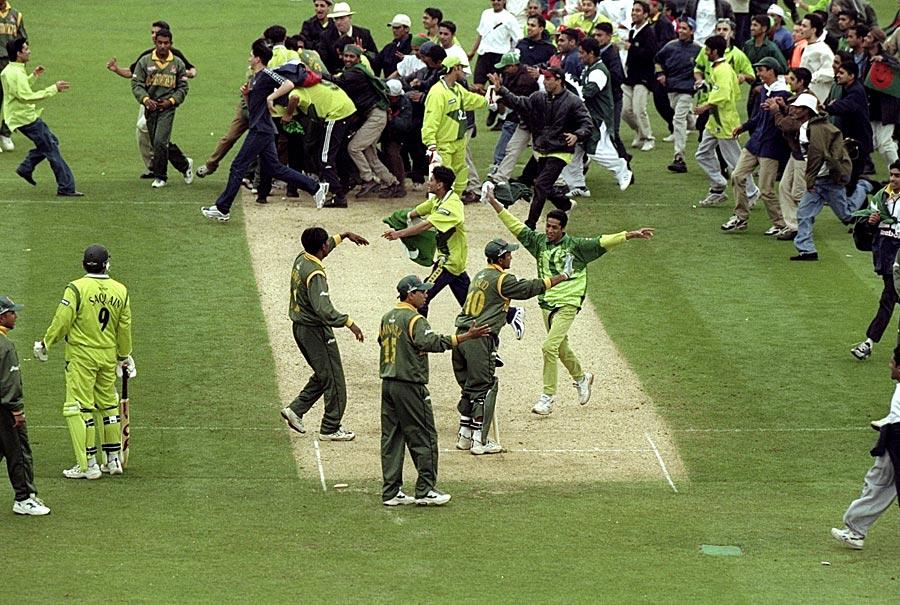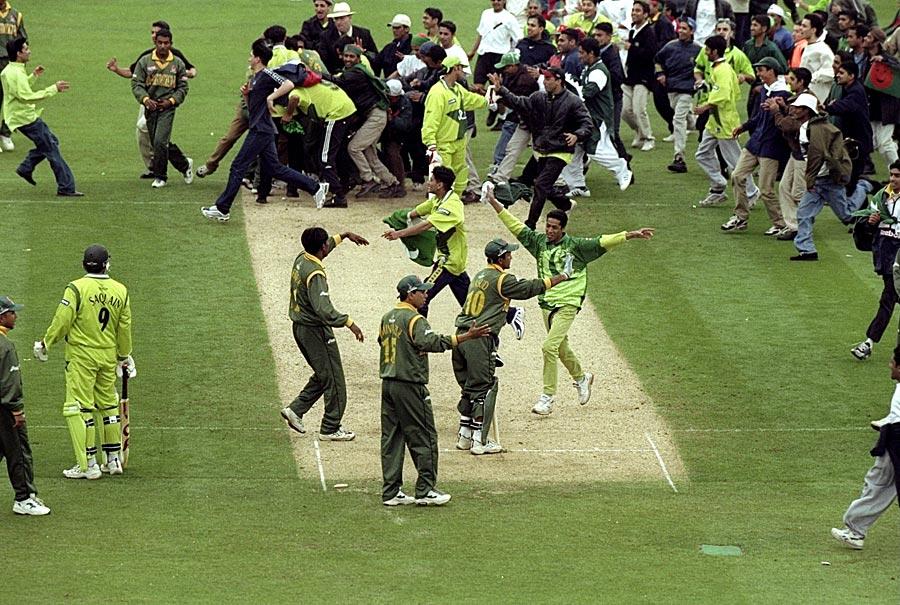 The 1999 edition had its moment of a non-test nation grounding a giant when Bangladesh took on unbeaten Pakistan at Northampton on 31st May. Batting first, Bangladesh cruised to 69 in 16 overs before Saqlain Mushtaq stepped in to dismiss both openers. The off-spinner bagged 5 for 35 while the batsmen who failed to capitalize on a fine start, were sent back as Bangladesh were ceased at 223.
The target did not seem an issue but Pakistan's top order failed, leaving them 42/5 with Khaled Mahmud inflicting the most damage by grabbing three of them. Pakistan hardly recovered and at 161/9, when Saqlain Mushtaq was run out, exultant fans flooded the pitch to celebrate the historical 62-run win.
Read: The win that expedited Sri Lanka's Test status
'Super Six' welcomes the best six
South Africa, despite their loss to Zimbabwe topped Group A. India, Zimbabwe and England were on equal points. But due to the net run rate, primarily influenced by India's massive win against Sri Lanka and Zimbabwe's stunner against South Africa, hosts England made their exit from the tournament. They joined Sri Lanka who failed to retain their crown from 1996.
Group B was headed by Pakistan with four wins and a solitary loss. Australia, New Zealand and West Indies faced a similar scenario with 3 wins and 2 losses each. The net run rate eventually filtered in Australia and New Zealand.
Hersh, did you drop the World Cup?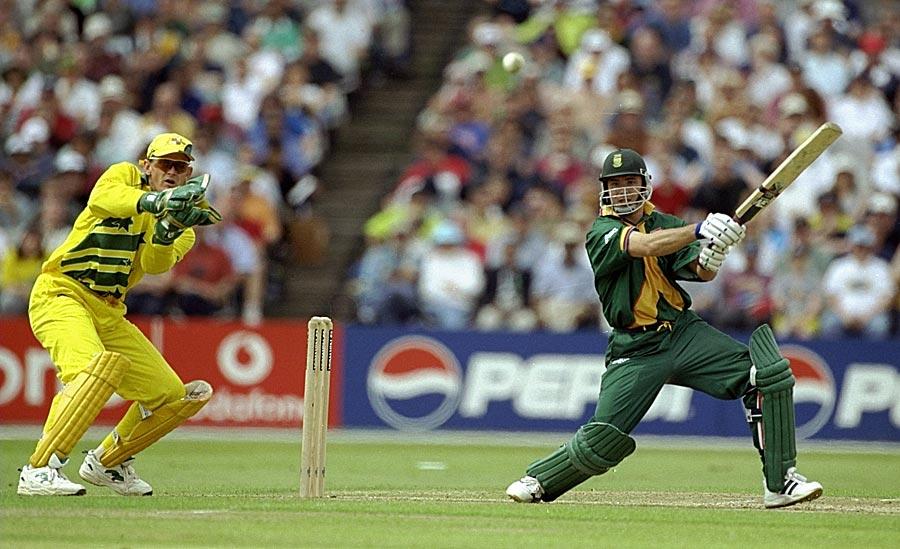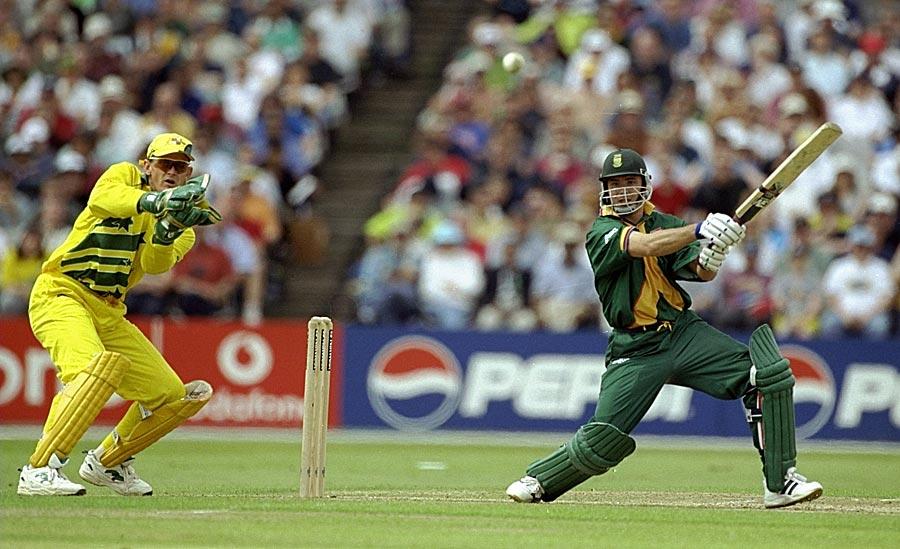 The final Super Six game featured Australia and South Africa at Headingley, Leeds. A win was compulsory for Australia as Cronje elected to bat on a bouncy pitch. The Proteas, inspired by Gibbs' elegant ton, piled up 271. Klusener's knock added 47 from the final 5 overs.
The run-chase was curbed at 48/3 until Steve Waugh and Ricky Ponting began to target Nicky Boje and Cronje, adding 126 runs in a crucial partnership. Waugh was on 56 when Gibbs dropped a sitter at mid-wicket. He eventually mastered an unbeaten 120 in 110 balls, thus sealing a 5-wicket win. Gibbs's error was to prove vital, not only in this particular result, but also in their entire World Cup campaign.                   
Pakistan breeze past New Zealand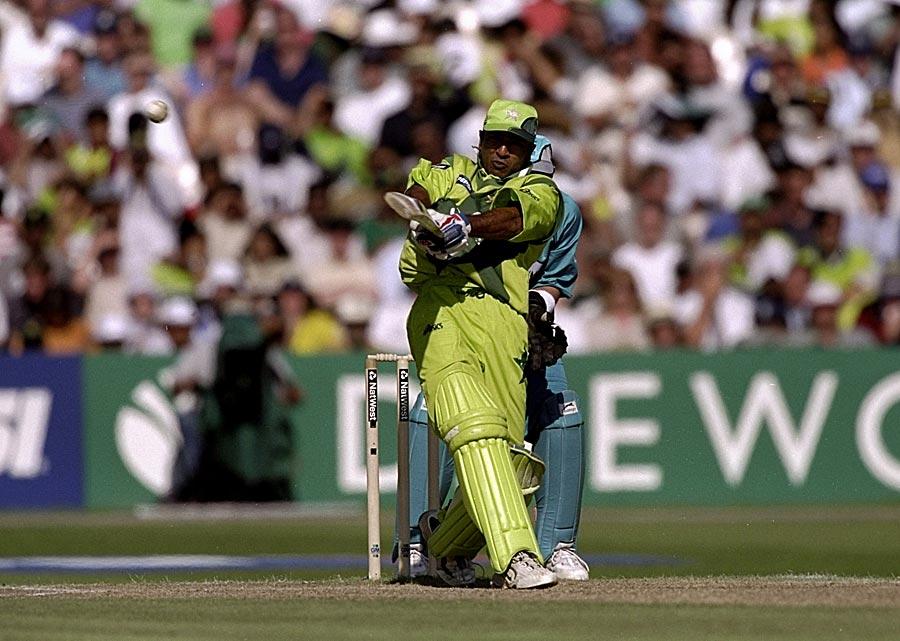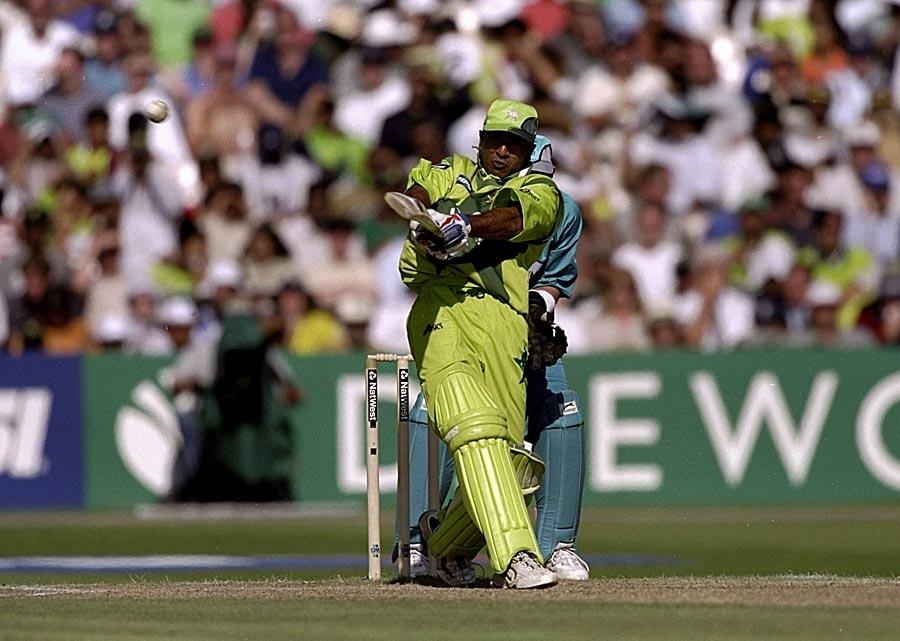 On 16th June, Old Trafford hosted the first semi-final between Pakistan and New Zealand, which resulted in a comprehensive win for the Asians. Stephen Fleming opted to bat and New Zealand made 241/7 in 50 overs. Roger Twose top scored with 46 while Shoaib Akhtar's lightning pace produced 3 wickets. The fluent reply by Pakistan was derived from a 194-run opening stand between Saeed Anwar and Wajahatullah Wasti. Anwar's second successive century was followed by Wasti's half ton as Pakistan breezed to their second final after 1992.  
Read: Pakistan mesmerize in momentous makeover
The Edgbaston thriller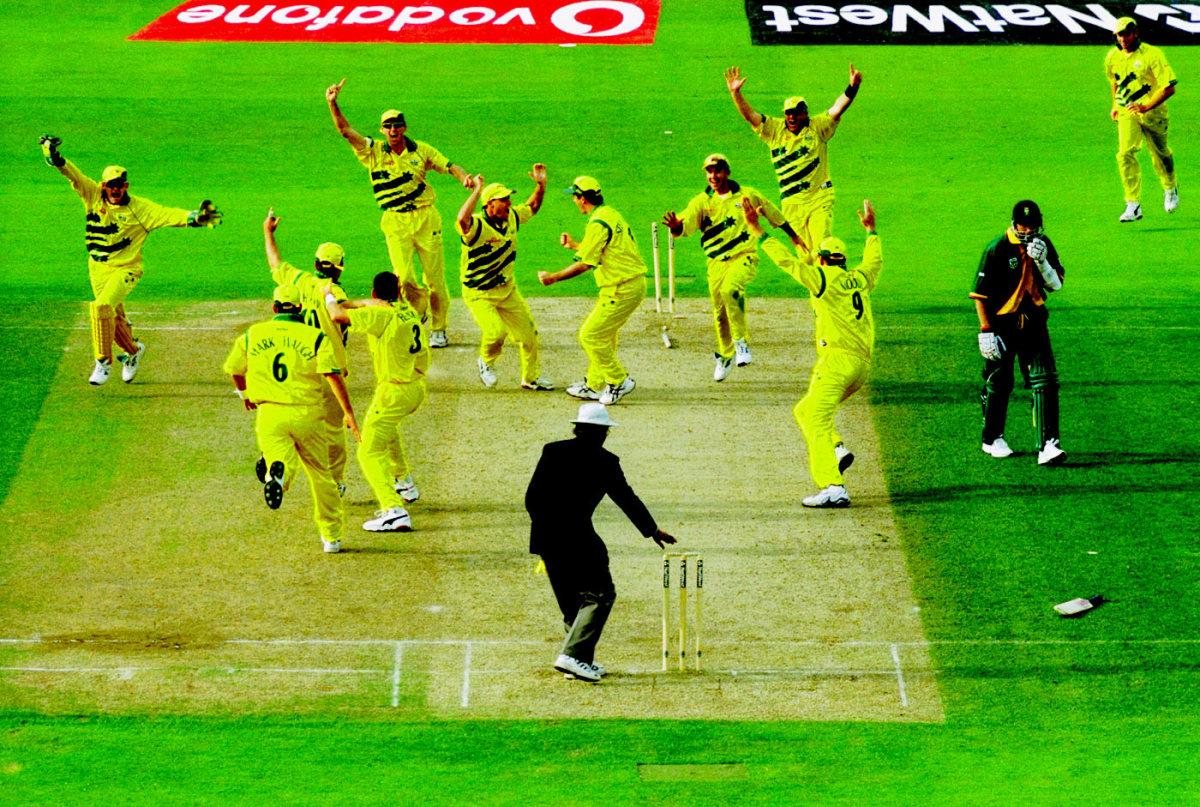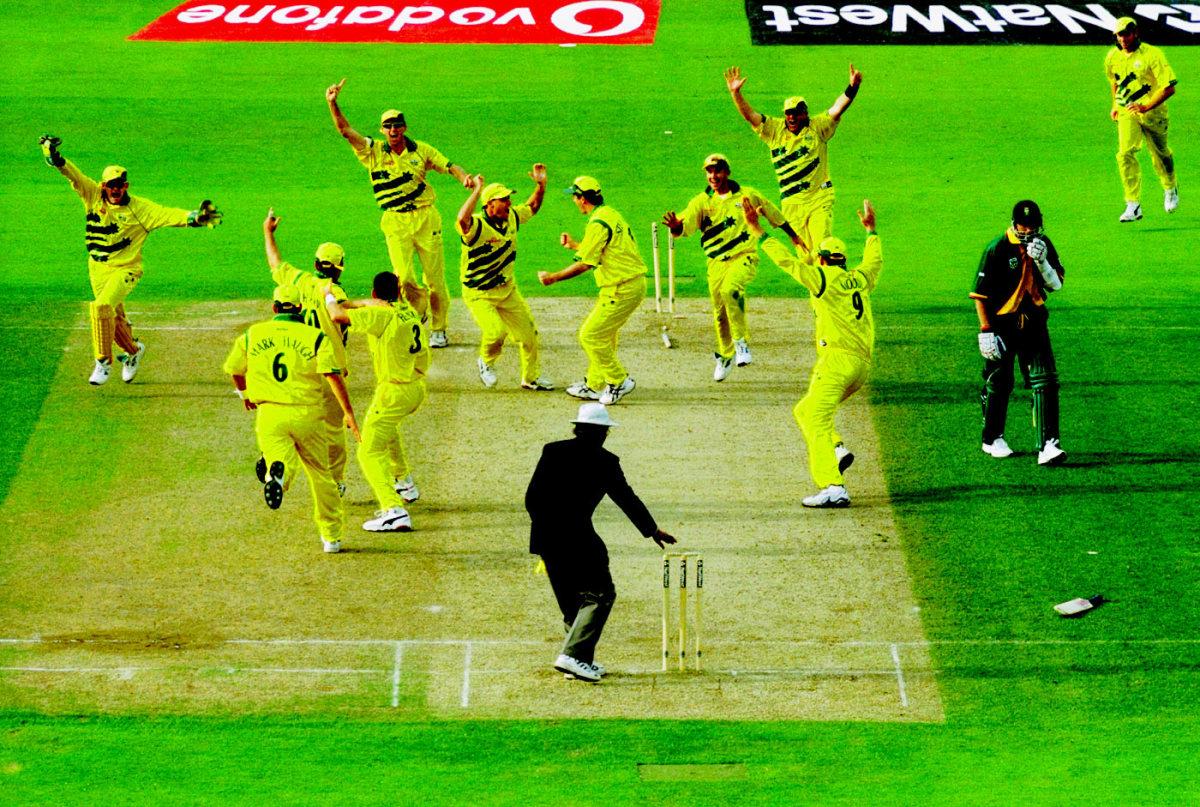 It wasn't just the match of the tournament, but perhaps the best ODI played till then. The close finish was by far the best plot twist the World Cup has ever witnessed. The first half was dominated by South Africa as Shaun Pollock and Allan Donald stepped in to clean up the Australian batting line-up. The duo shared 9 wickets between them as Australia was bowled out for 213. Steve Waugh and Michael Bevan who battled with 56 and 65 respectively repaired the innings to a certain extent before being dismissed by Mark Boucher off Pollock's deliveries.
Bob Woolmer's men who had enjoyed a success rate of 73%, commenced their chase. Both openers Kirsten and Gibbs were looking good until Shane Warne's magic rattled their stumps in quick succession. He dispatched his finest ODI delivery to Gibbs, which landed outside the leg stump before disturbing the furniture, reminiscent of his 'Ball of the Century' to Mike Gatting six years earlier. He sent out Kirsten in his next over before removing Cronje two deliveries later. But the drama was yet to unfold.
An 84-run partnership between Kallis and Jonty Rhodes, took them to 145/5. After Rhodes' departure for 43, Kallis continued before perishing for 53 in Warne's last over. Klusener's late charge inspired them, leaving them needing nine runs off the final over. The eventual player of the tournament had Donald accompanying him at the other end. Damien Fleming's first two deliveries were fired to the boundary by Klusener, leveling the scores at 213. Waugh tightened up the field, knowing that a tie would be enough for safe passage considering their Super Six win against South Africa. The third delivery was clearly a run-out only if Darren Lehmann had hit the stumps as an attempted run became a near scare. It was a warning of things to come. Klusener repeated the same, charging for a run as Mark Waugh at mid-on, sent the ball to Fleming, who relayed it to wicketkeeper Adam Gilchrist, generating the run-out. A walk in the park was hampered by the lack of composure, as a ruffled Klusener made his way back, losing the plot in the end. Damien Fleming, who bowled the last over in the 1996 semi-final thriller against West Indies had kept his nerve to produce an anomalous tie. Was it Klusener's composure or Gibbs's missed catch in the Super Six the ultimate reason? Or maybe a win against Zimbabwe in the group stage itself would have avoided a possible semi-final against Australia. The reasoning will remain in this remarkable World Cup encounter.
Warne's magic captivates a one-sided final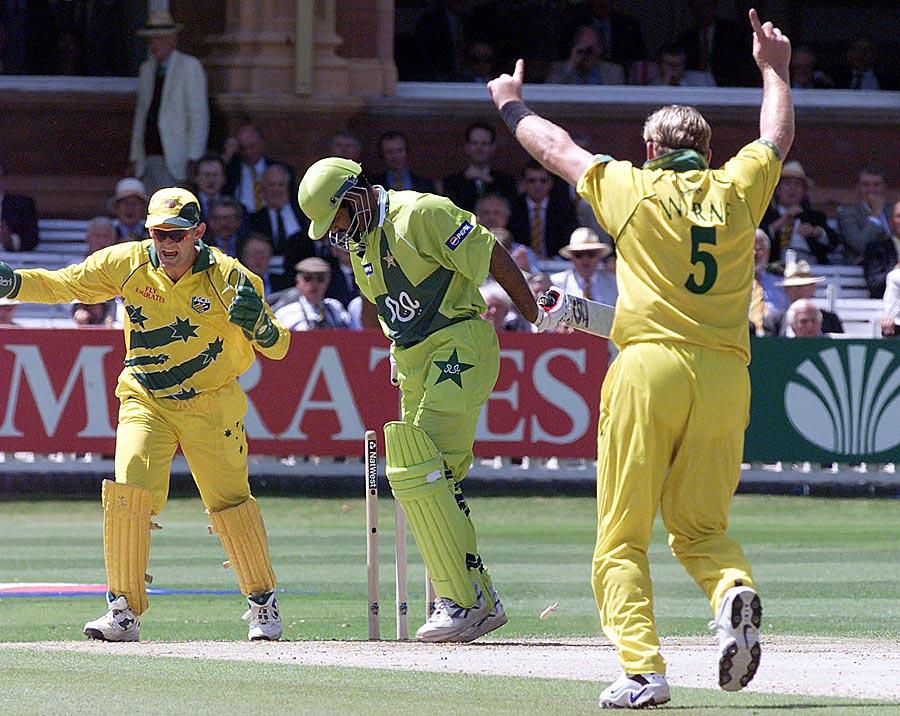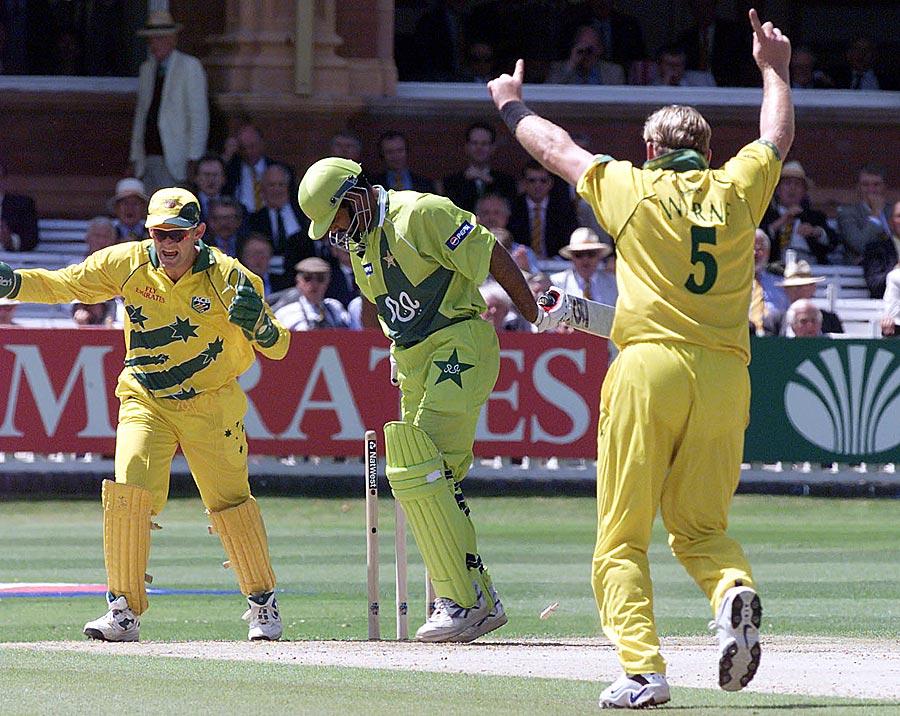 Read: Sri Lanka's startling triumph
The Lord's Stadium on 20th June welcomed the final of the 1999 edition between Australia and Pakistan. Opposite stories surrounded the two teams as Pakistan's blitz over the Kiwis were contrasted with Australia's sumptuous tie three days earlier. Wasim Akram won the toss and chose to bat on a featherbed pitch. But they were muddled at 69/3 in 21 overs as Waugh brought in Warne for the submission. Warne, who took 4 for 29 in the semi-final, unveiled his wizardry leg breaks to dismantle the rest. A stunning delivery removed the top scorer Ijaz Ahmed for 22 while Moin Khan was victimized later. One by one the batsmen made their way back to the pavilion as Pakistan were all out for a paltry 132 in 39 overs. Warne took 4 for 33.
The win came quick and fast as Gilchrist's half century spearheaded the chase which was finished by Mark Waugh and Darren Lehmann in the 21st over. The overarching 8-wicket win was Australia's second, equaling West Indies. Steve Waugh and Co. had savoured the ultimate prize. Not only they made their way to the summit, but they had done it, heralding an era of ruthless domination.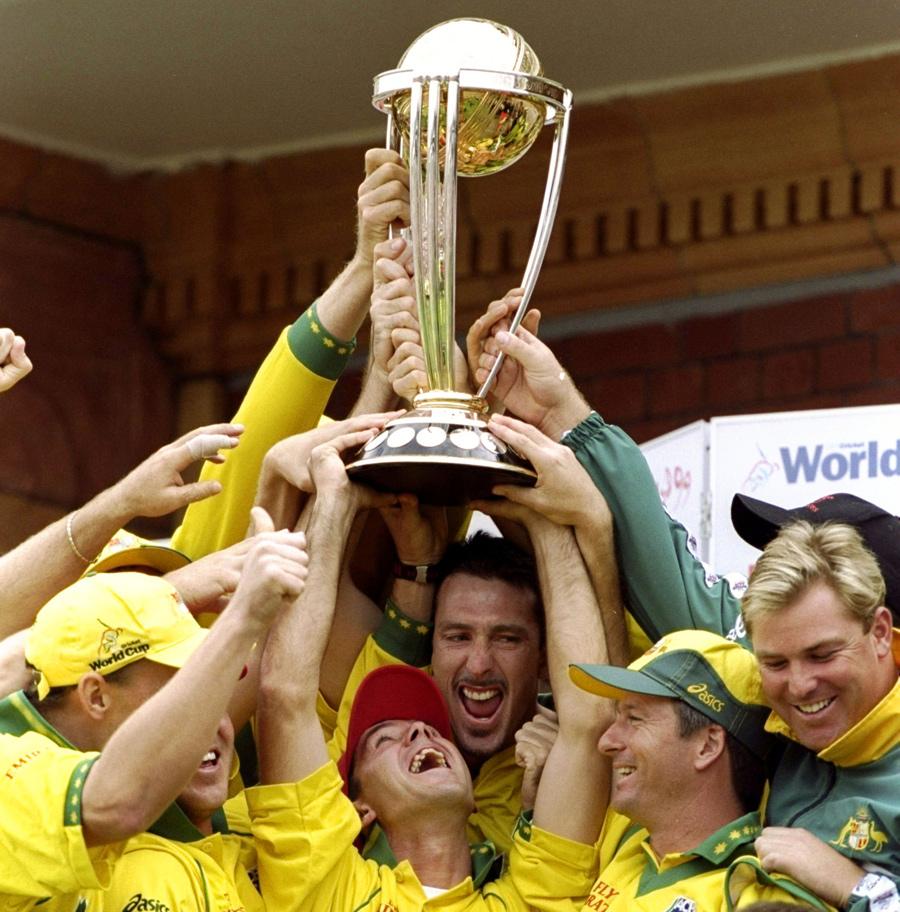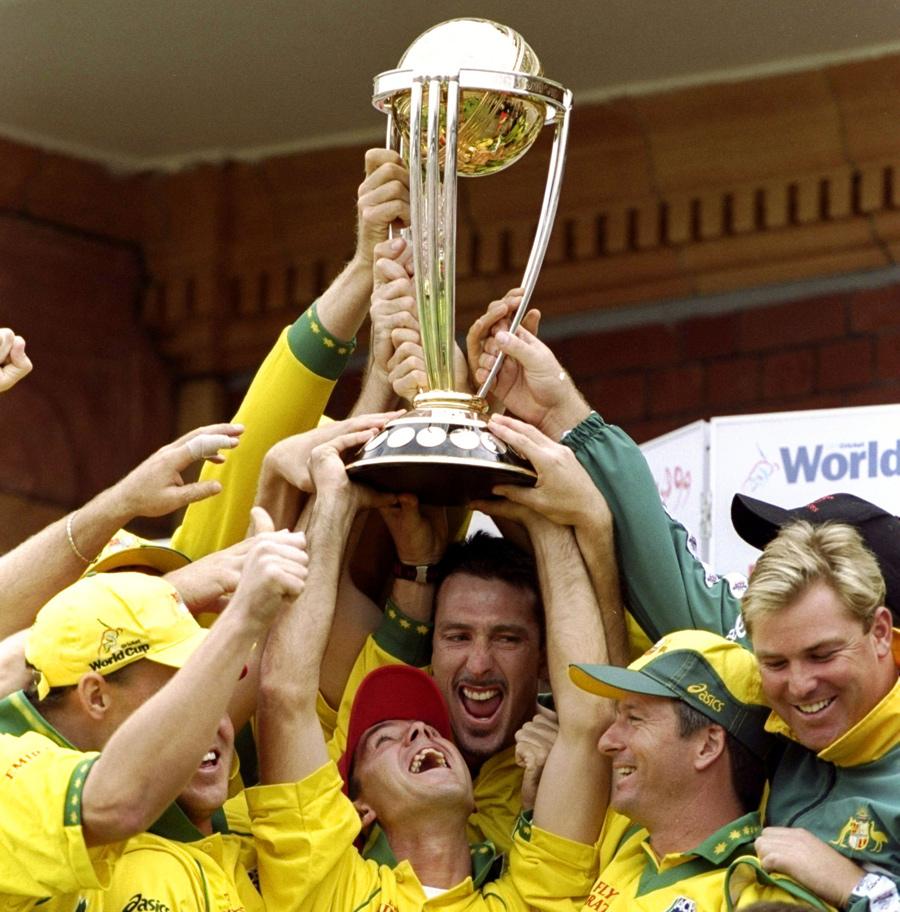 >>>CLASSIC WORLD CUP MOMENTS<<<