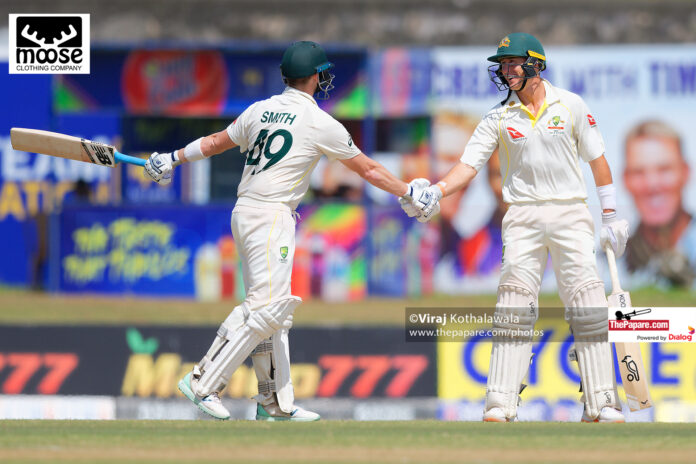 Marcus Labuschagne and Steve Smith both hit tons as Australia ended Day 1 of the 2nd Test against Sri Lanka with 298 on the board for the loss of 5 wickets.
Labuschagne, who had been given a life earlier in his innings, made Sri Lanka pay dearly, with his 1st century outside Australia and 7th overall. He and Smith put on 134 for the 3rd wicket before Labuschagne was stumped off the bowling of debutant Prabath Jayasuriya.
Read – De Silva, Vandersay and Fernando ruled out of 2nd Test
It was a similar manner of dismissal to that which was missed by Niroshan Dickwella earlier in the day, denying Ramesh Mendis a wicket on that occasion. Smith kicked on after the dismissal of Labuschagne, getting to his 1st century in 19 innings shortly before stumps.
For Sri Lanka, lone quick Kasun Rajitha was impressive with the new ball, bowling a peach of a delivery to castle David Warner for 5, before Usman Khawaja and Labuschagne put on 55 for the 2nd wicket.
The former was looking good for another long innings but a beauty from Mendis, which pitched on middle and off and spun away just enough to take the off stump, saw to his end.
Jayasuriya picked up 2 quick wickets in the last session to put Australia under a little bit of pressure, however, Alex Carey joined Smith to steady things and take the visitors to stumps with no further damage.
The pitch seemed a lot more settled than the one that was produced for the 1st Test, but there was still enough spin on offer to hint that the slow bowlers will play a major part in the game.
Sri Lanka bowled better than they did in the 1st Test, but having already conceded 298, they will be under the pump come day 2 as Australia look to push on to that 400-run mark.
Earlier in the day, Sri Lanka made four changes to their team after Dhananjaya De Silva, Jeffrey Vandersay, Asitha Fernando and Praveen Jayawickrama tested positive for covid-19 in the leadup to the 2nd Test. Left-arm spinner Lasith Embuldeniya was dropped after an underwhelming performance in the previous game.
Sri Lanka handed Test debuts to left-arm spinner Prabath Jayasuriya, mystery spinner Maheesh Theekshana and batting all-rounder Kamindu Mendis. Right arm seamer Kasun Rajitha came into the side as the lone seamer.
Sri Lanka: Dimuth Karunaratne (captain), Pathum Nissanka, Kusal Mendis, Angelo Mathews, Dinesh Chandimal, Kamindu Mendis, Niroshan Dickwella (wk), Ramesh Mendis, Maheesh Theekshanna, Prabath Jayasuriya, Kasun Rajitha.

Australia: David Warner, Usman Khawaja, Marnus Labuschagne, Steve Smith, Travis Head, Cameron Green, Alex Carey (wk), Pat Cummins (captain), Mitchell Starc, Nathan Lyon, Mitch Swepson
>> Visit the Sri Lanka v Australia 2022 Hub <<
364/10 (110) & 151/10 (41)


Batsmen
R
B
4s
6s
SR
Usman Khawaja
b Ramesh Mendis
37
77
4
0
48.05
David Warner
b Kasun Rajitha
5
13
1
0
38.46
Marnus Labuschagne
st Niroshan Dickwella b Prabath Jayasuriya
104
156
12
0
66.67
Steve Smith
not out
145
227
16
0
63.88
Travis Head
b Prabath Jayasuriya
12
36
0
0
33.33
Cameron Green
lbw b Prabath Jayasuriya
4
14
0
0
28.57
Alex Carey
c Ramesh Mendis b Prabath Jayasuriya
28
61
4
0
45.90
Mitchell Starc
c Kusal Mendis b Prabath Jayasuriya
1
8
0
0
12.50
Pat Cummins
lbw b Kasun Rajitha
5
6
1
0
83.33
Nathan Lyon
lbw b Prabath Jayasuriya
5
6
1
0
83.33
Mitchell Swepson
lbw b Maheesh Theekshana
3
14
0
0
21.43
| | |
| --- | --- |
| Extras | 15 (b 5 , lb 6 , nb 3, w 1, pen 0) |
| Total | 364/10 (110 Overs, RR: 3.31) |
| Bowling | O | M | R | W | Econ |
| --- | --- | --- | --- | --- | --- |
| Kasun Rajitha | 25 | 4 | 70 | 2 | 2.80 |
| Ramesh Mendis | 33 | 1 | 117 | 1 | 3.55 |
| Maheesh Theekshana | 16 | 2 | 48 | 1 | 3.00 |
| Prabath Jayasuriya | 36 | 3 | 118 | 6 | 3.28 |


Batsmen
R
B
4s
6s
SR
Pathum Nissanka
c Mitchell Starc b Cameron Green
6
25
0
0
24.00
Dimuth Karunaratne
lbw b Mitchell Swepson
86
165
10
0
52.12
Kusal Mendis
lbw b Nathan Lyon
85
161
9
0
52.80
Angelo Mathews
c Marnus Labuschagne b Mitchell Starc
52
117
4
0
44.44
Dinesh Chandimal
not out
206
326
16
5
63.19
Kamindu Mendis
b Mitchell Swepson
61
137
7
0
44.53
Niroshan Dickwella
c Pat Cummins b Nathan Lyon
5
13
0
0
38.46
Ramesh Mendis
lbw b Mitchell Starc
29
98
0
0
29.59
Maheesh Theekshana
b Pat Cummins
10
27
2
0
37.04
Prabath Jayasuriya
b Mitchell Starc
0
9
0
0
0.00
Kasun Rajitha
lbw b Mitchell Swepson
0
9
0
0
0.00
| | |
| --- | --- |
| Extras | 14 (b 4 , lb 6 , nb 1, w 3, pen 0) |
| Total | 554/10 (180 Overs, RR: 3.08) |
| Bowling | O | M | R | W | Econ |
| --- | --- | --- | --- | --- | --- |
| Mitchell Starc | 29 | 3 | 89 | 4 | 3.07 |
| Pat Cummins | 30 | 5 | 95 | 1 | 3.17 |
| Nathan Lyon | 64 | 5 | 194 | 2 | 3.03 |
| Cameron Green | 6 | 0 | 20 | 0 | 3.33 |
| Mitchell Swepson | 37 | 2 | 100 | 3 | 2.70 |
| Travis Head | 8 | 0 | 27 | 0 | 3.38 |
| Marnus Labuschagne | 6 | 0 | 16 | 0 | 2.67 |


Batsmen
R
B
4s
6s
SR
David Warner
lbw b Ramesh Mendis
24
44
4
0
54.55
Usman Khawaja
c Oshada Fernando b Prabath Jayasuriya
29
47
4
0
61.70
Marnus Labuschagne
lbw b Prabath Jayasuriya
32
59
3
0
54.24
Steve Smith
lbw b Prabath Jayasuriya
0
4
0
0
0.00
Travis Head
b Ramesh Mendis
5
4
1
0
125.00
Cameron Green
st Niroshan Dickwella b Prabath Jayasuriya
23
32
2
0
71.88
Alex Carey
not out
16
28
0
0
57.14
Mitchell Starc
c Prabath Jayasuriya b Kusal Mendis
0
2
0
0
0.00
Pat Cummins
lbw b Maheesh Theekshana
16
18
1
0
88.89
Nathan Lyon
lbw b Maheesh Theekshana
5
3
1
0
166.67
Mitchell Swepson
b Prabath Jayasuriya
0
5
0
0
0.00
| | |
| --- | --- |
| Extras | 1 (b 1 , lb 0 , nb 0, w 0, pen 0) |
| Total | 151/10 (41 Overs, RR: 3.68) |
| Bowling | O | M | R | W | Econ |
| --- | --- | --- | --- | --- | --- |
| Kasun Rajitha | 5 | 1 | 16 | 0 | 3.20 |
| Maheesh Theekshana | 5 | 0 | 28 | 2 | 5.60 |
| Ramesh Mendis | 15 | 2 | 47 | 2 | 3.13 |
| Prabath Jayasuriya | 16 | 2 | 59 | 6 | 3.69 |