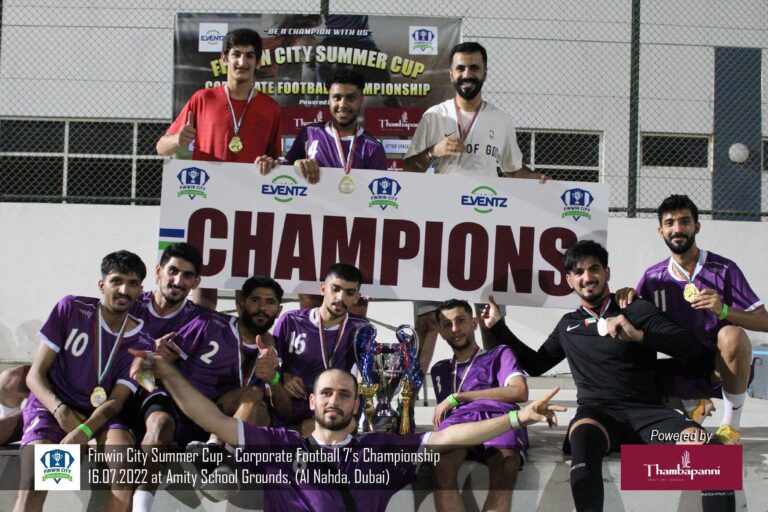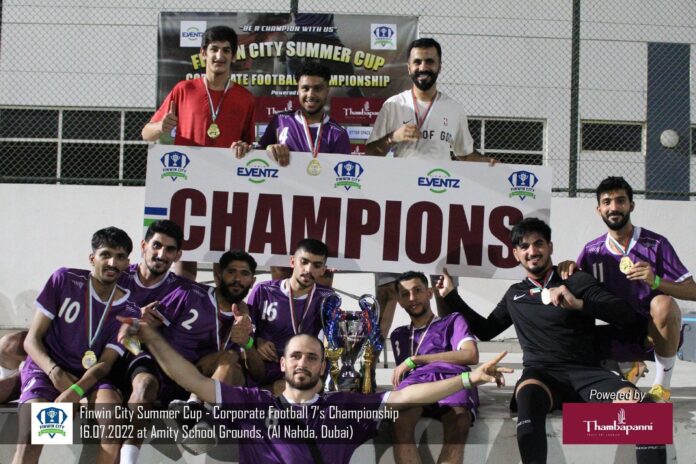 The Summer Cup powered by Thambapanni organized by Finwin City Sports Academy (FCSA), saw 8 corporate Football teams come together on Saturday the 16th of July 2022, at the Amity School Grounds, Al Nahda, for some enthralling football action in a first-of-its-kind Football tournament.
Finwin City Sports is an up-and-coming academy and sports event organizer that is taking Dubai by storm.  Established earlier this year, FCSA has already organized multiple successful events which includes the Ramadan Cup: Football and Cricket tournaments with the participation of over 15 teams in total and cash prizes for the winners.
The 1st leg of the Finwin City Summer Cup was held earlier this month in the form of a one-day Indoor Cricket Tournament which was powered by Siraj Finance, a reputed private joint stock company in the UAE. The tournament took place at the Safeer Mall in Sharjah between 8 prestigious organizations as 'Simply Academy' emerged Cup champions.
This time around, the Football edition of the Summer cup took place and was powered by a truly authentic Sri Lankan restaurant, Thambapanni. Franchise owners of Thambapanni Al Nadha Sharjah, Neomi and Themothy Jesudasan are passionate food lovers as well as sports enthusiasts. Joining hands together with FCSA, Thambapanni have come forward as Platinum sponsors for all the sports events that FCSA have lined-up for July 2022.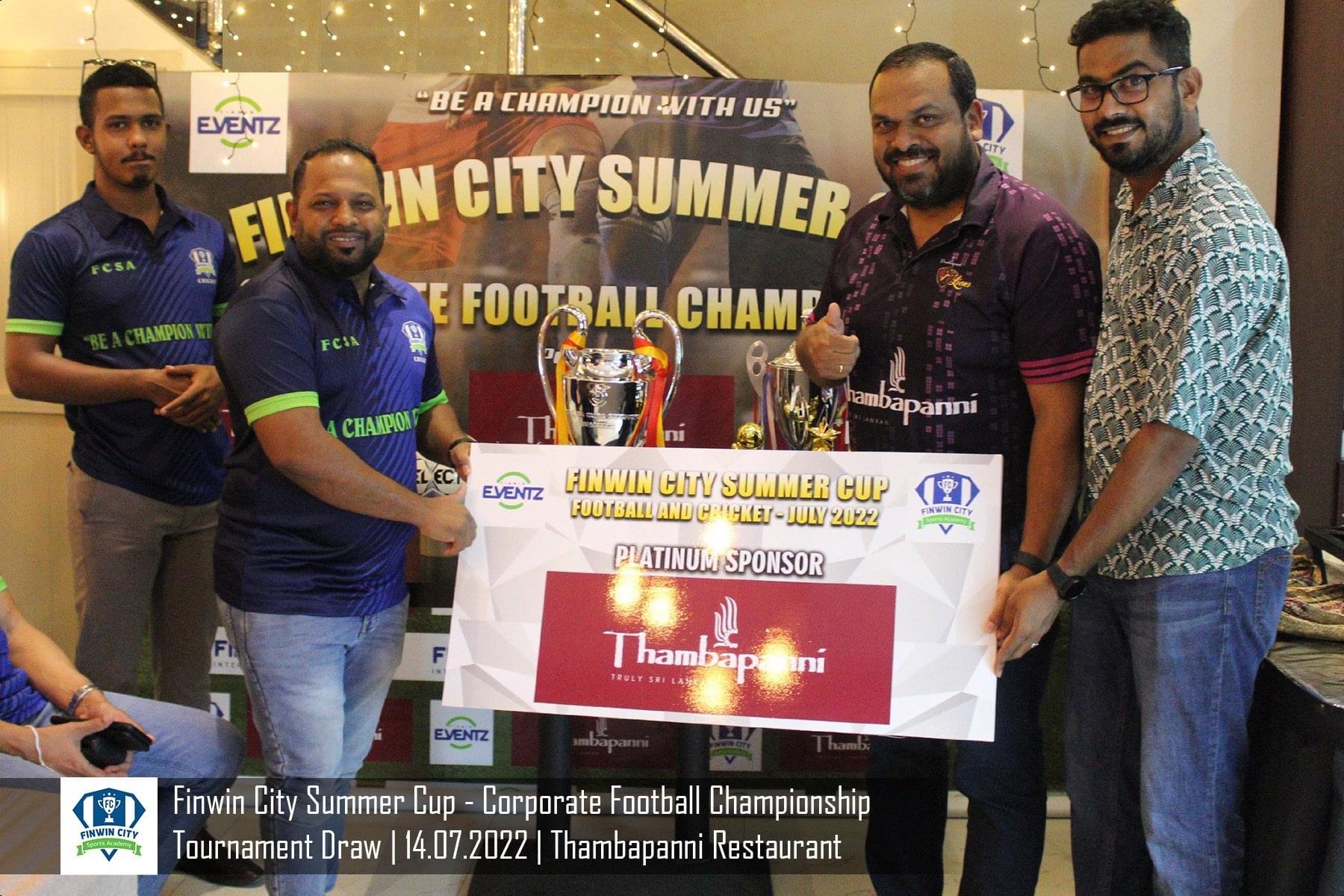 Eight corporate teams from around Dubai participated in this tournament, making it a raging success. The teams were separated into groups A and B as only the top 2 of each group qualified for the playoffs. Intersel & Dowding Mills and Asia Mobile played a thrilling final where Asia Mobile emerged Champions beating Intersel 2 goals to nil.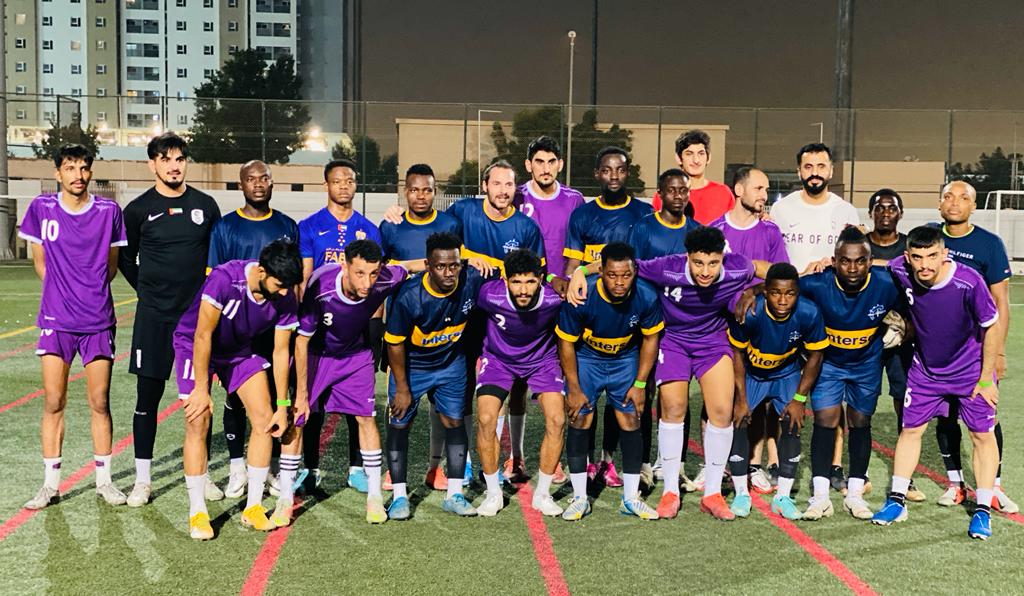 Captain of Asia Mobile Mohamed Inayat and striker Mohamed Noor were adjudged 'Best Goal-Keper' and 'Thambapanni Star of the Tournament' respectively for their outstanding efforts. Inayat managed to maintain 4 clean sheets whilst Noor scored 12 goals and made numerous assists. Muza from Intersel & Dowding Mills received the award for 'best striker' for his 12 goals in 5 matches.
"It was a well-organized tournament and we had so much fun. We're looking forward to playing in more tournaments organized by Finwin" stated Inayat from Asia Mobile.
The night ended with some delicious dinner from Thambapanni for the teams.
FCSA announced that an open football tournament will be played on the 23rd of July following the same format. Teams are invited to register at their earliest.