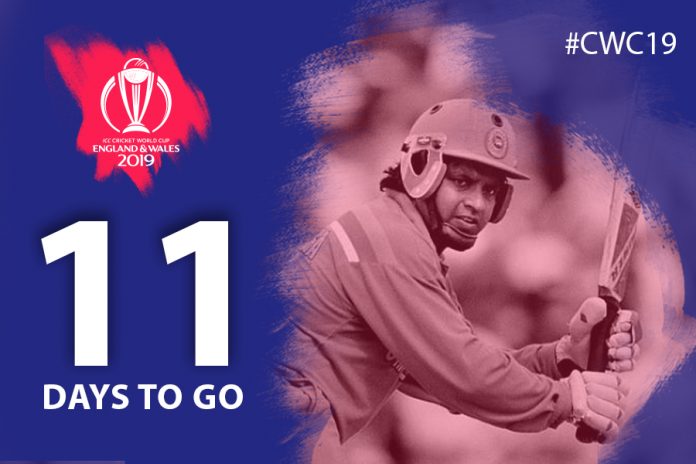 World Cup winning Sri Lankan captain Arjuna Ranatunga played in five World Cups and captained in two editions of the tournament – one that Sri Lanka won in 1996 and the subsequent one in England three years later. He topped the batting charts for the team in the 1992 edition but wasn't able to captain the side due to a suspension.
ICC Cricket World Cup 2019 Schedule, Match Timings, Venue Details, Upcoming Cricket Matches and Recent Results on ThePapare.com.
Arjuna was suspended by the Board of Control for Cricket in 1991 after the tour of New Zealand following disagreements with the team management. He served out his sentence missing several bilateral series. His suspension ended just before the World Cup but he wasn't eligible to captain the side. Aravinda de Silva had been elevated as the skipper.
When Arjuna returned to play the World Cup, he hadn't featured in an ODI for more than a year due to the suspension but he was a determined man.
Released from the burdens of captaincy, Arjuna was now focusing as the team's senior most batsmen and he made his comeback a memorable one with an unbeaten 88 in New Plymouth as Sri Lanka became the first team to successfully chase down a target of more than 300 runs in the history of One-Day Cricket.
Sri Lanka had a disastrous World Cup campaign in 1987 where they failed to win a single game. Drawn alongside West Indies
A week later, he came up with another stunning effort in what was the inaugural official cricket encounter between Sri Lanka and South Africa in Wellington.
Batting at number six, Arjuna came up with an unbeaten 64 to guide Sri Lanka to a tense three wicket win with one ball to spare.  His battle with Allan Donald was a treat to watch. Slicing the ball to the vacant short third man region, maybe not the prettiest sight in cricket but it certainly was cheeky and you needed to have guts to do that off White Lightning.
The partnerships he stitched with young players like Hashan Tillakaratne, Ruwan Kalpage and Sanath Jayasuriya weren't sizeable ones, but extremely vital. Windy Wellington always helps seam bowling and Arjuna was called up to bowl a few overs. He claimed two wickets including the big one of Keppler Wessles.
Most of us have heard of the ten commandments. Some of us have even studied it. Apart from the ten commandments that Moses was given, in some quarters
It was in this tournament that Arjuna's batting came in for high praise with former Indian skipper Sunil Gavaskar going on record saying that no matter how badly their team was placed, two batsmen – Arjuna and Javed Miandad were capable of bailing their teams out against many odds.
Sri Lanka managed to win only the two games that Arjuna made half-centuries. Their fixture against India was washed out while they lost the remaining five games and failed to make it to the semi-finals. However, some games went to the wire including the last group game against eventual winners Pakistan.
Imran Khan's side won in the last over of the match while New Zealand beat Sri Lanka with two overs to spare.
In 1988, as young Sanjeeva Ranatunga returned home from Sri Lanka Under-19 trials, his elder brother
Arjuna made 262 runs in that World Cup and averaged 52 with a strike rate of 81. No other Sri Lankan averaged 40 in that competition. The burdens of captaincy had an effect on Aravinda as he managed just 175 runs at an average of 25 and just one half-century.
After the World Cup, Aravinda was released from the leadership role and allowed to concentrate on his batting while Arjuna returned to lead the side. He would captain the team at a stretch for seven more years and lead Sri Lanka to some unprecedented success.
Many of the players who took part in that World Cup were still in their 20s and they went onto form the nucleus of the side when Sri Lanka won the World Cup four years later.