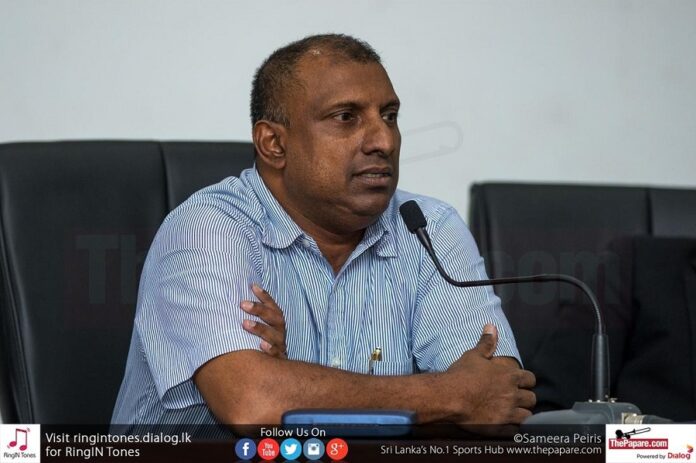 Aravinda de Silva, the Chairman of Cricket Committee and Technical Advisory Committee to Sports Ministry, recently appeared on a live television program on 'News First' and made a number of revelations about their future plans for the development of cricket in Sri Lanka. 
What made you return to serve cricket again with this Technical Advisory Committee?
I always enjoyed a challenge. I had previously worked with Sri Lanka Cricket (SLC) and numerous committees in the past. But I think this particular instance I felt that Sri Lanka really needed this help. Considering the current situation, the players are faced with, and the way the game is being progressed, I decided to join the committee and do whatever we can to help these cricketers. I think that someone needs to put in a long-term plan for the development of cricket specially to keep grassroot level going forward. It is something that I want to put in place with the committee.    
Read More: Murali & co file petition; Court of appeal issues notice to SLC
What are the specific roles assigned to you and your committee members?
The mandate has been given to all of us purely to look after matters in cricket. As a team, we are looking at the areas that are really needed to be fixed. Priority will be given to grassroot level and then will be going all the way up to national level. The structure has been there for a long period of time, but with the time though things kept changing, we didn't adjust and adopted to the changes. So, what we are looking at is to understand the areas that need changes and bring the required changes to the existing structure.  
Is your committee involved in making changes to Sri Lanka Cricket constitution and domestic cricket? 
We will be making certain suggestions on both aspects. We are especially looking to implement a provincial tournament consisting of 5 provinces. It is a proposal made by me after I retired in 2003 and since then I have been trying to implement it. It has been carrying on for years now because many didn't believe in the concept saying that they wanted to protect club cricket. I think club cricket is also important because it is the foundation that Sri Lanka cricketers get after school cricket. So, we never wanted to do away with the club system. But people didn't realize the importance of clubbing some of these clubs into provinces and allowing players to play quality cricket at a higher level. For an example, if you see the Australian structure, you can see there are state sides at the top and within the states there are so many clubs involved. Through those clubs only they have been able to pick a state team. Similarly, we can implement such a tournament in Sri Lanka. The concept has now sunk into most people, so it is a matter of convincing them more to make it a reality in near future. Decentralizing the power from headquarters is a very important proposition. If you want to hold onto power all the time that's where the problem occurs. By decentralizing, you can create 5 specialized centers across the country and then look after real grassroot level cricket from those centers. 
Read More: Developing cricket at grass root levels, Ara's priority
Can you explain the proposed provincial tournament structure briefly?
The idea was to have these 24 clubs clustered into 5 provinces. For an example, let's assume 4 clubs are selected for a certain province, the selection process for picking players for the province will be based on the performances of players in those 4 clubs. Once it is decentralized, the four clubs will be looked after by that province. In addition, the 22 districts can be clustered into provinces. By doing that, we can decentralize and cover the entire country with more focus. The first class matches of the provincial tournament will be played as a 4-day affair and there will be other two formats (One Days & T20s) as well. We are also looking at building our first-class structure in such a way that we look after these cricketers and make them financially stable. Many players that leave our country to play in country cricket and Australian club cricket are earning 2 million rupees maximum in a season. It is equal to 10000 dollars and I am sure our cricket board can allocate that amount of money for 120 players. Even if you take top 200 cricketers in the country, the board must pay only 3 million dollars even allocating 15000 dollars per player. That sort of a budget should be allocated to retain these players in the country.       
Read More: Ad hoc reforms at SLC are a cosmetic exercise claim petitioners
What are your plans for School Cricket?
If you look at our school cricket, we have about 28000 to 30000 players playing cricket from the age group of Under 13 to all the way up. But if you look at Under 19 level, there are about only 9000 players involved in cricket. So, there is a clear drop off by the age of 19. The main reason is that they have to make certain decisions along the way in their life and they feel that they should build a career in a different field. So, we need to address that and when you identify a talented cricketer at young age, we should be able to support and protect the player allowing him to continue playing cricket to the highest level. We need to help them continuing their education while playing cricket. To do that, we need to have a clear setup in place which is supportive for the players. I propose a sports university where the players can do training and play cricket and, in the evening, they can continue their studies. With that they can continue both studies and cricket altogether.