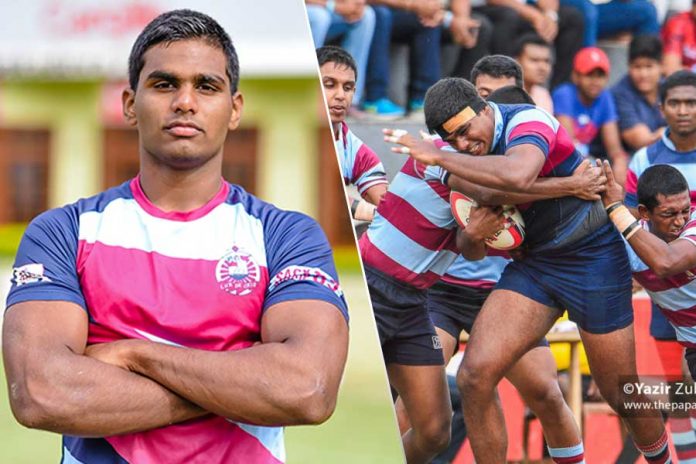 Mathish Amarasinghe will lead the St. Anthony's College 1st XV Rugby line-up this year as they take the field for the Schools Rugby League beginning in early March.
Mathish will don the Antonian jersey for the 5th consecutive year as he looks to bring back glory to his school. The proficient lock forward is known for his skill as a line-out jumper, and will indeed be of a great threat to all teams he plays against.
Experienced campaigner Lehaan Gunaratne will take …..
Mathish is no stranger to the nation's rugby lovers, as his father Dammika and his two senior siblings, Ruvan and Dinuk, all represented St. Anthony's in rugby at the highest level.  It is noteworthy that Dinuk Amarasinghe, the Antonian captain in 2017, currently represents CR & FC and is a regular in the Sri Lanka Sevens set-up. Mathish will hope to have an effect in all the games, inspired by his brother, Dinuk Amarasinghe's performances at the ongoing Dialog Rugby League.  
In fact, leadership is a run-of-the-mill job to the young lad! He drove the Under-12 and U-14 teams, where the Antonians went on to win the Central Province Championship in 2015 and emerged as all-island champions at the Under-14 level. It is remarkable that under his authority, the school won the Central Province and All-Island Basketball Championship too. He was also the 3rd best Badminton player for the Eagles for close to two years. 
Sri Lanka's upcoming sensation, Samuel Ogbebor will………
St. Anthony's managed to cling on to the Division 'A' last year and under Mathish's leadership, they will expect an improved performance from the team in 2020 as they kick off the season with a home game against the defending champions Royal College in Nittawela. The outfit will work under the attentive direction of experienced, former Sri Lankan player Sumedha Malawana.