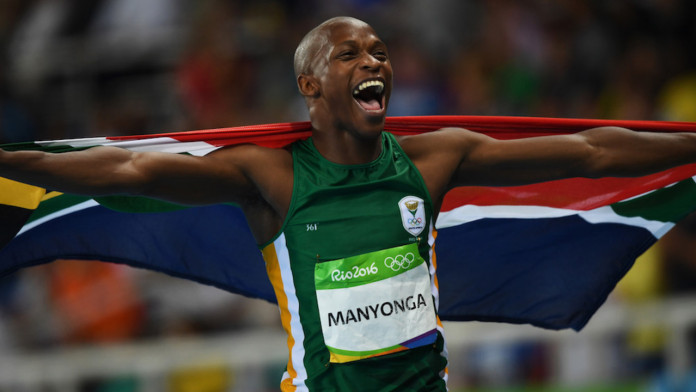 26-year-old South African, Luvo Manyonga was crowned Long jump World Champion at the 16th IAAF World Championship recently concluded in London. Manyonga leapt a distance of 8.48m to win gold in a championship where South Africa collected their best medal haul.
The Silver Medalist at the Rio Olympics held last year, Manyonga was strongly pipped to be the first human to cross 9m mark in the long jump. HIs road to world stardom was by no means a rosy path and provides a great testament on how you can achieve great things despite making mistakes in the past.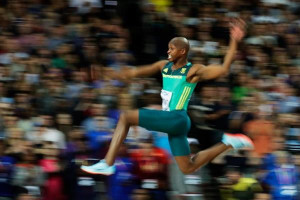 The fact that Manyonga is alive and competing at the world stage is in itself an achievement. It's something that many, including Manyonga himself thought impossible, at one stage of his life. Mayogna arrived at the world stage as a 19-year-old, when he won gold at the 13th IAAF World Junior Championships. A year later at the 13th IAAF World Athletic championships he produced a jump of 8.21m to be placed fifth. Despite his success at the world stage this promising athlete's life came spiraling down in 2012 a mere year after he impressed amongst the best in the world.  In early 2012 Manyonga began using tik, a version of crystal methamphetamine popular in Cape Town. Mbekweni, the village he hails from, was a den for the drug and soon the youngster was hooked. In March the same year at a competition in South Africa, he tested positive for the substance and was slapped with a ban of 18 months from all competitions.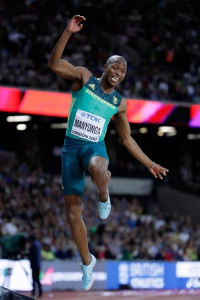 In a town engulfed with tik, the young long jumper fell deeper into the pit of addiction. "I can honestly say that I hit rock bottom, my life was a living hell after I was banned for using drugs and the way I was behaving was a one-way route towards self-destruction" Manyonga told the City- Press, a South African newspaper. The youngster had a shot at redemption when Irish rower and strongman John McGrath, who was the Tug of War coach of South Africa at the 2013 World Championships, heard about Manyonga.
"In 2013 I was in Colombia as [South Africa's] tug-of-war coach at the World Games, it was then that the SASCOC [South African Sports Confederation and Olympic Committee] people and I first talked about Luvo."
"Luvo won a lot of money but when he got back home he lost it and was back on crystal meth – or tik as it's called on the street. The Sascoc people told me: 'This kid is banned for 18 months and you're not a qualified coach so you cannot work with him" McGrath said to The Guardian.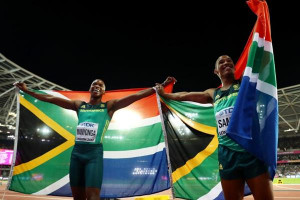 McGrath spent a month tracking the troubled long jumper and managed to instill belief in him that if he mended his ways, he would still be able to conquer the world. It was no easy task as there were numerous relapses and Manyonga kept sliding back to the dark clutches of tik but McGrath was patient and never stopped believing. He managed to reunite the youngster with his coach Mario Smith. After serving the 18 month ban, Manyonga managed to somehow earn qualification for the 2014 Commonwealth games in Glasgow but could not make the trip as his paper work was lost in a bureaucratic blunder by administrators who still saw the troubled youth as a liability. Things went from bad to worse as Mario Smith met with a fatal accident on his way to meet Manyonga and the devastated youngster sought relief from the very thing that had derailed his promising career.
"I have done things of which I am truly ashamed, like burglaries, stealing mobile phones just to get money to buy the drug. You lose all perception of what is right or wrong. All that matters is to get your fix." Manyonga said about his troubled past.
McGrath though never gave up on who he claims is the most complete naturally talented athlete he has ever seen and kept persisting and managed to get Manyonga back in the saddle.  "We couldn't get a sponsor. Not even Adidas wanted to sponsor Luvo with some spikes. I got him a pair myself but I didn't realize there was a difference between sprinting and jumping spikes. I got Luvo sprinting spikes. They stick to the board as you take off but Luvo still jumped 8.10m."
Luke Alfred, a journalist from a South African publication wrote a feature on Luvo Manyonga and John McGrath in 2014 where he describes the troubled but immensely talented athlete and McGrath's dedication towards dragging him out of the ditch of tik; this received widespread publicity and the duo were summoned to the parliament.
Finally their pleas for help were answered when SASCOC relocated the athlete from his hometown of Mbekweni to Pretoria, one of countries three capital cities. In Pretoria he received specialized coaching on his jumping at one of country's finest high performance centers.  
After only having proper training for a mere 12 months this talented jumper managed to shock all his doubters with a silver medal at the Rio Olympics in 2016. He missed the gold by a centimeter but had a great start to 2017 marking his personal best of 8.65m in Potchefstroom. While his jumping at the World Championships wasn't perfect, he did enough to gain one of two medals for his country in the event and the World title for himself.
Struggles of poverty, curse of addiction and pain of rehab were obstacles that this World Champion had to overcome to reign supreme on the sand pit. Luvo Manyonga will be taking part in a special event where six athletes will compete at the French Alps. With many believing that the jumping at altitude gives athletes an advantage Manyonga has a real chance of eclipsing the never achieved 9m mark 3032 meters above sea level. It will be interesting to see whether Manyonga will be able to eclipse the current world record held by the American Mike Powell of 8.95m which was established in 1991, ironically the same year Luvo Mayonga was born.
Sources –
From crystal meth to Olympic glory: the recovery and rise of Luvo Manyonga by Donald McRae – The Guardian
The impossibility of loving Luvo by Luke Alfred – Mail & Guardian