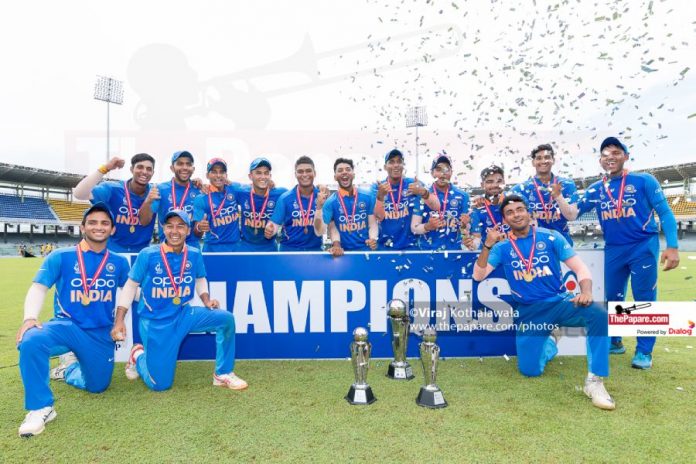 India beat neighbours Bangladesh in a nail-biting final by just 5 runs to win the ACC U19 Asia Cup 2019 today at the R. Premadasa International Stadium in Colombo.
After both the semi-finals were washed out, the two group toppers qualified to the final, which was also expected to be a rain-hit encounter. However, the game kicked-off as per schedule and all of a sudden Bangladesh looked like they were to clinch the trophy after India won the toss and elected to bat first.
Read: India and Bangladesh to play U19 Asia Cup Finals following semifinal washouts
Defending champions and favourites to win the final, India were bowled out for a mere 106 runs in 32.4 overs putting their title-defense in danger. The only phase where India looked like recovering after the early triple blow was when skipper Dhruv Jurel and Shashwat Rawat were involved in a 45-run stand for the 4th wicket.
The in-form Indian top order were sent back in just 5.1 overs before this fighting partnership was built. Off-spinner Shamim Hossain then dented the Indians with a double strike in his first over to leave them reeling again. The all-rounder's dream spell produced another wicket before it ended, and that was of the Indian skipper.
Batting at number 8, Karan Lal top-scored for India with 37 runs in 43 deliveries towards the end as he added 20 and 22 runs for the 8th and last wicket respectively with the tail.
Photos: India vs Bangladesh | Finals | U19 Asia Cup 2019
In bowling for Bangladesh, apart from Shamim Hossain, Mrittunjoy Chowdhury picked up 3 wickets in crucial stages of the innings.
Bangladesh were given the taste of their own treatment when they came out to chase down 107 as they lost their top 4 for just 16 runs in 4.1 overs. Skipper Akbar Ali then stood firm for Bangladesh, keeping the Bangla boys' hopes alive with a lonely fight as wickets kept falling at the other end.
His innings was also however brought to an end in the 21st over breaking the best partnership of the Bangladeshi innings, 27 runs for the 7th wicket, between him and Mrittunjoy Chowdhury. This was just when the game resumed after a rain-interruption, suggesting that the heavens were with India today, pouring the only shower of the day right in time to bring them back to the game.
Interestingly Bangladesh improved their chances of winning with a slow and steady stand of 23 runs for the 9th wicket, bringing them just 6 runs short from a maiden Youth Asia Cup triumph.
India's hero with the ball, Atharva Ankolekar then broke the Bangla hearts with a two strikes in three balls to complete his 5-wicket haul along with India's victory. Left-arm seamer Akash Singh too picked up 3 wickets with the new ball.


Batsmen
R
B
4s
6s
SR
Suved Parkar
run out (Shamim Hossain)
4
14
0
0
28.57
Arjun Azad
c Akbar Ali b Tanzid Hasan
0
2
0
0
0.00
Thakur Tilak Varma
c Akbar Ali b Mirttunjoy Chowdhury
2
5
0
0
40.00
Dhruv Chand Jurel
c Mirttunjoy Chowdhury b Shamim Hossain
33
57
2
1
57.89
Shashwat Rawat
lbw b Shamim Hossain
19
25
2
0
76.00
Varun Lavande
c Mirttunjoy Chowdhury b Shamim Hossain
0
2
0
0
0.00
Atharva Ankolekar
run out (Mahmudul Hasan)
2
16
0
0
12.50
Karan Lal
c Mahmudul Hasan b Mirttunjoy Chowdhury
37
43
3
1
86.05
Sushant Mishra
c Akbar Ali b Mohammad Shahin
3
16
0
0
18.75
Vidyadhar Patil
c Akbar Ali b Mirttunjoy Chowdhury
0
1
0
0
0.00
Akash Singh
not out
2
15
0
0
13.33
| | |
| --- | --- |
| Extras | 4 (b 0 , lb 0 , nb 0, w 4, pen 0) |
| Total | 106/10 (32.4 Overs, RR: 3.24) |
| Fall of Wickets | 1-3 (2.2) Arjun Azad, 2-6 (3.2) Thakur Tilak Varma, 3-8 (5.1) Suved Parkar, 4-53 (14.2) Shashwat Rawat, 5-53 (14.4) Varun Lavande, 6-61 (19.2) Atharva Ankolekar, 7-62 (20.1) Dhruv Chand Jurel, 8-82 (25.4) Sushant Mishra, 9-84 (26.3) Vidyadhar Patil, 10-106 (32.4) Karan Lal, |
| Bowling | O | M | R | W | Econ |
| --- | --- | --- | --- | --- | --- |
| Tanzid Hasan | 7 | 0 | 22 | 1 | 3.14 |
| Mirttunjoy Chowdhury | 7.4 | 0 | 18 | 3 | 2.43 |
| Mohammad Shahin | 4.5 | 0 | 26 | 1 | 5.78 |
| Rakibul Hasan | 7 | 0 | 31 | 0 | 4.43 |
| Shamim Hossain | 6 | 2 | 8 | 3 | 1.33 |
| Tawhid Hridoy | 0.1 | 0 | 1 | 0 | 10.00 |


Batsmen
R
B
4s
6s
SR
Tanzid Hasan
lbw b Akash Singh
0
4
0
0
0.00
Parvez Hossain
c Varun Lavande b Vidyadhar Patil
5
3
1
0
166.67
Mahmudul Hasan
c Dhruv Chand Jurel b Akash Singh
1
7
0
0
14.29
Tawhid Hridoy
b Akash Singh
0
3
0
0
0.00
Shahadat Hossain
c Dhruv Chand Jurel b Atharva Ankolekar
3
30
0
0
10.00
Akbar Ali
c & b Atharva Ankolekar
23
35
2
0
65.71
Shamim Hossain
c Varun Lavande b Atharva Ankolekar
7
17
1
0
41.18
Mirttunjoy Chowdhury
c Thakur Tilak Varma b Sushant Mishra
21
26
2
1
80.77
Tanzid Hasan
lbw b Atharva Ankolekar
12
35
0
0
34.29
Rakibul Hasan
not out
11
34
0
0
32.35
Mohammad Shahin
b Atharva Ankolekar
0
3
0
0
0.00
| | |
| --- | --- |
| Extras | 18 (b 0 , lb 6 , nb 0, w 12, pen 0) |
| Total | 101/10 (33 Overs, RR: 3.06) |
| Fall of Wickets | 1-3 (0.4) Tanzid Hasan, 2-13 (1.5) Parvez Hossain, 3-13 (2.3) Tawhid Hridoy, 4-16 (4.1) Mahmudul Hasan, 5-40 (10.5) Shahadat Hossain, 6-51 (14.2) Shamim Hossain, 7-78 (20.4) Akbar Ali, 8-78 (21.1) Mirttunjoy Chowdhury, 9-101 (32.3) Tanzid Hasan, 10-101 (32.6) Mohammad Shahin, |
| Bowling | O | M | R | W | Econ |
| --- | --- | --- | --- | --- | --- |
| Akash Singh | 5 | 0 | 12 | 3 | 2.40 |
| Vidyadhar Patil | 8 | 0 | 25 | 1 | 3.12 |
| Atharva Ankolekar | 8 | 2 | 28 | 5 | 3.50 |
| Sushant Mishra | 9 | 2 | 27 | 1 | 3.00 |
| Karan Lal | 3 | 1 | 3 | 0 | 1.00 |