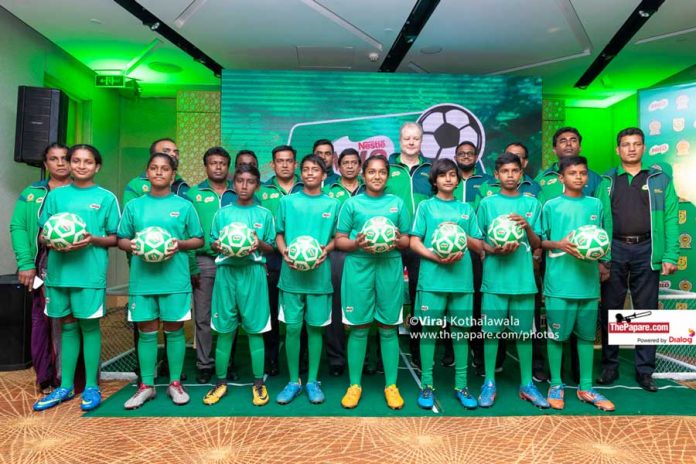 Milo is set to send eight talented U12 footballers, chosen from the all-Island schools football tournament organized by Sri Lanka Schools Football Association with the participation of 13,000 youngsters, to China for the Milo Champions Cup.
The first Milo Champions Football World Cup will be held in China as Milo hopes to achieve a massive feat by once again teaming up with FC Barcelona.
The tournament will kick off in Sri Lanka with an All – Island U-12 Football Tournament, executed by Sri Lanka Schools' Football Association under the patronage of the Ministry of Education. The tournament will be open to the boys and girls born in 2008 and 2009. The tournament will feature 265 girls' teams and 822 boys' teams, bringing the total number of participants to a massive 13,044 footballers.
Photo Album – Milo U12 Football Tournament 2019 | Press Conference
Based on skills and values demonstrated at the tournament, the best players will be shortlisted to attend a selection camp, where an expert panel of coaches will select the most deserving eight players to represent the Milo Sri Lanka Football team.
Speaking at the press conference held with regards to the tournament, Mr. Mohommed Ali stated the following "We have made great efforts to take this sport into greater heights and encourage them to be better sportsman"
Teams will come from countries across the world such as Malaysia, Philippines, Vietnam, Indonesia, Thailand, Australia, Pakistan, Colombia, Chile, Jamaica, Trinidad and Tobago. A playing side in the tournament will comprise of 8 players, in a series of a 5-side matches. A team must feature a minimum of 1 female player with each match lasting for two halves of 10 minutes. The football event will go on for 9 days and will also include a coaching camp run by FC Barcelona.
Managing Director of Milo Mr. Fabrice Cavallin said – "It really makes me proud to see the children playing the sport I love. It's amazing to see it by teaming up with the Ministry of Education to organize this. After seeing all the energy here, I'm sure the Sri Lankan team touring will do well!"
The tournament will kick off on the 4th of April in the Southern province and conclude on the 27th in the Western Province. Stay logged on to ThePapare.com for more updates.