After 19-years of supremacy, Mahamaya Girls College Kandy are in for a treat from the Visakhians as the run for gold is in its highest stakes, and Visakha ain't backing down. With the girls on pins, St. Joseph's College completes day 4 on top of the leaderboard, still untouched.
Photo Album: 45th All Island Schools Aquatic Championship – Day 3
Conclusion of day 2 of the 45th Milo Schools Swimming Championship saw Mahamaya Girls College, Kandy with a comfortable 86-point lead over Visakha Vidyalaya. Visakha retaliated the very next day and cut down the gap to 32 points. Now, with one more day left in the competition, the Visakhians have cut down the deficit up to a mere 7 points away from rattling the long-standing schools swimming champions.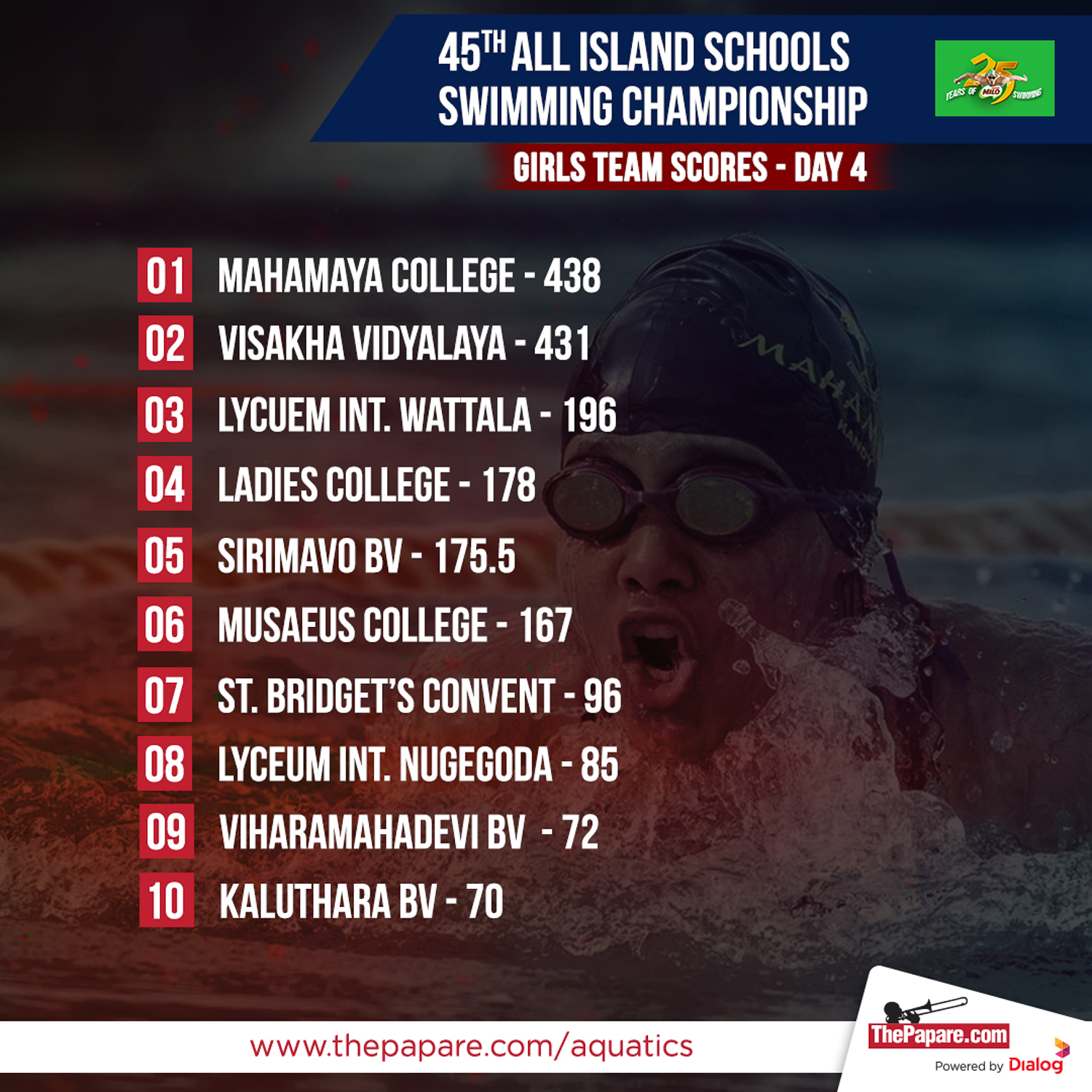 Whilst the battle is on for gold, Lyceum International School Wattala has jumped 3 places to finish the day in 3rd place, after finishing day 3 in 6th place. They lead the girls from Flower Road, Ladies College, by an impressive 18 points.
In the boys' category, St. Joseph's College are not letting up their top position after day 4 of the meet. They will be eyeing for their 15th championship title in the Schools Swimming arena and are well on their way to achieving that with a whopping 498 points. Ananda College maintain second in command with 322 points.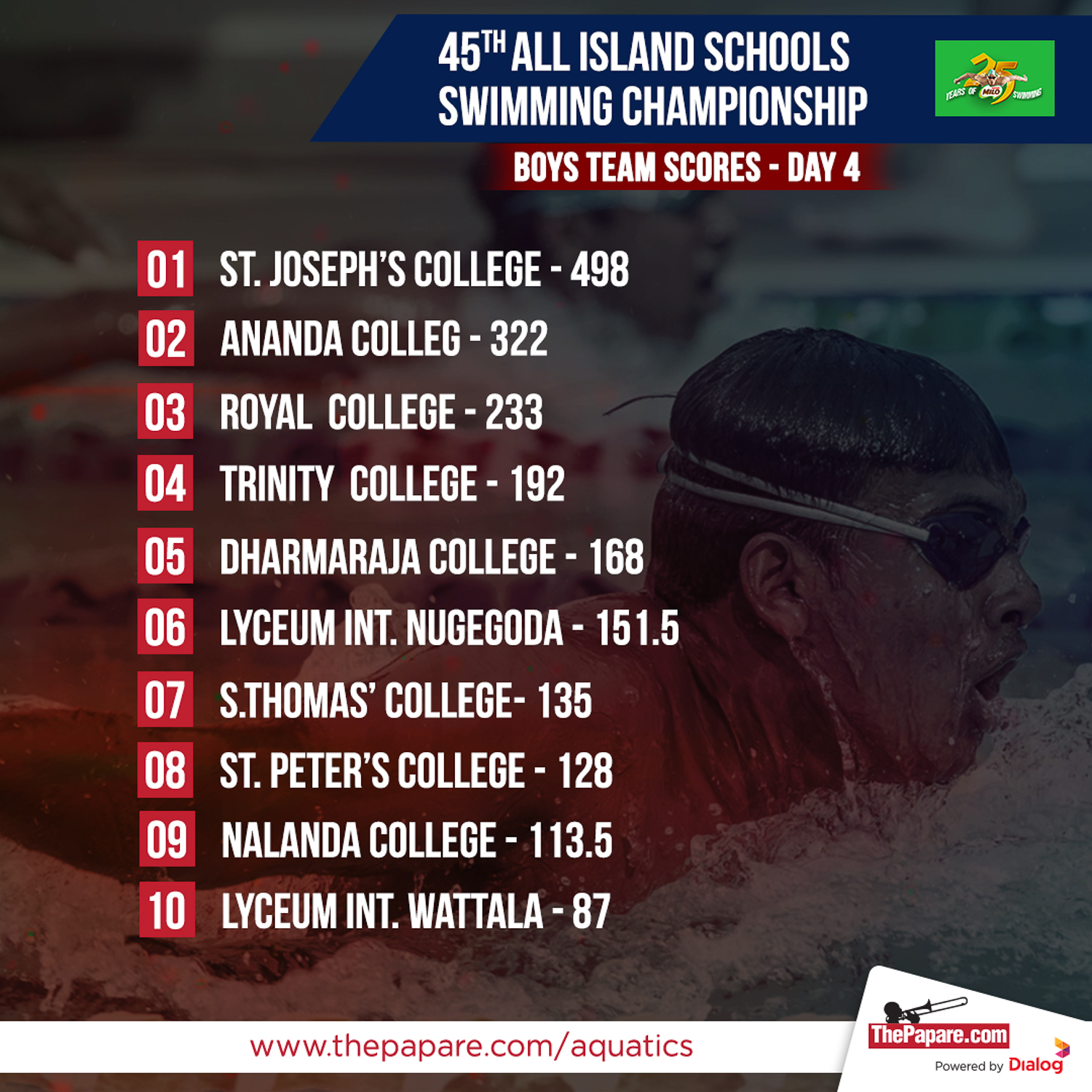 Day 4 saw 7 meet records being renewed, starting with young Qaid Farook of St. Peter's College claiming the Boys U-9 50m breaststroke event. He clocked in a time of 42.82 seconds to take the previously held record made at last year's meet of 44.33 seconds.
Damiru Wickramathunga of Lyceum International School Wattala collected his second meet record in the U-11 50m Breaststroke. His timing of a solid 40.00 seconds was enough to break a 10-year record kept by M.A Induwara of 41.34 seconds. Wickramathunga's first record came on the second day of the competition in the 100m Breaststroke where he clocked in 1:26.75 minutes.
Lyceum International School Nugegoda set a record of their own through Chris Pavithra in the Boys U-13 50m Breast Stroke event with a time of 34.00 seconds. Chris was faster by 2.10 seconds (36.10sec) than Banuka Jayathilake who established the record last year.
Visakha edge closer to Gold; Joes unmoved from kingship
Josephian Vanuja Kannangara broke Imesh Chathuranga's 31.65sec record from 2011 in the U-13 50m Back Stroke event. Vanuja proved 10 milliseconds faster than Chathuranga's timing finishing his final lap in 31.55 seconds.
Two of Olympian Kimiko Raheem's records were broken in the first 2 days of the competition by Ganga Senevirathne of Visakha Vidyalaya. On the 4th day, Nabhashie Perera of Sirimavo Bandaranaike Vidyalaya joins the parade taking home the Girls U-13 50m Butterfly meet record with a time of 1:11.32 minutes, to Raheem's 1:12.37mins set in 2004. This is Nabhashie's third meet record for the year, the other two coming in the U-13 100m Fly and 200m IM.
Young M. M Ekneligoda of Ananda College also bagged his third, today, claiming the Boys U-9 100m Freestyle clocking 1:15.23 minutes. He overcame Pahan De Silva who held the record since 2010 with a time of 1:16.92 minutes. Ekneligoda also set his name in the record books in the 50m Back Stroke and 200m IM events earlier in the competition.
Final record for the day came from Gateway College Dehiwala in the Girls U-13 100m Free event. Hiruko De Silva managed to earn her school their first meet record in this year's competition with a time of 1:05.14 minutes shattering a record set in 2010 by Amanda Jayasekara (1:06.50mins)
Click here for full results – Day 4
One more day of competition remains in the 2018 All Island Schools Swimming Championship with a twist of events. Milo Sri Lanka, in its 25th year of enabling and nurturing schools swimming in the country will host a legends relay carnival to complete the final festivities.
Legends of the sport including Nishantha De Costa, Mahi Chandralal and our very own Julian Bolling will take the pool for one more lap in this first of its kind relay carnival.
Stay logged to ThePapare.com for Photos, highlights and up to date results from the ongoing 45th All Island Schools Swimming Championship.