Visakha Vidyalaya cut down the lead against 19-time schools swimming champions Mahamaya Girls College Kandy, posing a real threat, at the conclusion of day 3 of the 45th All Island Schools Swimming Championship 2018.
Click here for Photos from Day 3 
With 7 new meet records in 2 days, silver winners of 2017, Visakha Vidyalaya scored a staggering 77 points to end day 3 with a total of 358 points. Mahamaya Girls College Kandy are still in the driving seat by 32 points (390). The defending champions have only managed to make a leap of 23 points and will need to ramp up their game on the final 2 days of competition if they were to complete their 2-decade reign.
St. Joseph's College has been untouchable so far in this year's competition, finishing on top of the leaderboard after day 3, with 326 points. The real battle, however, is for the silver between Royal College and Ananda College.
Visakha Vidyalaya steps up day 2 of the 45th Milo All Island…….
The junior squad of Ananda College has been a large contributor to this claim, notably, M.M Ekineligoda winning double gold, setting 2 new meet records. He completed the Boys U-9 50m Backstroke event in 38.11 seconds erasing the previous record set by Shevinda De Silva of St. Joseph's set back in 2011. His second rule came in the U-9 200m Individual Medley relay as he wiped a 13-year record (3:06.98), clocking 3:04.27 minutes.
2018 Senior National SC champion, Dilanka Shehan, sets his debut record in this year's meet, with his timing of 5:09.82 minutes in the Boys U-19 400m Individual Medley event. Captain Shehan brought Nalanda their only win for the day.
ThePapare.com | Hiran Weerakkody & Viraj Kothalawala…..
Vandani Fernando of Kalutara Balika Vidyalaya sets a new meet record in the Girls U-9 50m Backstroke event with her timing of 41.39 seconds, cleaning out a 2013 record set by Methya Weerakkody (42.09). She also went on to break the meet record in the U-9 50m Freestyle event with her timing of 34.82 seconds, which was previously set at 35.08 seconds in 2010.
Girls U-13 50m Backstroke event saw a new record holder come to light with a time of 35.02 seconds. LISW's Akithmi Wasalathanthri beat out a 7-year record by 06 milliseconds wiping out Vinoli Siriwardena from the slate. Also, from LISW, Damiru Wickramathunga set his own meet record in the Boys U-11 100m Breaststroke with his timing of 1:26.75 as opposed to 1:27.30 set last year.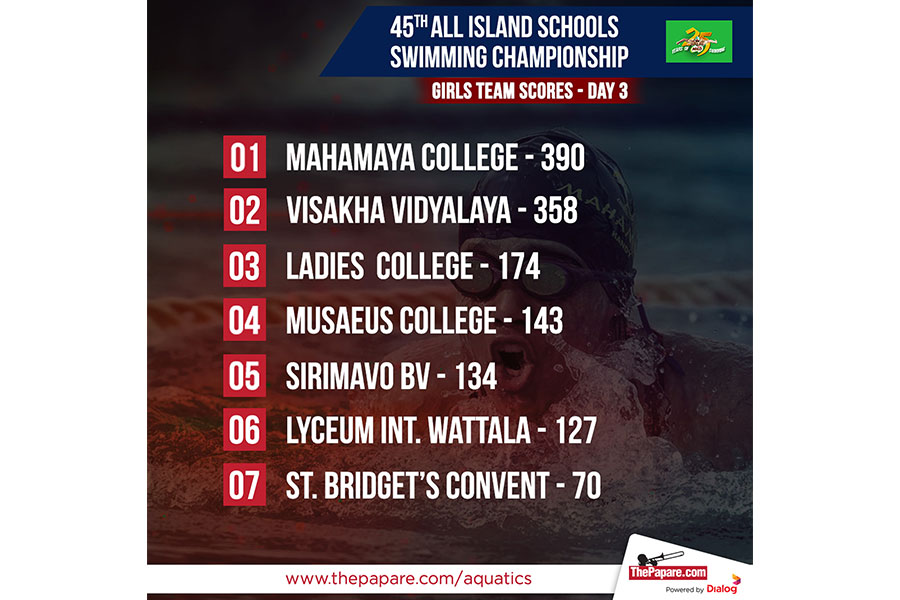 Thinaya Jayarathne of Lyceum Int. School Panadura shattered a 11-year record in the Girls u-13 100m Breaststroke. 52 milliseconds faster, Thinaya clocked in 1:24.04 minutes in the final lap of the event.
Vanuja Kannangara of St. Joseph's College contributed with gold served with a new record in the U-13 Backstroke. Young Kannangara ousted yet another 7-year record by 10 milliseconds, clocking 31.55 seconds.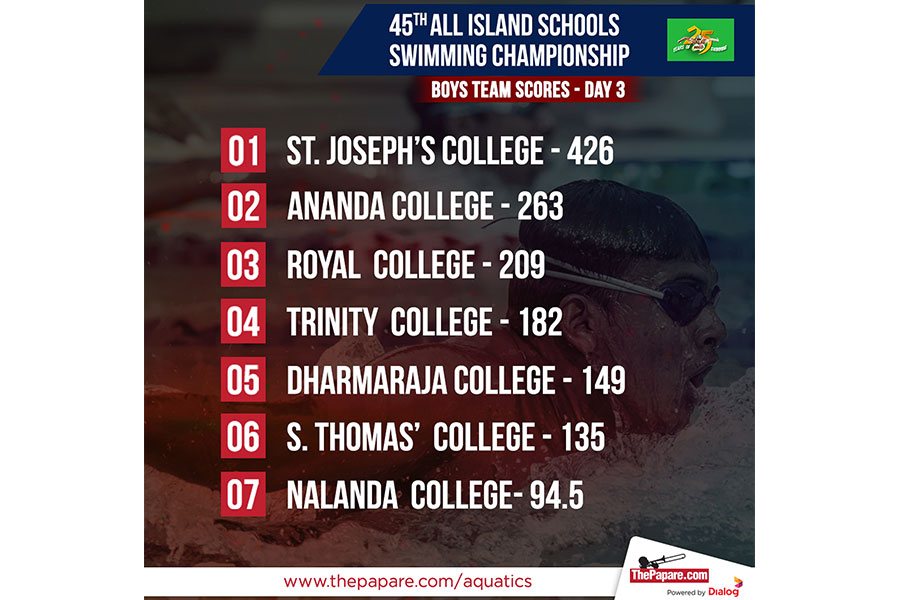 Nabhashi Perera of SBBV impressed on day 3, by breaking not one, but two, 14-year long record in the Girls U-13 100m fly and 200m IM events. Miniruwani Samarakoon set a record time of 1:12.37 minutes in 2004 in the 100m fly, only for Nabbhashi to claim it over a decade after by a whole second faster (1:11.32). Her winning continued in the Girls U-13 200m Individual Medley as she clocked in 2:42.77 minutes to finish her streak.