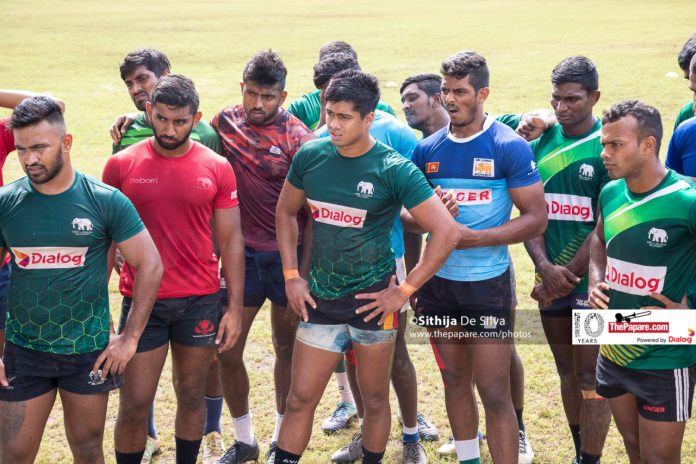 After defeating Philippines 21 – 14 in a thrilling Plate final, the Sri Lankan Tuskers finished 5th at Incheon, South Korea, in the 1st leg of the Asia Rugby Sevens Series 2019. Although Sri Lanka was crowned as the Plate Champions, a top 4 finish is what was expected from the local stars. 
However, with an eye on achieving that goal, Sri Lanka will look forward to posing a real threat to the Asian giants Japan and Hong Kong whilst also looking to redeem themselves against China, who beat the Tuskers in the 1st leg.  
With hopes of making a difference, Sri Lanka Rugby (SLR) has made few crucial changes in the team as Naveen Henakankanamage, Anuradha Herath, Nishon Perera and Thilina Wijesinghe have been replaced by Adeesha Weerathunga, Gamunu Chethiya, Iroshan Silva and Thilina Bandara ahead of the 2nd leg which is set to take place in Huizhou, China, on the 14th and 15th of September. 
Weerathunga who was a part of the Asian Games and Commonwealth squad will make his second appearance in the Asia Sevens Series. However, Iroshan Silva, the Police star quarter back, along with Air Force loose forward, Thilina Bandara and youngster Gamunu Chethiya are set to make their National debuts next weekend. In addition, Chathura Senevirathna of Navy SC will also make it to China as the standby.
Full Squad:
Danush Dayan (Kandy SC), Srinath Sooriyabandara (Kandy SC), Jason Dissanayaka (Kandy SC), Thilina Bandara (Air Force SC), Reeza Raffaideen (CR & FC), Dinuk Amerasinghe (CR & FC), Janidu Dilshan (CR & FC), Gamunu Chethiya (CR & FC), Iroshan Silva (Police SC), Adeesha Weerathunga (Navy SC), Sudaraka Dikkumbura (Army SC) & Kevin Dixon (CR & FC)
Additional Player – Chathura Senevirathna (Navy SC)