Junior athletes Rumesh Tharanga and Pasindu Malshan competed in their finals in the Men's Javelin and Men's Triple Jump events yesterday (5) in Cali, Colombia at the World Athletics U20 Championships.
Rumesh Tharanga – Men's Javelin Throw
Rumesh Tharanga of St. Peter's College ended his dream run in Cali with another massive throw in the finals, which was better than his previous best (69.93m) when he left Sri Lanka.
Tharanga hurled a distance of 69.98m as his best performance in the final to clinch 7th  place, while the Ukranian athlete Artur Felfner won the gold medal with an almost 80m throw.

However, in the qualification round, Tharanga managed to renew his own Junior National Record with a personal best of a 70.68m throw, and became the first Sri Lankan U20 athlete to throw more than 70m in the Men's Javelin event. He also made a 70.17m throw in Cali – another performance better than his previous personal best.
Read : Seven Athletes to represent Sri Lanka at World Junior Championships
Pasindu Malshan – Men's Triple Jump
The other finalist from Sri Lanka squad, Pasindu Malshan, was unable to replicate the success he displayed in the qualification round. Malshan's best performance in the final was marked as 15.14m as he had to settle for 11th place in the final.
The Gold medal was grabbed by the sensational Jamaican athlete Jaydon Hibbert, who broke the Championship Record with a massive leap of 17.27m. Indian athlete Selva Thirumanran secured the Silver in the event, increasing the medal count for India to 3. (2 Silvers, 1 Bronze)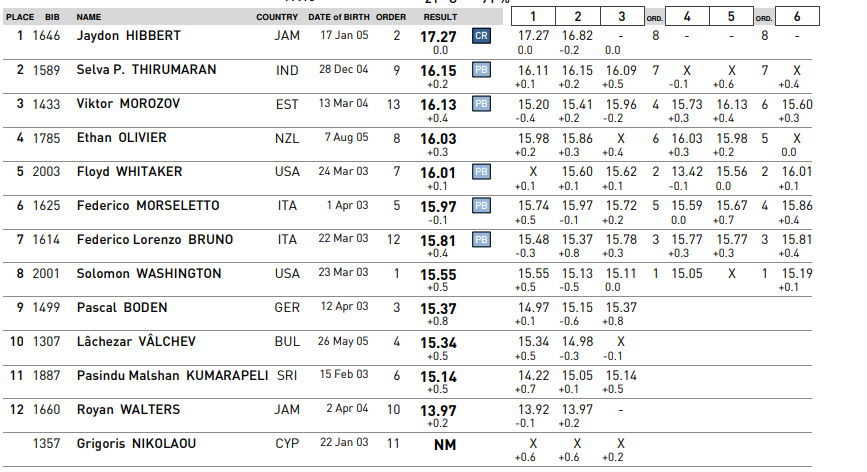 However, Malshan, hailing from St. Joseph's College, will take the flight home with a new personal best as he jumped 15.73m in his second attempt in the qualification round.
>>Click Here For More Athletics News<<