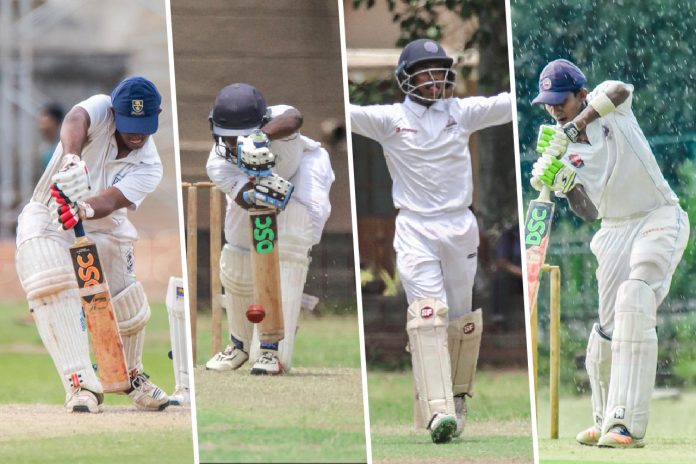 Four teams have earned their places in the Semi-finals of the Singer U13 Cricket Tournament after coming out on top in the Quarter finals played throughout the last week.
The first two rounds of the Singer Schools U13 Cricket Tournament which ran over 4 months at different venues all over the Island were completed as 16 teams met in the Pre-Quarter finals which was further skimmed down to 8 teams for the quarter-finals. We are now down to the 4 teams who have earned promotion to the business end of the tournament.
The tournament kicked off in May featuring 79 teams in the first round, playing on a league basis divided into 10 groups. Round 2 saw the tournament cut down to 32 teams, divided into 8 groups where the top 2 teams of each group earned qualification to the Pre-Quarter finals where another 8 teams were knocked out of the tournament.
From the Pre-Quarter finals, the tournament was played on a knock-out basis, and 8 teams qualified to the quarter-final round. D. S. Senanayake College Colombo, who were crowned champions last year, surprisingly failed to qualify for the second round this year. The second division schools strung up quite a few surprises as many of the 'A division' schools were knocked out in the group stages. Richmond College and Nalanda College were big names in 'A division' cricket who were knocked out of the tournament after poor performances during the season.
St. Peter's College qualified to the Semi-finals on bonus points against a spirited Trinity outfit from the hill capital. The Peterites batted first and put up 257/7d on the scoreboard before Trinity were left at 99/2 at the end of the day's play.
Royal College got the better of Mahanama in a low scoring affair. Batting first, Royal were dismissed for just 79 runs but they returned the favor, bundling out Mahanama for just 71 runs on a square turner.
The Antonians batted the day out against the Joes to qualify while the juniors from Prince of Wales qualified on bonus points. Mahinda College Galle declared at 179/8 as the Cambrians remained positive and were well on their way to victory being 99/0 at the end of the day's play.
The semi-final fixtures will be as follows;
SF – 1 – Royal College Colombo vs St. Peter's College Colombo
SF – 2 – St. Anthony's College Katugasthota vs. Prince of Wales Moratuwa
*All dates and Venues are yet to be confirmed.