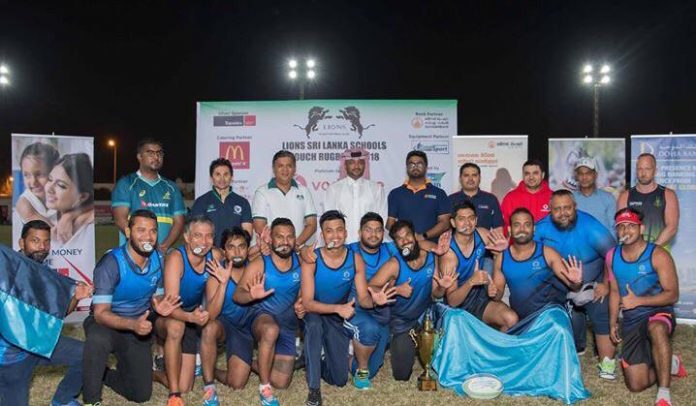 Wesley won the eighth edition of the Lions Touch Rugby 7s for the sixth consecutive time by beating Zahira 3-0 last Friday at the Doha Rugby Football Centre. 
The Blues led 3-0 at half time before a boisterous crowd. Captain Shivan Madawa,  opened up the account, turning and twisting untouched to plant the first crossover.  
The second try was posted by paceman Lahiru Prasad, while the third nail in the coffin for Zahira was scored by Sajith Ariyawansha. 
Trailing 3 nil at the break Zahira was mentally out of contention, however, their second-half start and enthusiasm told a different story as they threatened to score and challenged the champs keeping them scoreless for the entire second period.  
Winning Captain Madawa could not hide his excitement after the final hooter telling media "I'm really excited, it was a great match I'm so proud of the boys".
"Zahira pressured us in attack and held us out in defence in the second half.
Congratulations to Wesley OBA Qatar for a fantastic win".