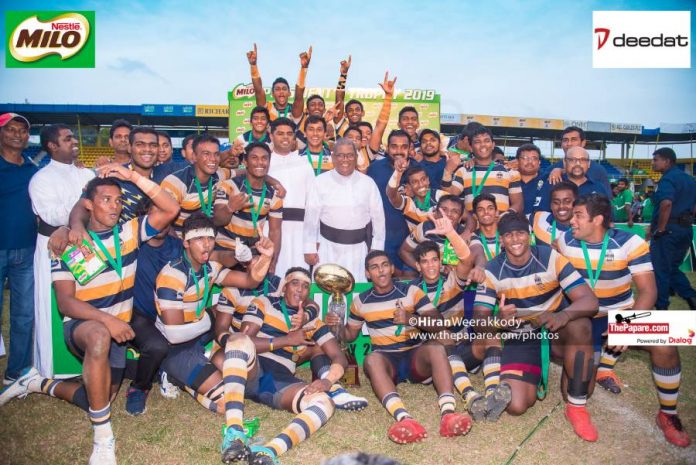 Defending Champions St. Peter's College successfully retained their Knockouts title as a 65th minute penalty from Thenuka Nanayakkara won them their 7th President's trophy where they defeated a strong Wesley college outfit 18 (2T,1C,2P) points to 15 (2T,1C,1P) in the grand finale of worked off at the Royal Complex earlier today.
>>Visit the Schools Rugby Hub<<
The grand finale of the 2019 school's rugby fifteen's season was kicked off by Dilshan Madushanka as St. Peter's looked to defend their hard earned title which they won last year. On the other hand Wesley aimed at repeating their 2013 heroics to bring back a major trophy for the double blues. The Peterites started proceeding in style, using the width of the field and put pressure on the double blues. Wesley leaked a penalty and Thenuka Nanayakkara made no mistake from the tee to open the account for the Peterites.(SPC 03 – 00 WC)
St. Peter's College comprehensively defeated the strong Wesley College outfit 35(5T,2C,2P) points…
After conceding early, Wesley patiently played a few phases and earned a much needed penalty as the boys from Bamba were deemed offside by referee Dinka Peiris. Tharindu Walpita slotted in an easy three points to bring the game back to a deadlock. (SPC 03 – 03 WC)
Restraining order halts Milo Premier Trophy final
Wesley kept on attacking and had the majority of possession as their forwards slowly and steadily used the pick and drive to move forward. Samuel Ogbebor went through St. Peter's defense to score the opening try of the final as Walpita added the extras from close range. (SPC 03 – 10 WC)
Schools Rugby – promotions and demotions
St. Peter's managed to reply straight away through some brilliance from Senthika Fernando. He charged down the clearing kick from Walpita and Shenol Silva collected loose ball to touch down for the Bamba Brigade. (SPC 08 – 10 WC)
Schools Rugby League winners – UPDATED
A few phases later Referee Peiris awarded a penalty to the double blues for a late tackle and Ogbebor had great awareness to take a quick tap as the Peterites were unsettled with the defense and went through all the defenders to touch down for his second and to increase the lead for Wesley. (SPC 08 – 15 WC)
This final was humdinger of a game as Wesley had a few opportunities in open play but couldn't capitalize on the errors made by the Peterites. Nevertheless, Wesley went into break with the upper hand.
Junior tournaments to take center stage!
Half Time – St. Peter's College 08 (1T,1P) – Wesley College 15 (2T,1C,1P) 
The Peterites were hit with a few injuries but they stood firm as they quickly pounced on the Wesley loose ball. Raveen Fernando made a perfect pass to the playmaker Nanayakkara as he made cheeky dummy pass to find some space and went over the line to score a crucial try. Nanayakkara quickly added the extras to equalize this big game (SPC 15 – 15 WC)
Raveen Fernando is ThePapare Most Popular Rugby Player
The pendulum spun towards the Peterites as their forwards had possession of the ball and kept on attacking but Wesley defended their hearts out in the latter part of the game. An unwanted penalty in front of the sticks saw Thenuka Nanayakkara step up and pierce the posts to give the Bamba Brigade a slim lead. This nail-biting finale came to the fore as the boy who missed a conversion at Mount Lavinia which cost St Peter's a league won them a President's Trophy as the Bamba Bridge retained the title for another year. (SPC 18 – 15 WC)
>>Schools Rugby Fixtures and Results<<
Full Time –  St. Peter's College 18 (2T,1C,2P) – Wesley College 15 (2T,1C,1P) 
ThePapare.com's Player of the Match – Samuel Ogbebor (Wesley College)
Match Referee – Dinka Peiris
Breakdown

St. Peter's College: Tries from Shenol Silva, Thenuka Nanayakkara, conversion and Penalties (2) from Thenuka Nanayakkara

Wesley College: Tries from Samuel Ogbobor (2), conversion and penalty from Tharindu Walpita