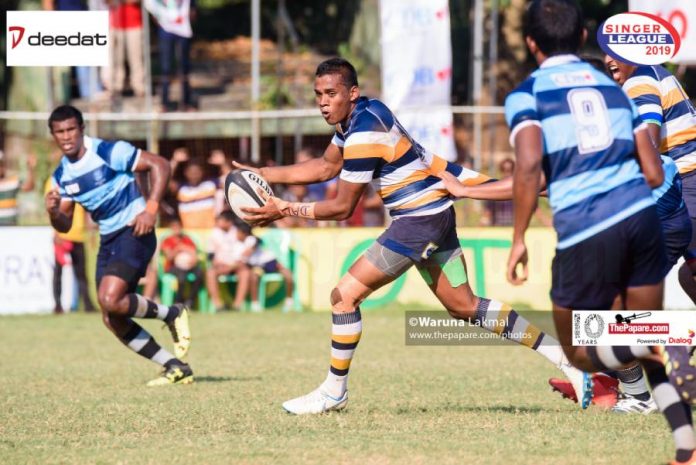 St. Peter's College comprehensively defeated the strong Wesley College outfit 35(5T,2C,2P) points to 22 (4T,1T) in their  2019 Singer Schools Rugby League encounter played at Longdon Place earlier this evening.
>> VISIT THE SCHOOLS RUGBY HUB <<
Tharindu Walpita kick started the crucial game as Wesley opened up the scoring from a horrible line out by St. Peter's that ensured that Wesley got the possession of the ball and a long cutout pass from skipper Murshid Zubair opened up space for Sahan Hansaja to score under the post while Zubair added the easy extras. (WC 07 – 00 SPC)
St. Peter's replied straight away with a superb break from their winger Ishan Fernando and quick hands from the back line managed to send the speedster Raveen Fernando over the line. Thenuka Nanayakkara bisected the uprights to equalize the game. (WC 07 – 07 SPC)
Wesley looked dangerous every time when they went in to the Peterite red zone as Samuel Ogbobor this time broke through the first line of defence and the timely offload to his winger Tharusha Jayaweera was good enough for the second try for the Double Blues. (WC 12 – 07 SPC)
WATCH – Wesley Rugby – The Double Blue Thunder
St. Peter's finally settled in to the game as Thenuka Nanayakkara slotted in a three-pointer to cut the deficit while the forwards piled on with continuous phases of play and a good run by Dilshan Madushanka was halted with a dangerous tackle but the advantage was played on while the forwards made some strong hits as the scrum half Ashel Ranasinghe sneaked through the Wesley defence and a cheeky pop pass to Senthika Fernando assured the second try for the Bamba   Brigade. In the build up to the try a dangerous tackle by Tharindu Samarakoon was spotted by the referee and he was sent to sin bin for a 10-minute breather. (WC 12 – 15 SPC)
WATCH – Peterite Rugby – A Goldern Era ahead?
Peterites finally got their line out sorted and the deadly rolling maul was formed and it slowly gained yards as Wesley made few illegal side entries, finally Tharindu Walpita made another illegal infringement by coming from the side to stop a potential try and it was spotted by referee Jamaldeen as he awarded a penalty try for the Peterites and a yellow card for Walpita. (WC 12 – 22 SPC)
In the dying stages of the first half Peterites had another golden opportunity with a numerical advantage but couldn't convert them to points as they went to lemons with a healthy lead.
Half Time – Wesley College 12 (2T,1C) – St. Peter's College 22 (3T,2C,1P)
St. Peter's extended their lead in the early stages of the second half as their forwards yet again stamped their authority with a few superb breaks and Ashel Ranasinghe made a crucial decision as he used the short side and Dilshan Madushanka went over in the corner. (WC 12 – 27 SPC)
Read – ThePapare.com – 10 years and counting
Peterites added more points to their tally from a 5-meter lineout as Wesley expected for a rolling maul but a short line out throw to Senthika Fernando by Julian Charles caught the blue thunder napping and he went in for his second. (WC 12 – 32 SPC)
Read More – Pathana progression and a Royal R(f)umble
Thenuka Nanayakkara slotted in a 40 meter three pointer to increase the lead and put the game to bed for the Bamba Brigade as Wesley kept on making mistakes at criual junctures of this game.
Photo Album : Wesley College vs St. Peter's College | Schools Rugby League 2019
Wesley College managed to score a try when Samuel Ogbobor went over to bring some consolation for his team as Zubair surprisingly missed an easy conversion. Peterites faced a setback when Nizran Nilar received a yellow card for an unwanted foul play.
Few phases later Lankesh Perera saw yellow for a dangerous tackle as the discipline by the Peterites came under scrutiny by referee Jamaldeen.
>> Match Stats – Wesley College vs St. Peter's College
Wesley took the maximum from the numerical advantage and Zubair opened up for the replacement winger Vishwa Welagedara to score the bonus try which will be crucial for the Double Blues as the Peterites booked their place for the second round with this victory.
Full Time – Wesley College 22 (4T,1C) – St. Peter's College 35 (5T,2C,2P)
ThePapare.com's Player of the Match – Dilshan Madushanka (St. Peter's College)
Match Referee – Aaqil Jamaldeen
Breakdown

Wesley College: Tries from Sahan Hansaja, Tharusha Jayaweera, Samuel Ogbobor, Vishwa Welagedara conversion from Murshid Zubair

St. Peter's College: Tries from Raveen Fernando, Senthika Fernando (2), Dilshan Madushanka, Penalty try conversions (2) and penalties (2) from Thenuka Nanayakkara

Cautions & Send offs:

Wesley College: Tharindu Samarakoon, Tharindu Walpita (Yellow)

St. Peter's College: Nizran Nilar, Lankesh Perera (Yellow)