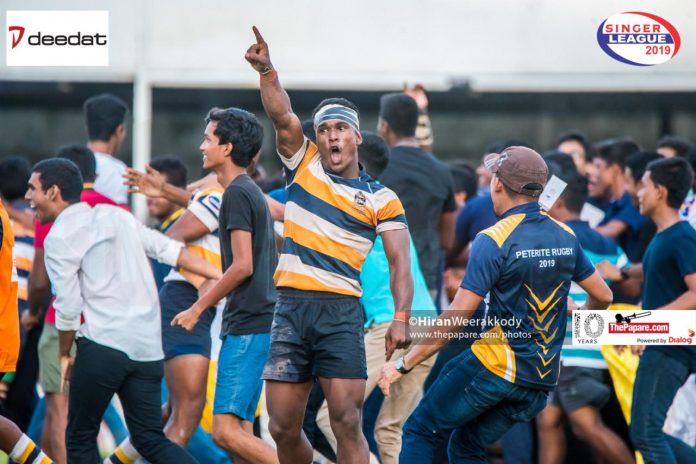 After two phases of voting that took place on ThePapare.com, Peterite utility player Raveen Fernando has been elected ThePapare's Most Popular Schools Rugby Player for 2019. 
ThePapare Most Popular Rugby Player is a yearly award given out to the most popular player in the tournament based on a vote conducted on site. This year the shortlist for nominees had representations from both Cup and Plate teams, with a total of 16 players in the voting list. 
The voting for the Most Popular Rugby Player contest commenced on the 7th of June 2019 and concluded on the 10th of July 2019. 
Fernando was clearly ahead from the rest of the players accumulating a record total of 30,026 votes at the end of the voting period. In 2nd place was the Wesley College captain Mursheed Zubair who collected 26972. 
The top 5 in the Most Popular list are as follows: 
 Raveen Fernando (St. Peter's) – 30026
Mursheed Zubair (Wesley) – 26972
Zaid Thajudeen (Zahira) – 19241
Lalanka Wijesundera (DS) – 12105
Fadhil Adahan (Royal) – 2729
This will be the second consecutive occasion where a Peterite has been adjudged the Most Popular Player following the footsteps of Jason Karunaratne who won it in 2018. 
Other winners of this award have been Naveen Henakankanamage of S. Thomas in 2016 and Yuzraan Lantra of Zahira in 2017.