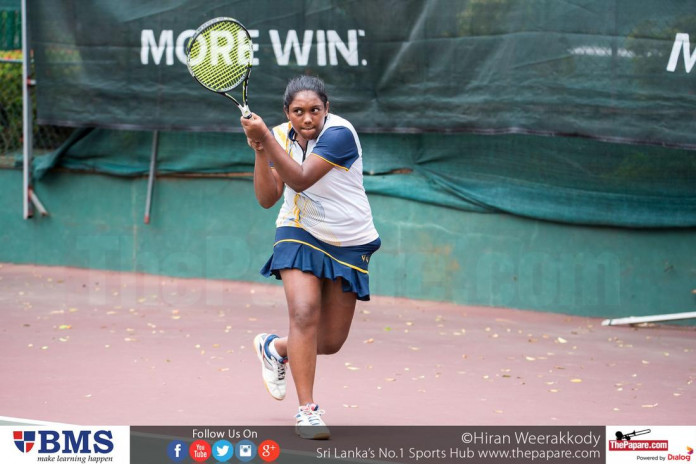 After Ladies' College fought back in the middle encounters to draw it even, 3rd single player Thuruni Sahashrika took Visakha to victory against Shenara David of Ladies' College to win the All Island Public Schools' Under 19 Tennis Championship for 2016.
Ladies' College have had the most successful season thus far winning both the under 15 & under 17 tournaments and needed the under 19 title to complete their heist, but Visakha had other plans.
Opening the day, the 1st Single was won by Visakha Vidyalaya without too much of a hassle. Asalya Bandara of Visakha registered a 6-1, 6-1 win against Chagi Jayasekara of Ladies' College. Coming into the 1st Doubles, Ladies' College fielded their top seed Medhira Samarasinghe along with Mahitha Abeysekara. In reply, Visakha Vidyalaya had their top seed Hasindhi Lokuge with Lakshmi Ranasinghe.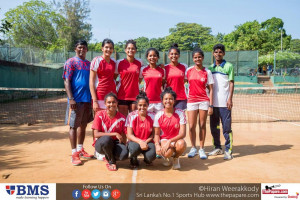 It was Ladies' College who emerged victorious winning the 1st doubles 6-3, 6-1. The second single saw the under 18 national champion Nethmi Waduge tied against Anika Schafter. Nethmi went on to win the game 6-0, 6-0 in straight sets.
With Visakha a win away from victory, it was the Ladies' captain Serena Madanayaka who tied up with Duvi Jayasinghe in the 2nd Doubles to keep the their hopes alive. The Ladies' pair won against Raveeni Manapperuma and Osuri Ambawatte 6-0, 6-1.
With the championship decider coming down to the 3rd and final set, it was Thuruni Shashrika who brought victory for Visakha. Playing against Shenara David, the Visakhian fought all throughout the game to win it for the team; the encounter went on for a good two hours.
Despite the excitement in the finals, it was disappointing to see the series having very little participation, compared to the under 15 and 17 tournaments.
The Boys' championship finals will take place on Monday starting at 8.30 a.m. at the SLTA courts.