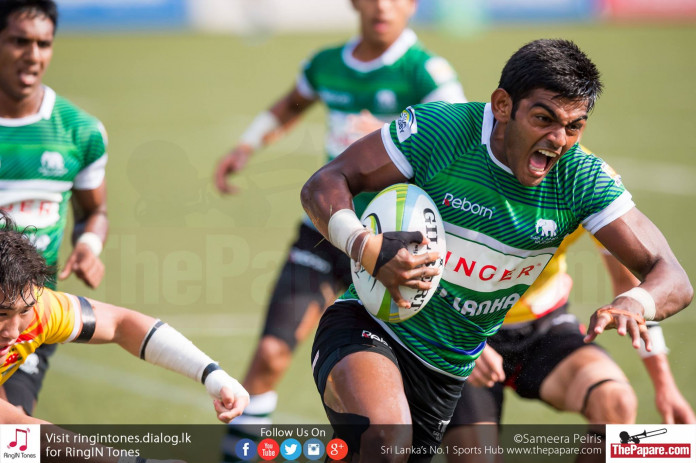 All round Sri Lanka made it to yet another Asia Under 20 Sevens final showing no mercy onto South Korea in the semi-finals and are set to face hosts Hong Kong in their title retention conquest.
The Junior Tuskers showed no mercy to Korea as they ran in a total of five tries while the Koreans managed to score only one.
Giving Sri Lanka the start was Adheesha Weerathunga who gave a perfect start breaking off three players to score under.
Captain Henakankanamage followed up Weerathunga, sprinting his way through the right win for the second.
In reply to the two tries that Sri Lanka scored, Korea managed to score off the efforts of Geon Lee just before half time.
Half time: Sri Lanka 14 – Korea 5
The second half was where the Tuskers gave their 100% to defend and hold their line. As Naveen Henakankanamage crossed over for the second time of the game and for his 9th try in the tournament, Sri Lanka had their eyes fixed on that final.
Two more tries from the efforts of Suranga Bandara and Chamod Fernando saw the final nail in the coffin for Korea as the Tuskers have made it to yet another final in the under 20 series.
Full-time Score: Sri Lanka 31 (5T 3C) to Korea 5 (1T)
Sri Lanka will hence face rivals in the Asia circuit; Hong Kong in the finals which will decide who takes home the silverware.
Sri Lanka's record against Hong Kong doesn't seem the best with last year's Kevin Dixon led under 20's losing out to Hong Kong in the second leg final despite bringing home the title.
Watch Live :Sri Lanka vs Hong Kong – Asia Rugby U20 Sevens – Cup Final