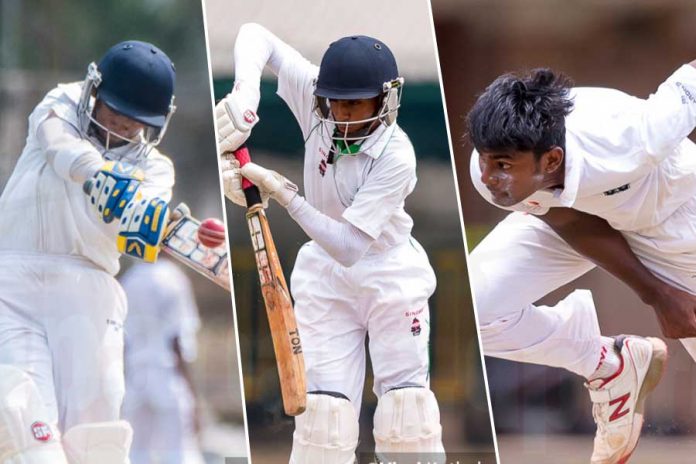 A new Champion will be crowned at the Singer Schools U13 cricket tournament this year, as defending champions D.S.Senanayake College failed to make it through to the Pre-quarter finals. Runners-up from last year, Mahinda College topped their group to secure their spot in the knock-out stages.
The first two rounds of the tournament which ran over 3 months at different venues all over the Island have been completed and now we are down  to the 16 teams who have earned promotion to the knock-out stages.
The U17 Cricket Pre-Quarter Finalists for 2018
                                                                                                                                   The tournament kicked off in May featuring 79 teams in the first round on a league basis divided into 10 groups just like the U17 and the U15 tournaments which were held prior to the most junior tournament. It later cut down to 32 teams divided into 8 groups where the top 2 teams of each group have now earned themselves promotion.
The Pre-Quarter finals will be played on a Knock-out basis, and 8 teams will qualify to the quarter-final round. D.S. Senanayake College Colombo who were crowned champions last year, surprisingly failed to qualify for the second round this year. The second division schools strung up quite a few surprises as many of the 'A division' schools were knocked out from the group stages. Richmond College and Nalanda College were big names in 'A division' cricket who were knocked out of the tournament after poor performances during the season.
The 16 teams that qualified to the Pre-Quarters are as follows:
Wesley College Colombo
Prince of Wales College Moratuwa 
Mahinda College Galle
St. Sebastian's College Moratuwa
S.Thomas' College Mt Lavinia
St. Joseph's College Colombo
St. Anthony's College Katugasthota
Thurstan College Colombo
Royal College Colombo
President's College Rajagiriya
Mahanama College Colombo
St.Benedicts' College Colombo
Ananda College Colombo 10
Trinity College Kandy
St. Joseph Vaaz College Wennappuwa
St. Peter's College Colombo
Video – "තාත්තා කැමති වුනේ මං කරාටේ කරනවට" – ලක්ෂාන් ගමගේ
The Fixtures are as follows. The dates for the games are yet to be announced.
| | | |
| --- | --- | --- |
|  TBC | Wesley College vs Prince of Wales College | Moratuwa |
|  TBC | St. Sebastian's College vs Mahinda College | Moratuwa |
|  TBC | S. Thomas' College vs St. Joseph's College | Mount Lavinia |
|  TBC | St. Anthony's College vs Thurstan College | Katugasthota |
|  TBC | Royal College vs President's College | Colombo |
|  TBC | St. Benedict's College vs Mahanama College | Colombo |
|  TBC | Trinity College vs Ananda College | Kandy |
|  TBC | St. Joseph Vaz College vs St.Peter's College | Colombo |