When the World Cup was staged in the 'Rainbow Nation', it wasn't all hunky-dory. The increase from 12 to 14 teams led to fatuous one-sided games as the tournament dragged on for six weeks.
The extra matches forced the reserve days to be removed, which ultimately eliminated Pakistan and West Indies following washouts. The PCF format that was retained from the previous edition proved fallacious as boycotts of matches in co-hosting Kenya and Zimbabwe on political grounds, favoured amorally. A fatal miscalculation contributed to South Africa's exit, scrapping off local interest while star leg-spinner Shane Warne was sent home after failing a drug test.
Perhaps no one, including the Indians themselves might have imagined that they would create one of the greatest
But none could halt the star-studded line-up of Australia, arguably the best team to win a World Cup. For a team which kept on reinventing, losing Shane Warne didn't seem detrimental as they pulverized every opponent on their way to retaining the title, a feat that was previously achieved only by West Indies.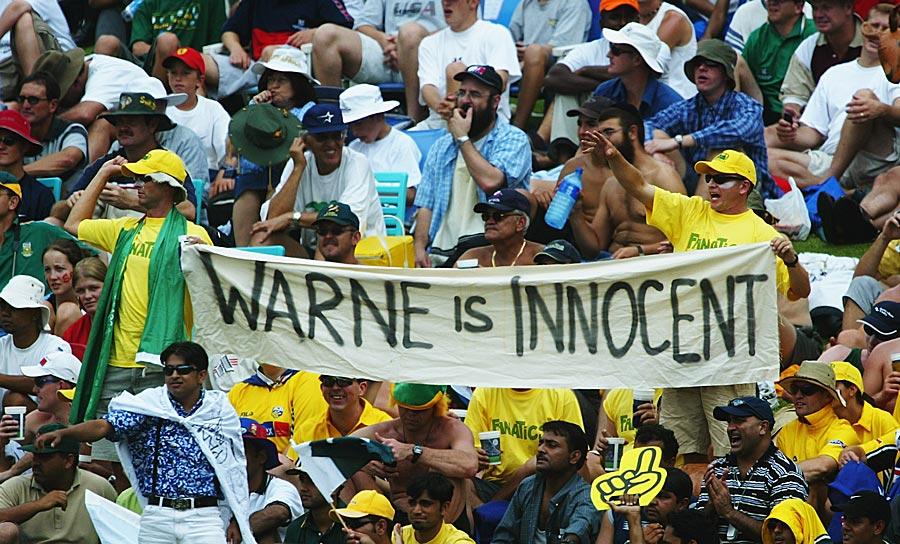 Hosts South Africa took on West Indies in the tournament opener on 9th February at picturesque Cape Town which ended in a close 3-run win for the Caribbean. After an awful start, Brian Lara mutated the score which was at 67/2 at halfway to 278/5 in 50 overs. His scintillating century was backed by Ricardo Powell and Ramnaresh Sarwan's late carnage as 110 runs came in the last ten. The slow over-rate punished the hosts, who were already demoralized. However Gary Kirsten's opening 69 formed a solid start, but a crippled middle order forced Lance Klusener to take charge, as he slammed 57 in 48 balls with 5 sixes. His departure in the last over shattered hopes of a win as they ended 3 runs short of the target.
Symonds' fireworks, Australia's cue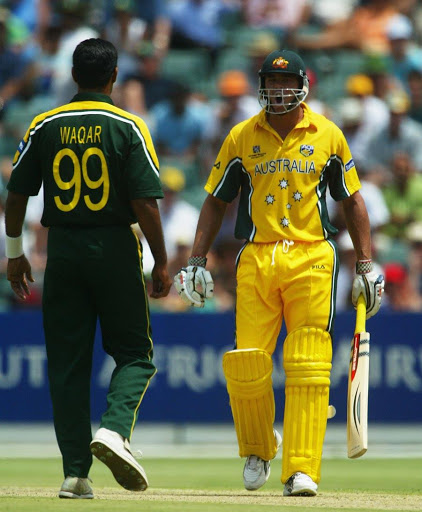 In their first game, Australia faced Pakistan in a 1999 final rematch at Johannesburg. Australia, being put in to bat, Wasim Akram teamed up with Shoaib Akhtar and Waqar Younis to wipe out the top order, leaving them 86/4. With Darren Lehmann suspended and Michael Bevan injured, it was up to Andrew Symonds to take up the responsibility that no one thought he could perform. After a heated argument with Waqar Younis, the Australian began his rampage, scoring an unbeaten 143 from 125 balls, steering Australia to 310/8. Pakistan were restricted to 228 following Ian Harvey and Brad Hoggs's spells which produced 7 wickets. The 82-run win unveiled a strong statement by the men from down under.     
Sri Lanka seamers cut the mustard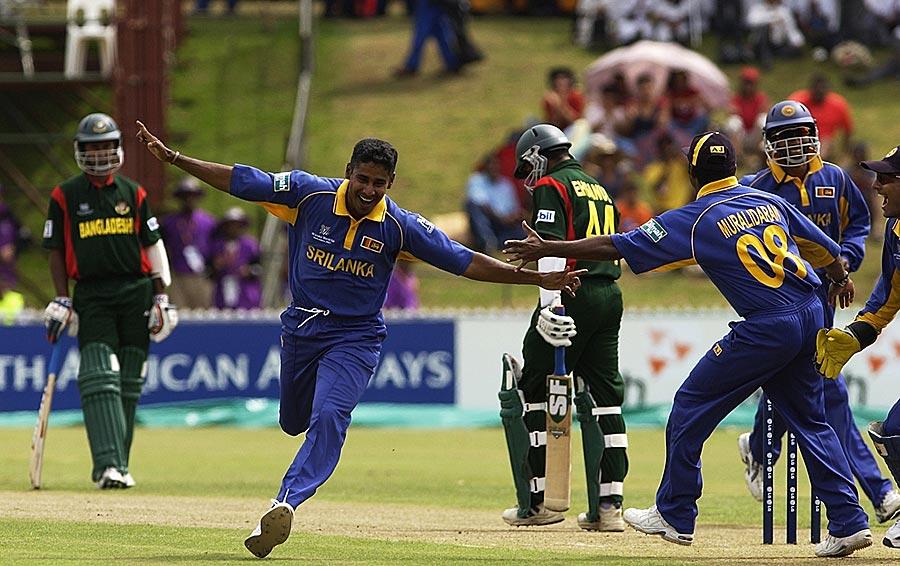 If a victory was secured in the first over itself, a sheer example would be Sri Lanka's win over Bangladesh at Pietermaritzburg. Winning the toss, Sanath Jayasuriya opted to field, before deploying Chaminda Vaas to find some early swing. In his first ball, he yorked Hannan Sarkar. His second ball dismissed Mohammad Ashraful, who gave a return catch to the paceman. The left-arm seamer who was on a brace, then sent Ehsanul Haque back, forcing an edge to Mahela Jayawardene at second slip. The elated bowler celebrated in a gesture of an airplane, becoming the first bowler to claim a hat-trick with the first three balls of a match. But he was not finished. He trapped Sanwar Hossain with his 5th delivery, leaving Bangladesh 5/4 at the end of the first over. Bangladesh climbed up to 124 while Vaas ended with figures of 6 for 25.
When you watch a cricket contest at the MCG, you hardly get the feeling that you are in Australia
Canada, who surprised Bangladesh with their first World Cup win were hoping to cause an upset as they took on Sri Lanka at Paarl. But a nightmare was beginning to unfold in front of their eyes as one by one the Canadian batsmen perished, before they were bulldozed for 36, the lowest ever score in an ODI. The pace of Prabath Nissanka, Dilhara Fernando and the swing of Vaas was virtually unplayable as the trio shared 9 wickets between them. The match lasted only two hours as Sri Lanka sealed the win in 28 balls, recording the fastest win in World Cup history.
Spirited Kenyans repeat a '96
The Gymkhana Club, Nairobi on 24th February witnessed a golden day for Kenyan cricket as they shocked Sri Lanka by 53 runs. It was the best moment for the minnows after their victory against the mighty Windies in 1996. Kennedy Otieno's fluent 60 helped Kenya to post a moderate 210. It seemed to be a casual chase until the fervent Kenyans turned the tables. Collins Obuya's leg spin captured 5 while Aravinda de Silva's fighting 41 was proven futile as the Sri Lankans crumbled for 157. Similar to 1996, their lap of honour brought more colour to the terrific win. But this time it had a cherry on top, as it was done in front of their noisy home fans.
A Youngster Swings Durban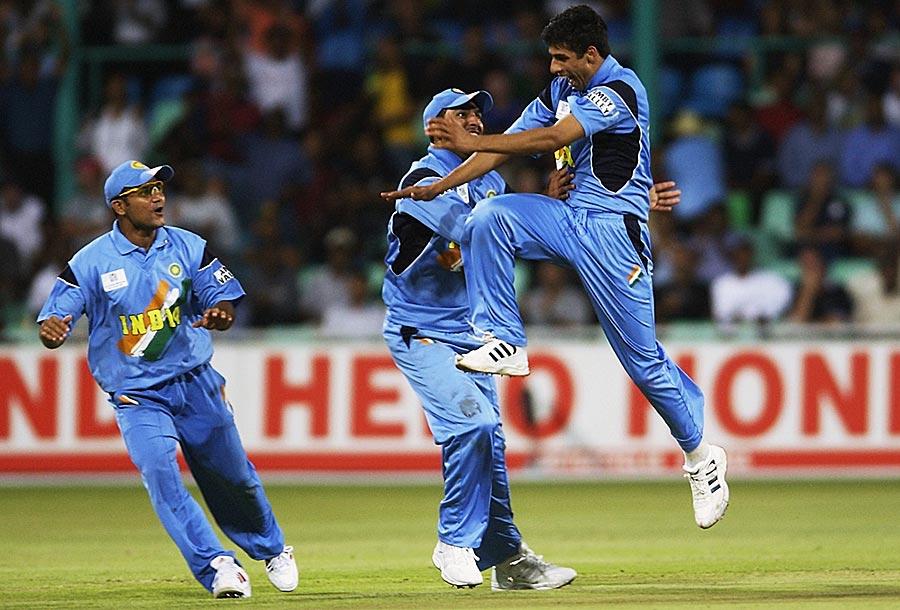 When India took on England at Durban, it was the Indians who carved early inroads by scoring 75 in 11 overs. After Andrew Flintoff removed Sachin Tendulkar for 50, Rahul Dravid and Yuvraj Singh paired up to manage a 62-run stand before four wickets in four balls tamed them at 250/9. After both the English openers departed, the response stood at 18/2, when Ashish Nehra came into action. He removed Nasser Hussain with an edge before trapping Alec Stewart for a duck. A peach of a delivery then left Michael Vaughan caught behind, leaving England in chaos. Flintoff's consolation added 64 taking them to a somewhat respectable total of 168 at the end. Nehra's swollen ankle had failed to suppress the determined 23-year old who grabbed 6 for 23.            
Hapless South Africans exit another World Cup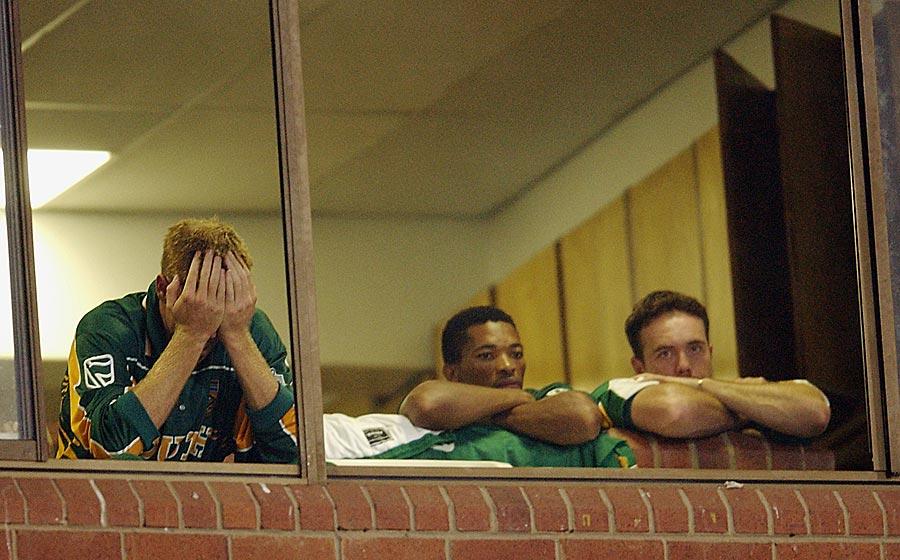 The Proteas were once rejected by the rain rule, and later in a queer tie in 1999, before denting their hopes once again and this time with a fatal miscalculation. When they hosted Sri Lanka in a crucial clash at Durban, the visitors piled up 268/9 courtesy of Marvan Atapattu's 124. Chasing the target, it was Mark Boucher and Lance Klusener at the crease in the 44th over. With rain pouring down, the pair received a message saying that according to the D/L, they needed to be on 229 after 45, assuring no further wickets would fall. Boucher pummeled a six off Murali in the penultimate delivery, taking them to 229 before safely defending the last. Umpires called off the game, so to the exuberance of Boucher. However his feisty animation was soon turned to dejection, when it was revealed that the instructions given were wrong. In fact, according to the D/L, 230 was needed for a win as 229 would have only tied the game. South Africa's ultimate World Cup dreams were lost, and so was Shaun Pollock's captaincy.
Australia and Sri Lanka topped Pool A and B as they were followed by India, Zimbabwe, Kenya and New Zealand. The Australians were already guaranteed a semi-final berth even before entering the Super Six. Yet they did not pause, clobbering Sri Lanka, New Zealand and Kenya. India, Sri Lanka and Kenya sealed their names in the remaining 3 spots but the absence of big names, including the hosts resulted in a declined hype during the Super Six.
Australia and India reach the final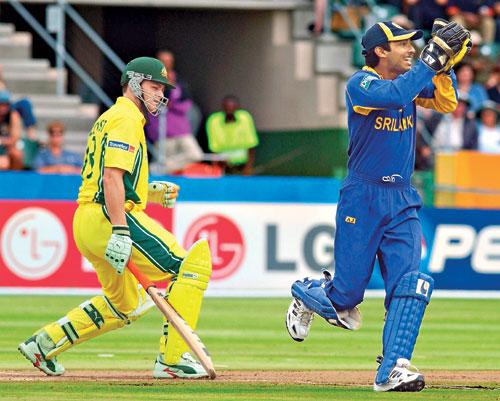 On a slow track at Port Elizabeth, Australia and Sri Lanka locked horns in the first semi-final. Batting first, Australia struggled and ended up at 212/7, mainly due to Andrew Symonds' unbeaten 91. However the highlight of the match was Adam Gilchrist opting to walk before he was given out, a staggering gesture in a crucial semi-final. The relentless Australians began their attack as Brett Lee's 99.4 mph delivery tore apart the stumps of Atapattu. Following Jayasuriya's departure, the middle order stumbled. Aravinda's final World Cup inning added 11 before he was run out by Andy Bichel. With the late rain coming down, the target was reduced to 172 in 38.1 overs. However Sri Lanka only managed 123/7 at the end.         
Kenya's fairytale run ended against India at Durban in the second semi-final. India's 270/4 was supplemented by Sourav Ganguly's 111 and Tendulkar's 83. Kenya's reply was foiled by Zaheer Khan and Nehra's early swing while Steve Tikolo's resilient 56 remained the top score in an innings which was halted at 179. Kenya, who had become the first non-Test playing nation to reach a World Cup semi-final made their farewell with a lap of honour.
Australian thunder trounces the Indians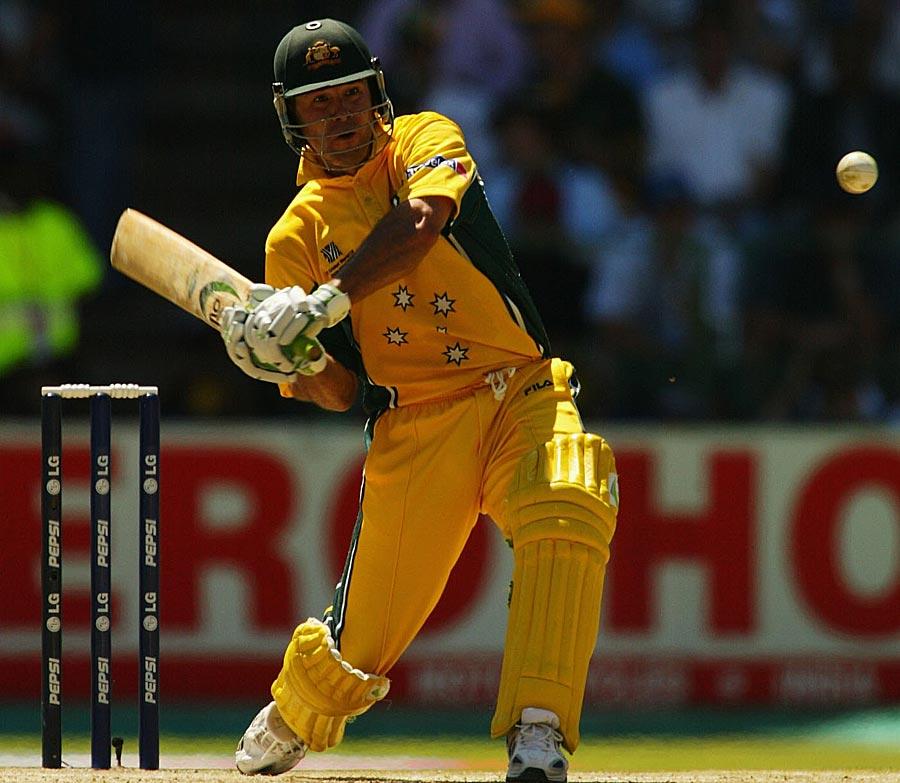 On 23rd March, Wanderers Stadium in Johannesburg hosted the final between Australia and India. It was Australia's fifth final, and they had already secured two titles. Skipper Ganguly opted to field first as the Australians exploited the haywire Indian bowling which began with Khan's wide to get to a flying start. The opening stand between Gilchrist and Matthew Hayden annexed 105 runs in 14 overs before Gilly departed for a quick-fire 57. Ponting in the company of Damien Martyn charged from 125, as the excellent 234-run partnership left the Indian bowlers clueless. Martyn initially spearheaded the havoc with his rapid half ton, contrary to Ponting who took 74 balls to reach his 50. What followed next was absolute carnage as the Indian bowlers were exposed to a ruthless onslaught by the pair. The century partnership that took 109 deliveries needed just 64 balls for the next 100. Ponting's ultimate 70 came in just 47 as he battered his way to 140 in 121 balls. Martyn's 88-run cameo took 84 deliveries. Adding insult to injury, the mounting pressure forced the Indians to concede 37 extras. The Australians piled up 359/2, the highest total in a World Cup final.
India's reply was curbed when their star batsman Sachin Tendulkar was dismissed by Glenn McGrath in the first over. His partner Virender Sehwag continued his way to 82 but had little support apart from Dravid's 47. They were eventually all out for 234, giving a massive 125-run win for the defending champions.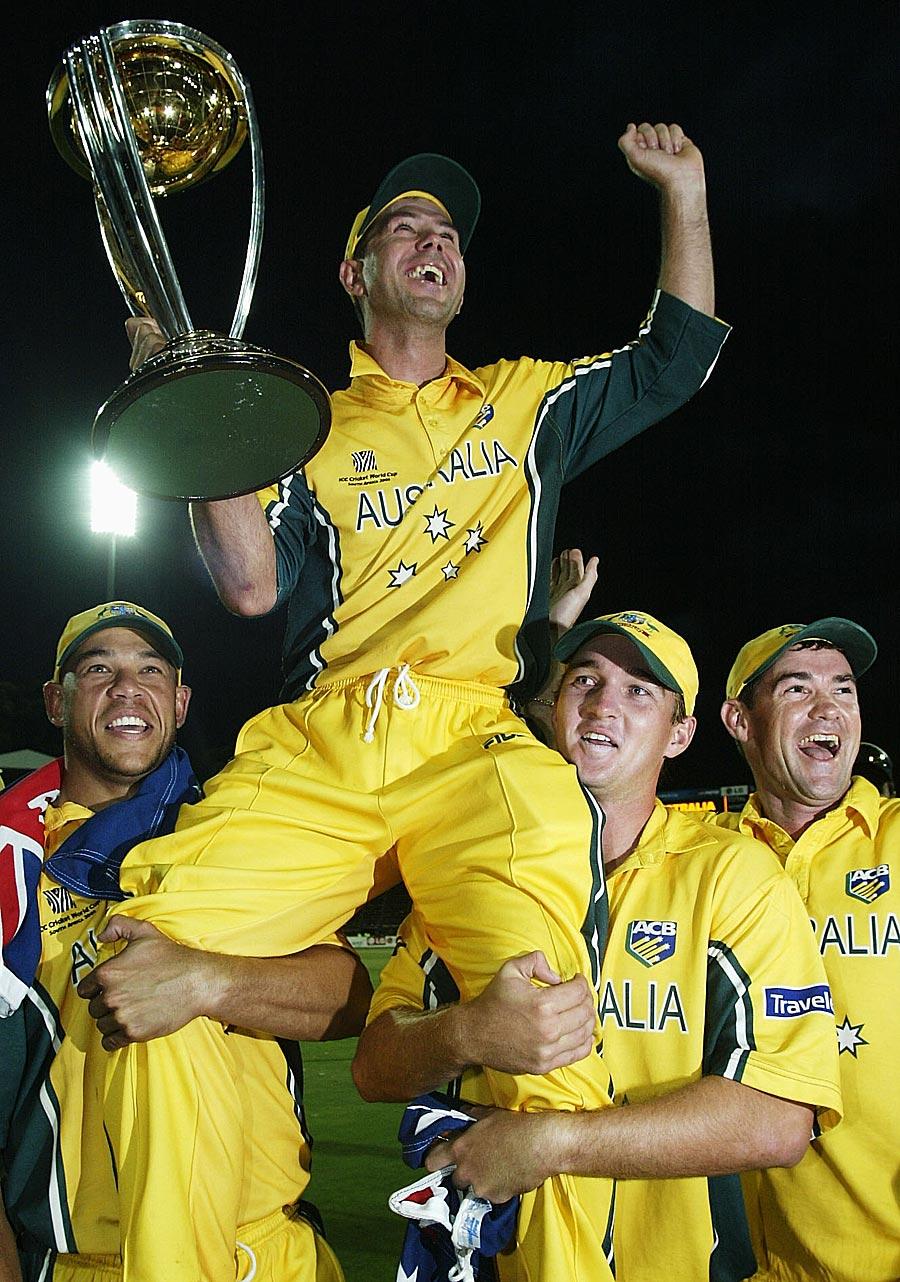 It was a World Cup which signified Australia's unceasing dominance in the gentlemen's game, which laid their second brick on a remarkable treble.