Perhaps no one, including the Indians themselves might have imagined that they would create one of the greatest upsets in history by beating the reigning champions, the mighty West Indies not once, but twice to clinch the World Cup. They had won only one match, against East Africa, in the previous two editions, losing even to Sri Lanka, who were yet to be granted Test status. The World Cup, from the start, was not short of surprises. The Windies were defeated for the first time after two campaigns while newly independent Zimbabwe upset Australia, a victory that wasn't replicated until 31 years later. And not in their wildest dreams could anyone have predicted that Roger Binny, Madan Lal and Ashantha de Mel would dominate the bowlers list.    
Having ruled the past decade, the West Indies entered the 1983 tournament with hopes of adding a third title to their name. The dramatic competition, adorned by India's unforeseen triumph came under a young captain Kapil Dev and his all-round attack which stood up at vital moments to master success.    
A different format was introduced contrary to its two predecessors, but the number of overs (60) and the maximum quota of 12 overs per bowler remained the same. The opening round carried 24 matches with a side playing two matches against the same opponent. This was to reduce the chances of a side being eliminated through having a mishap with the weather than its rivals. Umpires were stricter with wides and bouncers and as a result, there were almost twice as many wides per match as in 1979. A 30-yard fielding circle was introduced and four fielders had to be inside it at all times. Matches spanned across 15 venues while 8 teams took part this time. It was the last tournament to be sponsored by Prudential.
Hosts dominate Group A
The opening game of the competition on 9th June at the Oval was marked by a convincing win of 106 runs for England over New Zealand. England's 322/6 was energized by a century by Allan Lamb which included 14 boundaries. In reply the kiwis managed to score just 216 in 59 overs.
The battle between the ball and the willow was revived with the emergence of ODI cricket. Nestled by Test cricket for…
However, in the return fixture, New Zealand was able to avenge their opening loss with a close win by 2 wickets. Batting first England were bowled out for 234. Left handed batsman David Gower scored 92 along with Graeme Fowler's 69. Richard Hadlee and Lance Cairns bagged 3 wickets each. New Zealand edged past the hosts, responding with 238/8 in the last over.
Having lost only one game, England topped group A with 20 points while Pakistan nipped past New Zealand to claim the number 2 spot with a superior net run rate.
Lankans edge New Zealand
After falling 11 runs short in the previous game against Pakistan, the newly born Test nation was yet to taste victory in the tournament. Having been put into bat, the New Zealanders were struggling from the beginning as Ashantha De Mel teamed up with Rumesh Ratnayake, to batter the Kiwis as they were curbed at 116/9. However, Martin Snedden and Ewen Chatfield offered a silver lining by taking the score to 181. Snedden made 40 while Chatfield remained on 19. Ashantha de Mel snapped 5 for 32 while Ratnayake took 2 for 18. The run chase was cemented by an 80-run partnership between Roy Dias and Brendon Kuruppu but a sudden collapse of wickets left Sri Lanka on 131/5. It needed the influence of Dias to see them home, after the nervous fumble saw 5 wickets fall for 32 runs. His stint of 64 runs secured a 3-wicket win for the islanders.
Drama unfolds in Group B
World Champions West Indies took on India at Old Trafford on 9th June. With a delayed start in clammy conditions, the Indians made 79/3 in 22 overs. But Yashpal Sharma's imposing 89 runs led India to 262, their highest ever total. Larry Gomes, Holding and Garner obtained 2 scalps each. India took a grip on the game when they harboured the Windies reply at 67/2 in 22 overs. Play resumed on the following day when Binny and Shasthri mannered the swift decline which ended in 157/9. A 71-run stand between Roberts and Garner provided a short scare but Kirmani's stumping off Ravi Shasthri ensured an Indian win and a defeat for the champions.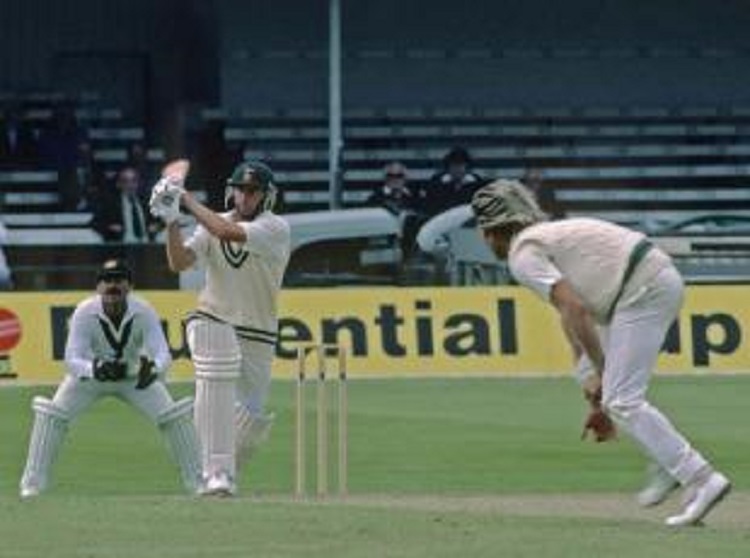 On the same day, Zimbabwe in their first ever World Cup game, pulled off an upset over the much-fancied Australians. Influenced by Duncan Fletcher's cameo of 69, the minnows posted a competitive 239/6 after being 94/5 at one stage. Fletcher added 70 in 15 overs with Kevin Curran and 75 in 12 overs with Iain Butchart. Kepler Wessels and Rod Marsh mustered an adequate reply but the Australians slipped 13 runs short of the target. Skipper Fletcher dazzled again, this time with his right arm in-swings to capture 4 for 42.  
The battle between the ball and the willow was revived with the emergence of ODI cricket. Nestled by Test cricket for…
Two days after the defeat at the hands of India, West Indies trounced Australia by 101 runs. The West Indian score of 252/9 was spearheaded by Larry Gomes's patient 78 runs. The run chase was thwarted by an unsung loop in a legendary lineup, Winston Davis. He crushed the Australian batsmen with his rapid pace, trapping 7 for 51, the best performance in a World Cup game.
Dev's spectacle torments Zimbabwe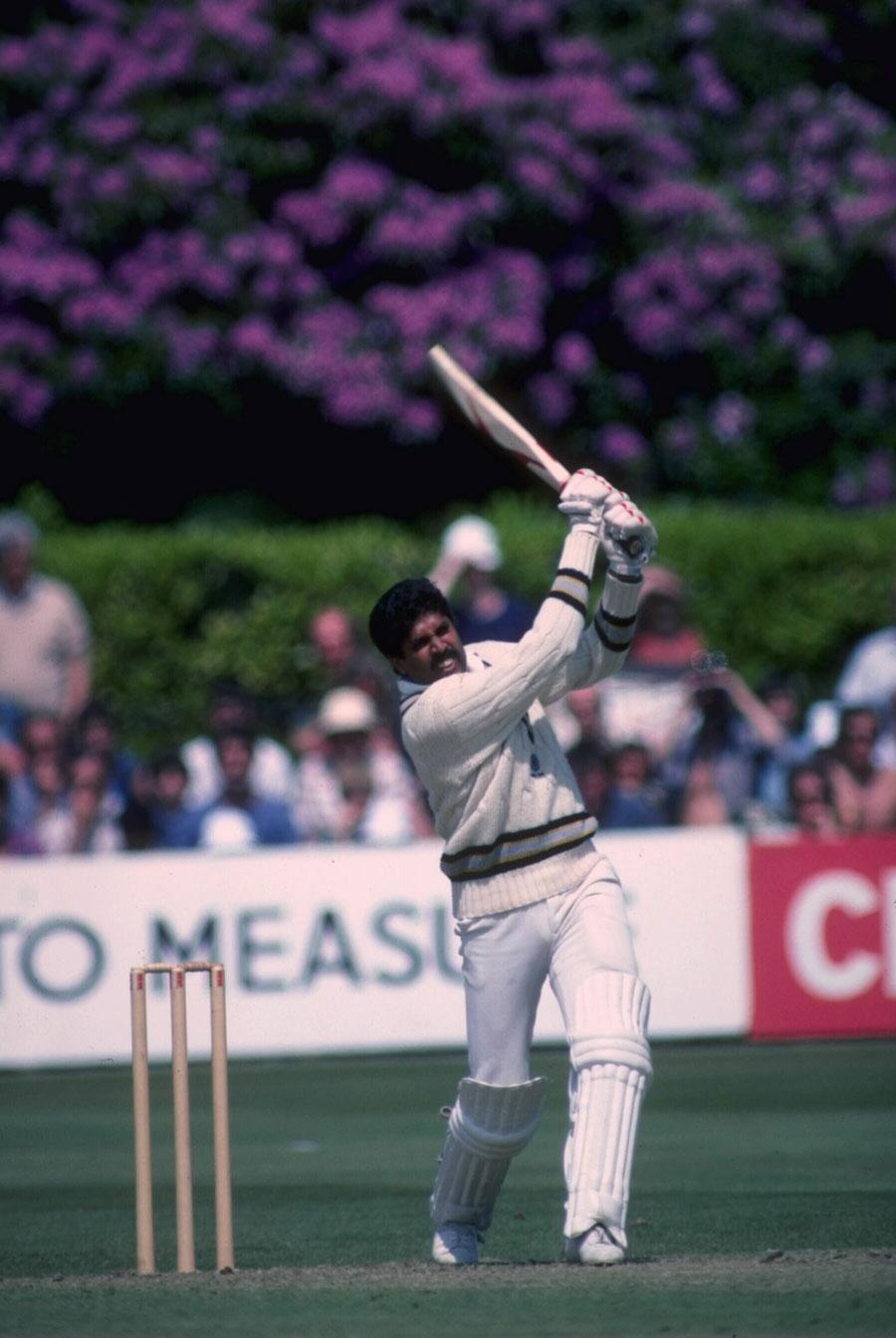 India faced Zimbabwe for the second time at Tunbridge Wells on 18th June. The option in choosing to bat was proven wrong when a moving pitch resulted in India losing their top order early in the game. At a time where the scoreboard read 17/5, in came Kapil Dev to turn the game upside down. Along with Binny and Madan Lal, Dev took India to 140/8 and eventually built a partnership with Kirmani worth 126 runs. His majestic 175 runs came off just 138 balls with 20 boundaries, 6 of them which cleared the ropes with ease. After reaching his century in the 49th over, the next 75 runs came in 11 overs. His excellently maneuvered innings took India to 266/8. The splendid knock broke Glenn Turner's record for the highest individual score in a World Cup encounter. However, the game was far from over as Zimbabwe hit back through Robin Brown and Kevin Curran and it required Madan Lal's 3 for 42, to restrict them to 235 in 57 overs.
West Indies led Group A despite their solitary loss while India humbled Australia in a crucial 118-run win to seal their place in the semi-final.
'Dark Horses' reach the final against potent champions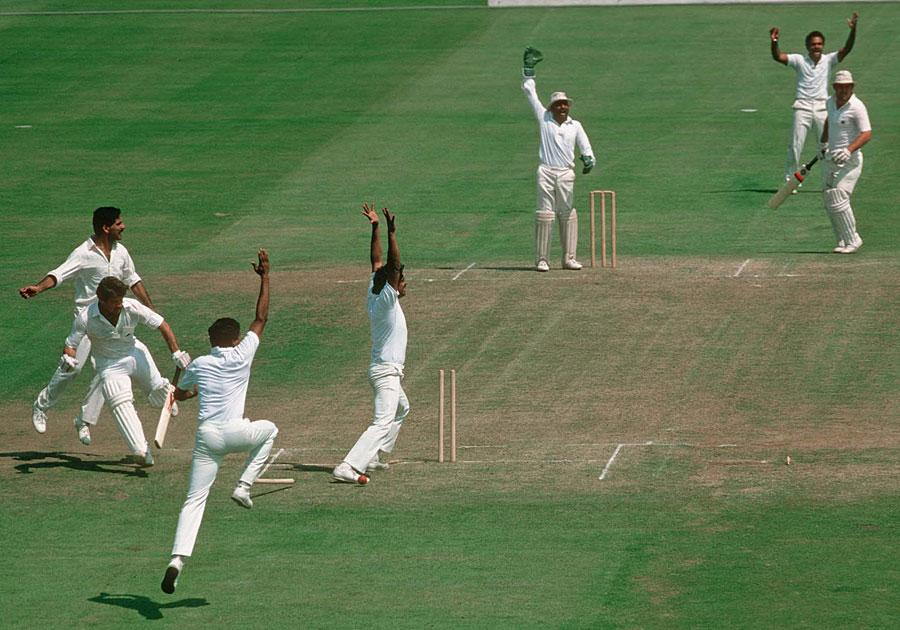 The first semifinal was staged at Old Trafford on 22nd June between England and India. Despite the positive start by the openers Graeme Fowler and Chris Tavare, the Indians held the initiative by bowling at a steady length to restrain the English who sought to attack. Accurate bowling by Dev, Binny and Amarnath not only prevented certain boundaries, but also forced the two run-outs of Allan Lamb and Ian Gould. With much difficulty, England crossed the 200 mark before being bowled out for 213. India reached the target with minimum hassle, losing only 4 wickets. Yashpal Sharma and Sandeep Patil scored 61 and 51 respectively.
We've been receiving a few questions regarding Sri Lanka's World Cup squad over the past few weeks – here are some of the…
The Oval hosted the second semifinal involving Pakistan and West Indies. Batting first, Pakistan were reduced to 184/8 in 60 overs. The struggle was evident as the boundary was seen only twice. Malcolm Marshall took 3 for 28. In reply, West Indies scored 188/2 with Viv Richards excelling in an unbeaten 80 runs. The 3rd wicket partnership between Gomes and Richards added 132 runs. The convincing victory tacked their place in the finals, one step away from a third consecutive title.
Indians stun the Caribbean party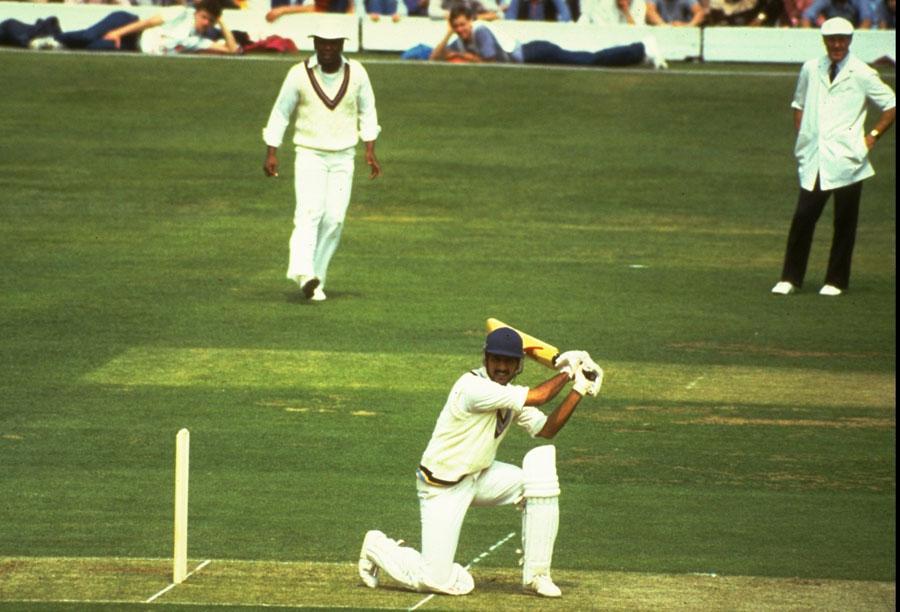 When the two teams arrived at Lord's for the final on 25th June, odds were against India. Clive Lloyd's men, the firm favourites, were eyeing their triple crown. After winning the toss, Lloyd opted to field, particularly to gain the advantage of the wicket with his brutal pace attack. Roberts removed Gavaskar in his 3rd over but Gavaskar's opening partner Kris Srikkanth took on the fierce attack. His sublime strokes included 7 fours and a six off Roberts before departing for 38. Amarnath took control after Srikkanth, scoring a placid 26 runs. At lunch India were 100/4 and despite Sandeep Patel's resilient 27, they were eventually throttled for 183. Andy Roberts grabbed 3 for 32 while Marshall, Holding and Gomes claimed two wickets each.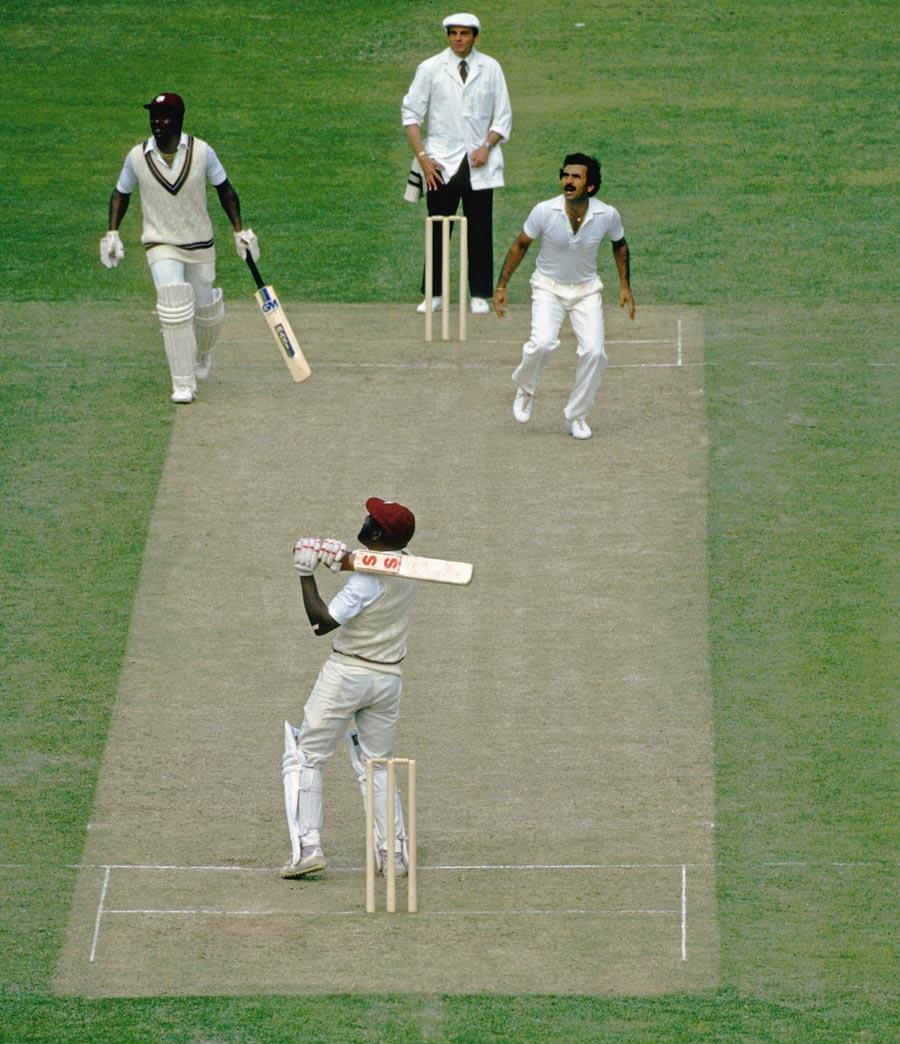 The modest target did not seem to pose any threat for the explosive batting line-up as Richards and Haynes led West Indies to 50/1. Already the Caribbean party had begun at Lord's. But the turning point came as Madan Lal dismissed Richards for 33 when the mistimed hook found the hands of Kapil Dev, who ran 20 yards backwards to secure an exquisite catch. Madan Lal followed with two more wickets in quick succession to detach Haynes and Gomes. Lloyd and Bacchus too perished, leaving them 76/6. The match was facing a new side as Jeff Dujon's resurgence was rattled by Amarnath, who further claimed Marshall for 18. One by one the West Indians were sent back to the dressing room before they were toppled for 140 runs in 52 overs. The last 9 wickets fell for 80 runs. Madan Lal in a stellar effort bagged 3 for 31 while Amarnath took 3 for 12, who was later awarded 'Man of the Match'.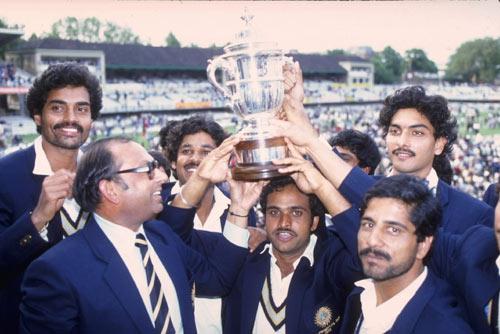 The 43-run victory meant the end of the Caribbean domination as the world welcomed its new champions. The optimistic and talented all-round outfit had prevailed on the big stage as Kapil Dev obtained the well-earned prize, defying the odds with a smile.