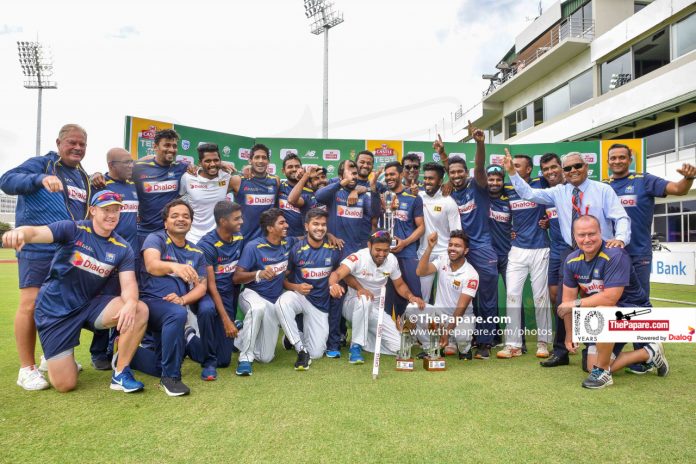 ICC chairman Shashank Manohar said in a press conference held in Bangladesh in February 2019 that Test Cricket is facing a huge threat with the rise of the T20s and a new format for Test cricket has been introduced to stop the elite form of Cricket from fading away.
"Test cricket is actually dying to be honest. So to improve the situation, we are trying ways and means. The [ICC] board directors came to a conclusion that if they start a Test championship, it would keep Test cricket alive and generate more interest in the game" (quoted on Cricinfo web site)
The cricketing fraternity will see a new championship post 2019 World Cup in the form of the oldest format of the game. There will be no more meaningless Test matches between countries any more. (boards can still agree on matches outside the championship) The freshly introduced "Test Championship" will be held from July-2019 for 2 years & the final will be held in June-2021 to be played by the two countries from the top of the points table at Lord's (Venue is subjective to change).
Rea More : ICC Cricket World Cup 2019
Nine full member Test playing nations (barring newbies Ireland, Afghanistan & financially hit Zimbabwe) will compete for the crown. Each country will play 6 mutually pre-agreed series (3 Home, 3 Away) against six countries within the allocated 2 years.

Who plays whom in 2019-21 Test Championship
Now, if a team loses their 1st 2 games in a three-match series, they will still find a reason to compete in the next Test match rather than "playing for pride" as there will be points allocated for each Test match. Since a series between two countries could consist of two to five Test matches, each series will carry a constant 120 points to ensure the fair distribution of points.
| | | | | |
| --- | --- | --- | --- | --- |
| Matches in a Series | Points for a match Win | Tie | Draw | Defeat |
| 2 | 60 | 30 | 20 | 0 |
| 3 | 40 | 20 | 13.3 | 0 |
| 4 | 30 | 15 | 10 | 0 |
| 5 | 24 | 12 | 8 | 0 |
Another major positive is that this championship will make sure (to a certain extent), that a Test match will pique the interests of non-related fans as well, as results affect all 9 teams on the championship table.
Read More : Guide to the ICC Men's T20 World Cup 2020
Contrasting number of fixtures
Though each country will play six series, the number of Test matches each country will play are different. As you can see in the table above, England is set to play 22 Tests while Sri Lanka will only play 13 Test matches in the championship (almost all SL's and NZ's series will be 2-match series). This makes sense considering the crowd participation and profit gained on Test matches for those respective countries.
Read More : The win that expedited Sri Lanka's Test status
However, countries like Sri Lanka, New Zealand could play even less than 6 matches per year if they agree with other countries to play 2 match series due to logistical and financial issues. Due to the lack of competition and pay, their Test match specialist players could find it hard to pursue their careers and the future generations could see Test matches not worthy enough to pursue as the ever growing T20Is. Two Test series will also provide minimum acclimatization time for conditions for visiting countries, hence hampering their chances of winning.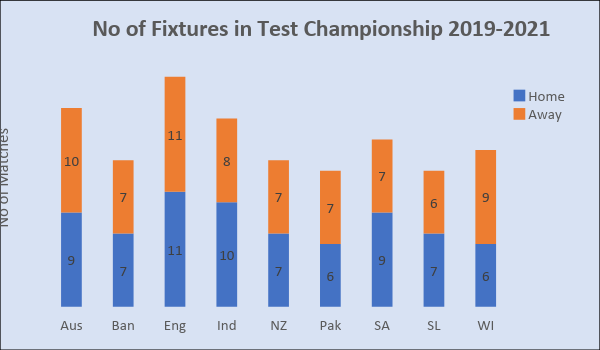 One-sided competition
The main issue in this championship structure is the likelihood of one-sided competition. Let me remind you, though this is a championship, the format is not necessarily a league. A country will only play 6 out of 8 available countries, which leaves some room for luck when it comes to the fixtures you're allocated.
The following is a simple graphical representation of the fixtures advantage (or disadvantage), the countries will face during the 2019-21 Test championship, taking into account the ratings in the Test rankings system. It has been calculated by the subtracting actual ratings sum of oppositions from the ideal ratings sum. (based on the Test rankings on 2019.04.25)
A country like Australia who will have to play against higher ranked teams, will stand a clear disadvantage compared to Sri Lanka who are going to compete with a fewer number of high-ranked teams.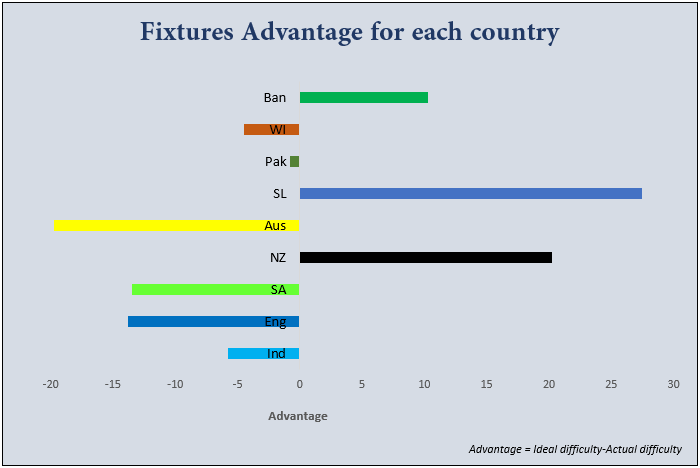 Fixtures advantage/disadvantage for each country in 2019-21 Test championship
No relegation – No fun
The Test championship (well at least the first two championships: 2019-21 & 2021-23) does not encourage relegation or promotion scenarios to keep this league interesting. It's all about being one of top two of the points table to reach the finals.  If two countries lose their first few series in the championship and don't have the chance of grabbing the top two positions, the Test matches between those countries will be irrelevant and spectators would find no reason to watch them. It would be ideal if a relegation process for the countries finishing in the bottom of the pile existed. Then, they would still find something to play for. In fact, eliminating meaningless dead rubbers between countries is one of the major reasons for this tournament's origin.
The forgotten three full members (Zimbabwe, Ireland, Afghanistan) will play more Test matches among each other and far less matches against the rest and so have no clear means of coming into the championship. The introduction of promotion/relegation would in the least mean that the best team among Afghanistan, Ireland, Zimbabwe or may be in the distant future one of the countries playing the Intercontinental Cup, could be promoted to the upper level.
Toss & Home conditions
The toss is another complication and could be a major factor deciding the winner of a match as few pitches all around the world assist teams who bowl last and it has forced results in favor of the lucky captain who called heads or tails correctly.
Home advantage is not a new phrase in Test Cricket and in a Championship where teams would not play with all oppositions, it will definitely help certain countries.
Take a look at the fixtures for Bangladesh whose main weapon will be spin bowling. They will play 3 home series versus Australia, New Zealand & West Indies (who will stand a better chance against pace rather than spin) and their away fixtures are scheduled in India, Pakistan & Sri Lanka where spin will play a crucial role.
Read More : India retain ICC Test Championship mace
The ICC has also announced the final of the championship will be played at the historic Lord's Cricket ground as a celebration of Test cricket. But this decision could mean a severe disadvantage to countries who enjoy spin rather than swing. There have been suggestions that the final be played in the table topper's country too.
Kookaburra, Dukes & SG
MCC has recently proposed the use of a standard ball by all teams for the Test Championship. "It would be for the ICC to choose which ball is most suitable, with the committee stressing that the balance between bat and ball is crucial," a statement by MCC quoted on ICC said.
Read More : MCC World Cricket Committee recommends clock-timers and free-hits for Tests
Three brands of balls are being used to play Test matches currently. Kookaburra is used in Australia, New Zealand, South Africa, Pakistan, Sri Lanka, Bangladesh. Dukes are made in England and used in matches played there and the West Indies. India uses SG balls to play Test Cricket. These balls' unique behaviors make them more suited to certain conditions.
Read More : Names, numbers for Ashes Test shirts
What's ahead for Sri Lanka
Fittingly, the Ashes will be the first series of the Test Championship 2019-21 to be played just after the World Cup 2019. As mentioned before, Sri Lanka will play 6 series.
Vs New Zealand (home) – 2019 July

Vs Pakistan (Away) – 2019 October

Vs England (Home) – 2020 March

Vs Bangladesh (Home) – 2020 July

Vs South Africa (Away) – 2021 January

Vs West Indies (Away) – 2021 February
You can be sure nobody wants to see another Indo-Sri Lanka series where Virat Kohli scores double centuries for fun as if they are "practice matches". What everyone would love to pay to watch are games such as we saw in Abu Dhabi (Pak v NZ 2018) and Durban (SL vs SA 2019) recently – bowlers bowl their heart out and batters absorbing blow after blow to win or save a Test match. Basically, a good old fight. So, it is important the best need to clash with the best, especially in Test cricket, more frequently. We will have to wait and see whether the Test championship will provide that at least to a certain level.
Is this what Test cricket needs? Yes, it is, meaningful context for Test matches. Is this going to be a perfect, fair-for-all tournament? No, It won't. There are lot of improvements still to be done on tournament's structure and how it is played. But it's a start!